Walmart's Black Friday Hours Actually Start On Thursday Because Sales Never Sleep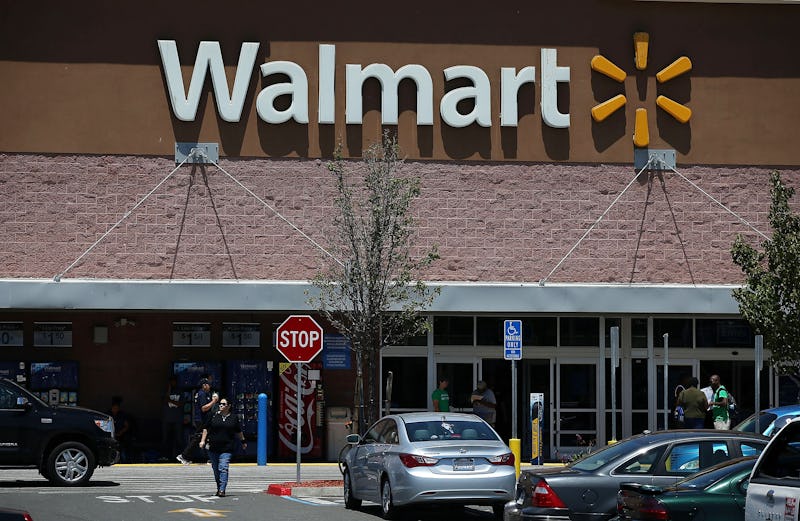 Justin Sullivan/Getty Images News/Getty Images
Black Friday falls on Nov. 23 this year. That's just over a week away so it's time to start strategizing in order to make the most efficient use of your time and to shop effectively. You likely have lots of people on your shopping list. Therefore, game-planning in advance is essential. Walmart's Black Friday 2018 hours is information of utmost importance — especially when mapping out your plan of attack in order to navigate the best discounts and purchase thoughtful gifts while checking names off your shopping list.
Walmart's Black Friday shopping begins on Thanksgiving night, which is Thursday, Nov. 22. Walmart stores will open at 6 p.m. local time, according to Newsweek.
The retailer stocks plenty of cool capsules, such as Ellen DeGeneres' EV1 clothing line and the new Kendall & Kylie Jenner handbag line. That translates to lots of possible gifts for the fashion-conscious folks in your life.
There are loads of awesome cosmetics brands available in Walmart's aisles for the makeup mavens on your list, as well. You can pretty much view Walmart as your one-stop shopping hub. You can veritably get the bulk of your buying done via its stores or its site. It pretty much has everything from big ticket items like TVs to cute stocking stuffers.
You may have barely digested your turkey (or Tofurkey), stuffing, and pumpkin pie. But you can get a major head start on early, brick and mortar shopping. It's like going going to the gym after enjoying a meal — only you'll be engaging in some retail calisthenics as opposed to working an elliptical.
Some pretty prestige beauty brands populate the shelves at the 'Mart — both in stores and online. You can buy beauty gifts from e.l.f., Flower Beauty, Hard Candy, and so many other drugstore brands like Maybelline and Covergirl, too. You can enjoy selecting colors and products amid a backdrop of holiday songs and shopper chatter.
If you don't grab everything you need while pushing your cart through the aisles on Black Friday, which is really "Black Thursday" due to Walmart opening on Thanksgiving, you can still shop online. Doing so from the comforts of home and away from some of the hustle, bustle, and foot traffic is totally acceptable, fun, and way less stressful. Plus, you take advantage of online-only products.
The aforementioned EV1 clothing line, curated by DeGeneres, is full of cute and wearable sportswear basics. Denim and tees anchor the line. Therefore, you can grab some adorbs items for the clotheshorses who is lucky enough to be on your shopping list this season. EV1 is available in Walmart outposts, with additional selections available via the Walmart site.
Seriously, though. EV1 has something for everyone. Hence the clever name.
The Jenner Sisters have created a cool bag line for Walmart, which is only shoppable online. The affordable but chic accessories come in all sorts of shapes and silhouettes — fanny packs, mini backpacks, clutches, totes, and more abound. They are also offered in a variety of fabrics and hues, from metallic silver to red patent leather to pink faux croc to black sequins to black camo. The bags are super affordable and will be a great boost for your fashion BFF's OOTD. An ear-to-ear grin will cross the face of whomever receives one of these bags as a gift from you.
Head on over to Walmart after you chow down on your delish T-Giving meal to get a jump on Black Friday deals, discounts, and gifts for those who fashion and beauty-obsessed.