Warby Parker Has A New RAINBOW Glasses Line Dedicated To The LGBTQ Community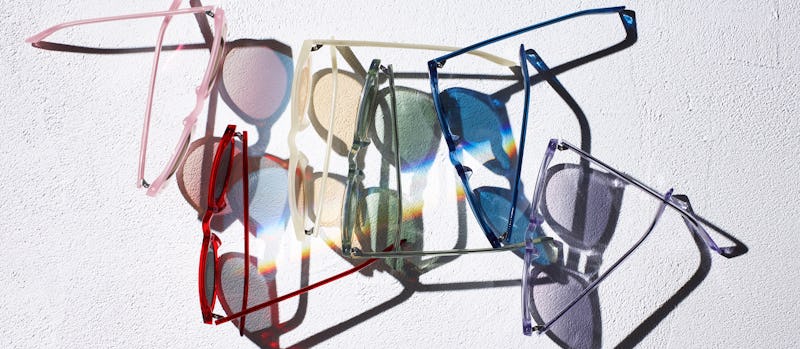 Courtesy Warby Parker
There are two ways to celebrate Pride Month. You can either wear your support unapologetically or take action. This collection does both. Warby Parker's Haskell Prism Collection was created especially for LGBTQ Pride Month. Everything from the colors to where the money goes is in support of the community, so you can look good and feel good about your purchase.
If you're looking to maximize your Pride Month efforts, this is the collection for you. Warby Parker created six sunglasses all in different colors of the spectrum. According to the press release, it was designed "to commemorate and recognize the impact that the full spectrum of lesbian, gay, bisexual, transgender, and queer people have had on history."
The sunglasses aren't as bright and multi-colored as some items out there, but they're more impactful than others. Not only are the shades perfect for year 'round wear, but they also donate proceeds to two different nonprofit organizations that advocate for equality when you purchase. The brand will be giving "special donations" to The Trevor Project and Lambda Legal.
"Warby Parker has always believed in equality for all, and to celebrate LGBTQ+ Pride Month, we wanted to do soemthing impactful that will support those near and dear to us," Dave Gilboa, co-founder and co-CEO of Warby Parker, tells Bustle.
"The Trevor Project and Lambda Legal are two leading organizations that strive and advocate for equality, and embody our core values."
As if that wasn't already a ton of donations from just one prideful purchase, there's more. The brand will also be giving one pair of glasses to someone in need. While you're shading your eyes from the sun, you can also think about all the people that you're helping.
If you're looking to shop the charitable line, you'll need to do it fast. This collection is limited edition. That doesn't mean that it will be leaving the site once Pride Month is over, but it does mean that you should shop while you still can.
The Haskell Prism Collection will be available on the Warby Parker website on June 8, so set your alarm right now.
The only way to buy the collection is individually. Each pair will be $95. Although these make the perfect pride pair when they're all in sitting next to each other, you won't be able to bundle them or buy them all together. This should come as no surprise to Warby Parker fans, since this is the usual price of sunglasses from the brand.
Warby Parker did not share how much of each purchase will be donated to The Trevor Project and Lambda Legal. Bustle reached out to the brand for comment.
As the name of the collection suggests, every single pair of sunglasses is in the style Haskell. The style isn't new to the website. In fact, you can shop the exact same glasses right now on the website in multiple different shades of crystal and tortoise shell.
The Haskell Collection is a little bit different. The brand is bringing some color into the mix with six different colors — pink, green, blue, cream, purple, and red. You know, all the spectrums of the rainbow. This might not be your average brightly colored pride line, but it's perfect for wearing all year 'round.
"Sometimes you just can't get enough of a good thing," says the press release. "That's why we've taken our tried-and-true Haskell frame and decked it out in six new colors. Not just any colors, though—a kaleidoscopic range featuring Ruby, Pink Opal, Lemon Meringue, Aloe Crystal, Oxford Blue Crystal, and Amethyst Crystal (each with complimentary lens hues!)."
The styles, colors, and meaning behind the price tag of this collection makes it one of the most practical Pride Month purchases that you can possibly make. There's nothing better than stretching your dollar to the max and helping as many people as possible. If that's not a reason to shop, I don't know what is.