Here's What Happens When You Invite A Refugee Home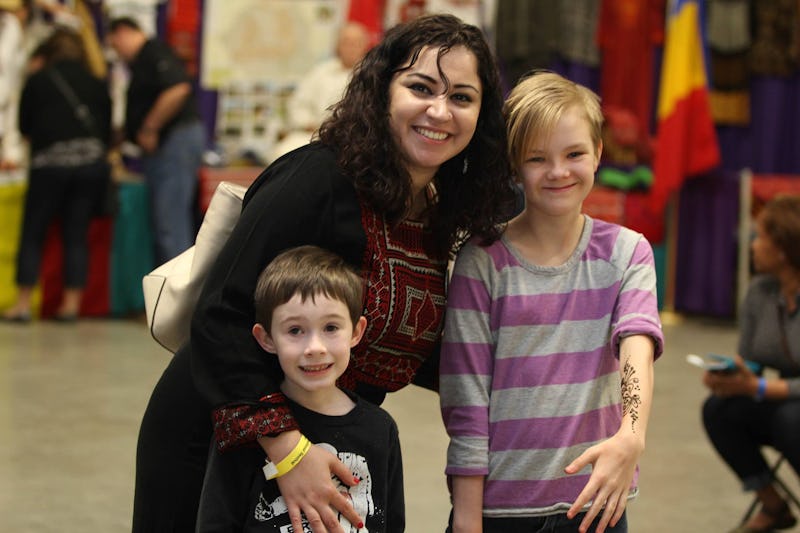 Columbia International Festival / Facebook
This time last year, my freshman composition students and I were looking for a service-learning project for our class. The course, built around Suzanne Collins's The Hunger Games, could have pursued any number of worthwhile causes, taking as its focus poverty, or PTSD, or refugees. When we learned, through a mutual friend of mine, that we were hosting a Syrian graduate student from Aleppo at our university — and that she was willing to speak to our class about her country, the horrors of war, and the refugee crisis — we went with the latter idea.
In the process of getting to know our Syrian friend, Manar, we learned that she was paying her tuition out-of-pocket. Her distress over the war and her concern for family and friends affected her academic performance, and she lost her scholarship. My class wrote a children's book, the proceeds of which were donated to the university for her tuition expenses, and she came to live with my family the following summer in order to save money on rent. The experience was enlightening, to say the least.
In light of President Trump's temporary refugee ban, which suspends travel from seven Muslim-majority countries and intake of Syrian refugees indefinitely, I feel compelled to put into words what Manar means to me. Although I would have considered President Trump's executive order a disgrace had I never met Manar, knowing her makes the insult to her deeply personal. While the constitutionality of Trump's ban is being debated in the courts, I hope others share similar stories.
If your experience is like mine, this is what will likely happen if you take in a Syrian refugee.
You Will Eat Delicious Food
Every meal Manar prepared for us — and there were lots — was a feast consisting of an entrée, Damascus bread, and fresh fruits and vegetables swimming in olive oil and spices. My favorite? Foul Mudammas. Foreign comfort food sounds oxymoronic, I know, but it's a real thing, y'all. Tasting and recognizing "comfort" is a universal human experience.
You Will Hear Wonderful Music
Although Manar is fluent in both Arabic and English, my family and I delighted in listening to her speak the former. We would deliberately eavesdrop when she talked on the phone to her mother, a refugee in Turkey, because her side of the conversation sounded like music to us. And speaking of music: there's nothing like hearing your Syrian friend singing a lullaby to your kitten, or "happy birthday" to your daughter, in Arabic.
You Will Get Support
One time, I got food poisoning and was over an hour away from home with Manar and the kids. I got a hotel room, Manar took the kids home, and sent me photos and video of well-fed, bathed, and happy children, along with "get well" wishes.
You Will Find Inspiration
My family, students, and I helped Manar run the Syrian booth at Columbia, South Carolina's annual International Festival, and I nearly bit my tongue in half when a woman wearing a Trump t-shirt asked her about "jihad" and when another festival participant yelled at her for chanting "Peace for Syria" in Arabic during her flag march.
Both times I actually felt what I knew already: that navigating America in her skin is a much more frightening experience than navigating it in mine. I marveled at her patience and kindness. "No," she'd say, "the Syrian people want peace." "No," she'd say, "I'm sorry you thought I was 'shouting' at you. You see, my country is at war, and I wanted to exercise my free speech by asking for peace."
May her courage inspire us to speak up similarly. No, we should not ban people from our country who have already been thoroughly vetted. No, President Obama did not do the exact same thing — although it is worth noting that many of us complained during his comparatively lenient administration about the difficulty of the visa application process. And finally: no, refugees have not wrecked havoc in our country, whether in Bowling Green or anywhere else. You're confusing them with homegrown terrorists, most of whom have been angry white men with guns.
So there you have it. WARNING: what you can really expect if you open your home to a Syrian refugee is a more enriched life.