All The Times That Arie Luyendyk Jr. Was Almost, But Not Quite, The 'Bachelor'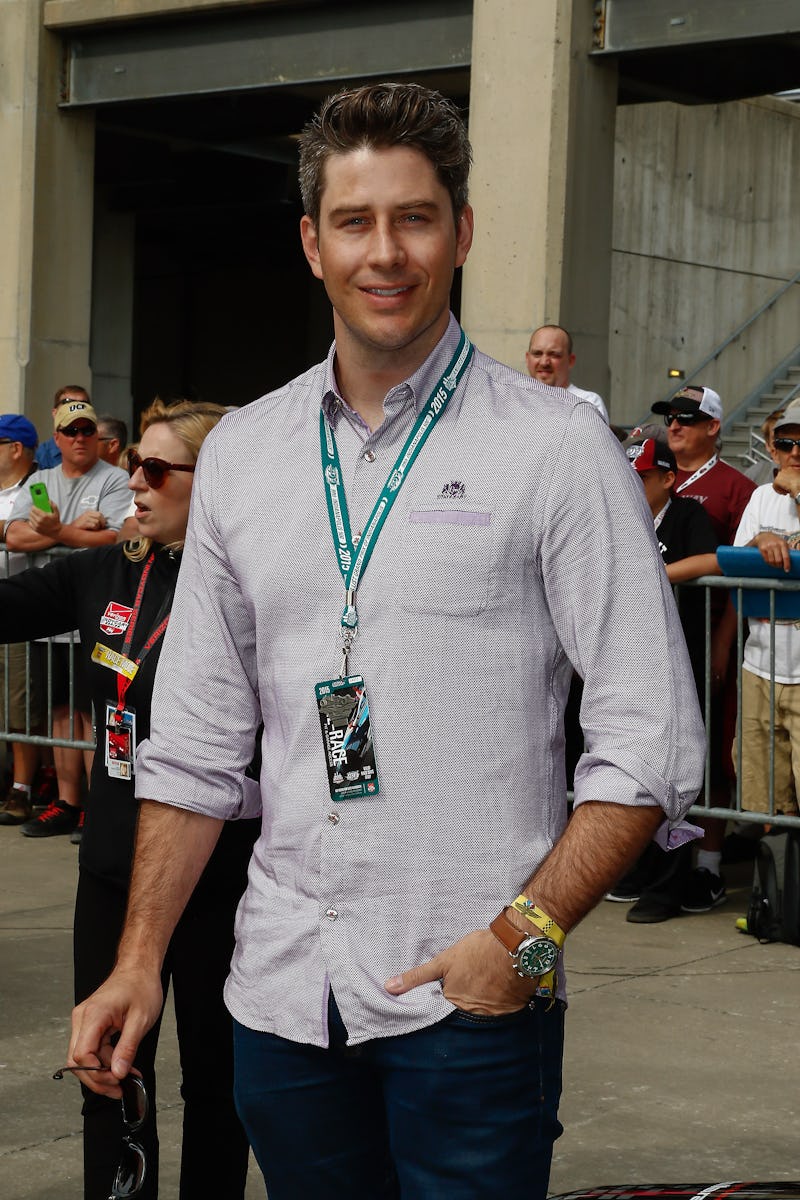 Michael Hickey/Getty Images Entertainment/Getty Images
Surprise, there's a new Bachelor in town, and it isn't who you expected. On Thursday morning, Good Morning America revealed that Arie Luyendyk Jr. is the next Bachelor, and, if you're left asking "who?", know you're not alone. Arie was the runner-up on Season 8 of the Bachelorette with Emily Maynard, which was almost six years ago. That's forever in Bachelor years, but he was a fan favorite whose name has been in the running. While Arie has never been the Bachelor before, he's almost held the role a couple of times.
Back in 2014 when they were looking for a new Bachelor, Arie's name was in the mix. The race car driver from Scottsdale, Arizona, who hasn't appeared in any Bachelorette spin-offs like Bachelor In Paradise, seemed like the perfect choice. He was well-liked by fans, which meant there was already an audience who wanted to see him finally find love. But Arie lost the role to Chris Soules, who came in third on Season 10 of The Bachelorette featuring Andi Dorfman. It was something Arie seemed to take in stride, since he tweeted before that Bachelor announcement: "I'm not the Bachelor, have fun on the farm people."
But if you believe Season 17 Bachelor Sean Lowe, Arie was supposed to be have the role during Soules' season, but turned it down. Sean, who came in third during Maynard's season, then got the job. Sean also claimed that Arie was actually chosen to be the Bachelor before Chris.
"From what I understand, the show, the producers that make the show, they wanted Arie," Sean, who is friends with Arie, told Dish Nation, but new executives at the network "were getting nervous. Like, Arie hadn't been on TV in two years." Sean said Arie actually filmed the show's intro before learning he was replaced.
Last year, Arie confirmed that the Bachelor gig was taken away from him, but not by Chris. Instead, he said it was by Season 21 Bachelor Nick Viall. Arie told Us Weekly that he, like another fan favorite Luke Pell, was told he'd be the new Bachelor, but instead they picked Viall at the last minute. "Same exact deal," Luyendyk, Jr. told the magazine, confirming Pell's story. "Suit fittings; contracts that I signed, but they were delayed on signings on their end; booked flights. Maybe this is a common practice now to throw off fans — I don't know."
Now that he's the Bachelor, it seems Arie has forgiven the show for stringing him along not once, but twice. When talking to Michael Strahan on GMA he said he's been in "touch over the last few years" with the show, "but this just fit perfect. The timing of this really fit for me."
Part of the reason why is because Arie admits he's still looking for love. "I'll be 36 in a few weeks so for me, it's time," he told GMA. "All my friends around me have kids and have grown up. I feel like I'm the last one of my friends to really take that last step."
When the Bachelor returns, Arie will be able to leap into a new relationship at last. After all he's been through with the show, he deserves it.