Colton Might Have Referenced A Famous Ex On 'The Bachelorette'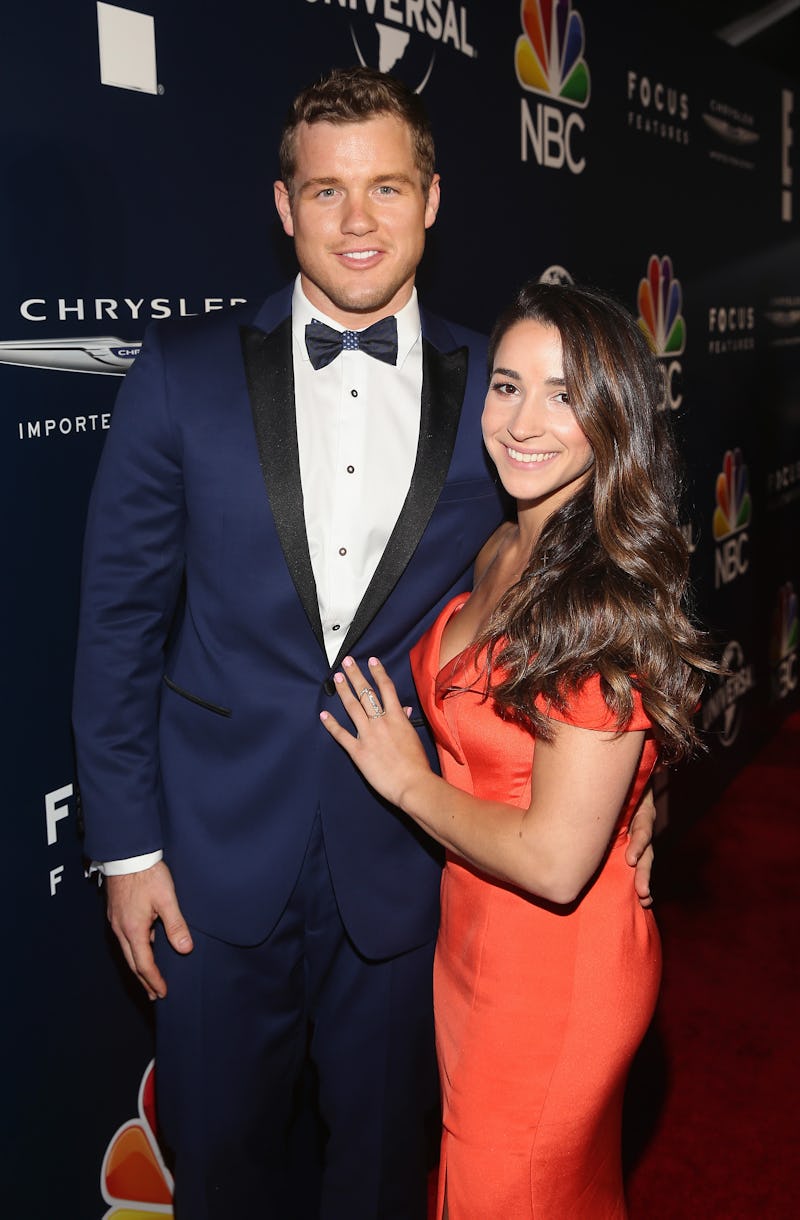 Jesse Grant/Getty Images Entertainment/Getty Images
Practically everyone who has ever dated has an ex or two (or 10), but only a few of us have dated seriously famous people. On The Bachelorette, Colton told Becca that he'd only said "I love you" to one other girl, and it was too much too fast and they broke up. Was Colton talking about Aly Raisman on The Bachelorette? The football player dated the Olympian before he went on the show.
Colton got a lovely one-on-one date with Becca, and it included riding on camels in the middle of the desert (in America, where there are not usually camels... it was just like, outside of Las Vegas) and then going in a hot tub to drink champagne and smooch while those very same camels looked on. The handlers were probably there, too, just off camera. At dinner, Becca and Colton did that thing where they talked about how happy they are to be there, yadda yadda, and then they opened the ex-files — ex-boyfriends and ex-girlfriends, that is. Everyone knows Becca's stories about her ex-boyfriends (since we met, uh, two of them since she's been on national television), and it turns out that America might know Colton's ex-girlfriend pretty well, too.
On their date, Colton told Becca a tale of an ex who just couldn't give him what he wanted, couldn't say what he wanted to hear:
"The best was when you told me we were on the same page… that's very nice to hear. It is something that I'm looking for. I haven't had that in my past relationship. It was after college. It was a little over a year ago. I said 'I love you' in the beginning very quick, and I didn't get it back. And I've only been in love once, so it was hard, because you don't feel like you're enough. Or you feel like you're missing something."
How sad! To be fair, though, it sounds like he came in way too hot and the woman he was dating just wasn't feeling it. Later, Colton clarified that just because he dropped the "L" bomb once and got rejected doesn't mean he's afraid to say it again:
"She broke up with me. I think that's sort of why, for me, being in love has confusion and pain associated with it. I don't want you to think that because I've been in love once that it's in any way a bad thing… I do want you to know that as much as my guard is up and my walls are up, that only having said the world love once is because obviously, I hold a lot of weight behind the word. Because it has so much significance. But you're making it easier for me to take my walls down."
Okay, so who broke Colton's poor little heart? Well, he says the relationship was a year ago, and according to the New York Post, Raisman and Colton split in the summer of 2017. Hmm... The Post reports that Colton asked Raisman on a date on a live video Q&A session they were doing right after the 2016 Olympic Games. Of the split, Colton told the Lincoln Journal-Star that it had to do more with distance and their packed travel schedules than anything else. "We're taking a break right now," he said in 2017. "We're still good friends and talk, but all that travel had been a nightmare." He went onto say the relationship "ended fine" and that he and Raisman were "in a good place."
It sounds like all is well that ends well, and it also sounds like Colton just put his gymnast ex-girlfriend on blast on national television. But hey — why say "I love you" if you don't mean it? Raisman did the right thing in not stringing Colton along. Now, he's moved onto greener pastures, meaning Becca and The Bachelorette. And hey, who knows, maybe a little Bachelor In Paradise.