Um, Colton From 'The Bachelorette' Has Already Dated Two Other Famous People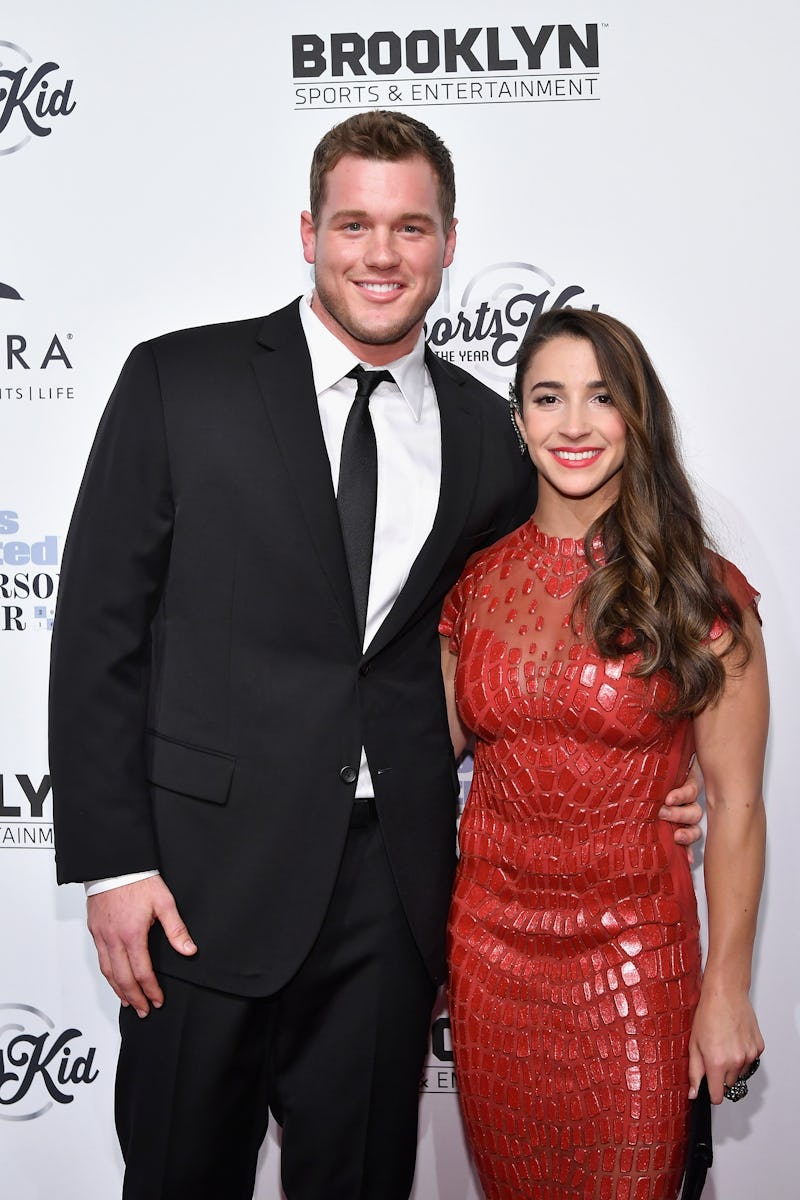 Slaven Vlasic/Getty Images Entertainment/Getty Images
Although Colton Underwood's Bachelorette profile contained a few notable details about this former football player vying for Becca Kufrin's heart, some essential pieces of information were missing. Like the fact that Bachelorette star Colton used to date Aly Raisman of the USA Women's Gymnastics Team. As E! News reported, Colton and Raisman dated between 2016 and 2017 after the Bachelorette contestant publicly asked out the Olympic gymnast. How he asked Raisman out, plus the fact that Colton also used to date Tia Booth, may make Bachelorette fans wonder if his head is in the game or if he is just chasing the spotlight. But that will be up to Becca to decide as the Bachelorette.
In late August 2016, Raisman was coming off from stunning the world at the 2016 Summer Olympics in Rio de Janeiro. Her performance in Rio helped the USA Women's Gymnastics Team win team gold medals for two Olympics in a row. She also won two individual silver medals at Rio and in an interview with Yahoo Sports after the Olympics, Raisman talked about her personal life. She said that fellow gymnasts Shawn Johnson and Nastia Liukin argue over who will help her get a boyfriend first. Then, Yahoo Sports presented Raisman with a video of Colton asking her out and congratulating her on the Olympics.
As Sports Illustrated reported, Colton was a tight end for the Oakland Raiders practice squad at the time (he was released from the team that month). And though it may have seemed like the relatively unknown football player was just doing a publicity stunt, there was more to the story. Shawn Johnson is married to football player Andrew East, who had been on the Oakland Raiders with Colton. That's why Colton said, "If you're ever in San Jose and wanna go on a double date with me and Andrew and Shawn, let me know."
Raisman made her interest pretty clear in the Yahoo Sports Video. "They've actually told me about him before. He's very cute," Raisman said. "Yeah, I would go on a date with him." And the three-time-gold-winning-Olympian even tweeted at Colton about his unorthodox proposal. "Thanks for the sweet video.... looking forward to meeting you," Raisman wrote — complete with a smiley face.
At the Sports Illustrated Sportsperson of the Year Ceremony in December 2016, People reported that Colton and Raisman made their first official appearance as a couple. The gymnast told People that she had been dating Colton since the MTV Video Music Awards earlier that year. Raisman had presented at the VMAs with Simone Biles, Laurie Hernandez, and Madison Kocian of the Final Five Olympic gymnastics team. The 2016 VMAs took place on Aug. 28, so the then 22-year-old Raisman and the then 24-year-old Colton began seeing each other just a little over a week after he asked her out.
Once their relationship was public, the couple continued making appearances together. At the CW3PR's Gold Meets Golden event in January 2017, they opened up about their relationship to Us Weekly. "He's been just very supportive, coming with me and keeping me company because I'm in a different hotel all the time," Raisman said. Colton said they had just started watching This Is Us. "We're only two episodes in, so don't ruin it!" he said. Later that week, People reported that the pair also attended the 2017 Golden Globes together when Raisman brought him as her date.
Raisman and Colton seemed to be making the most of their relationship as they balanced doing low-key couple activities and going to major events because of Raisman's fame. Yet, the pair only lasted a few more months. In June 2017, Colton revealed that they had broken up to the Peoria Journal Star. "We're taking a break right now," Underwood said. "We're still good friends and talk, but all that travel had been a nightmare." In response to a fan two months later, Raisman tweeted, "women NEVER need men to be successful. Ever. Remember that! #GirlPower."
After their breakup, Colton continued to support his ex-girlfriend. When Raisman accused USA Gymnastics team doctor Larry Nassar of sexual abuse in November 2017, Colton tweeted to Raisman, "You are the definition of strong, courageous and a role model for EVERYONE." (In January 2018, CNN reported that Nassar was sentenced to 40 to 175 years in prison after pleading guilty to seven counts of criminal sexual conduct.)
As for their relationship statuses now, Page Six reported in April 2018 that Raisman is rumored to be dating Boston Bruins forward Tim Schaller. And Colton is obviously seeking love on The Bachelorette. And while Colton probably won't name-drop Raisman to Becca, his previous relationships may come up since in the preview for the season, Colton tells Becca that he's a virgin. And even if Colton doesn't mention his Olympian girlfriend, Becca told Entertainment Tonight that viewers will get some intel on Colton and Tia's relationship. "They dated. I don't know how serious it was, but you'll see all of that unfold throughout the season as well," Becca said.
Because of his other high-profile romances, it's understandable that Bachelorette fans may be a bit leery of Colton's intentions. But they'll have to wait and see how it all plays out as Becca's Bachelorette seasons continues. And for what it's worth, even though Raisman and Colton's relationship was fairly short and had a very unique and public beginning (hm, kind of sounds like The Bachelorette), they did seem happy while it lasted — and seem to still be supportive of each other now. That's the best kind of ex to have.
If you or someone you know has been sexually assaulted, call the National Sexual Assault Telephone Hotline at 800-656-HOPE (4673) or visit online.rainn.org.