Was ISIS Behind The St. Petersburg Metro Explosion?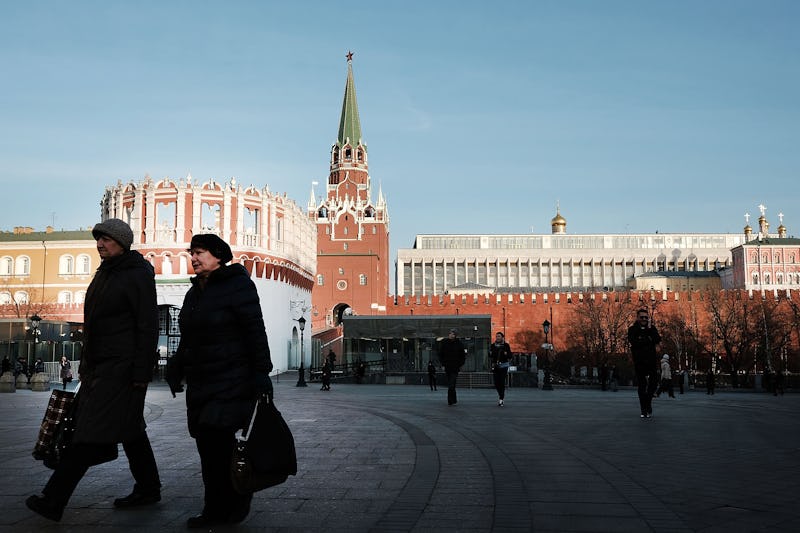 Spencer Platt/Getty Images News/Getty Images
Russian officials have confirmed that an explosion on the metro in St. Petersburg killed at least nine people and injured roughly 50 others on Monday afternoon, CNN reported. According to The New York Times, the blast occurred around 2:45 p.m. local time, and the subway system has since been shut down. The violent nature of the incident naturally raises questions of terrorism, and you may be wondering if ISIS was behind the St. Petersburg attack.
At the time of publication, details are still too murky to tell. According to CNN, Russian president Vladimir Putin said police are investigating all possible causes, both domestic and criminal, but primarily incidents of a terrorist nature.
It's important to note that there has been no confirmation on the reasons behind the attack, though the last few years have certainly been marked by heavy terrorism from ISIS. As of February, the extremist organization had claimed responsibility for 143 attacks in 29 countries, including recent incidents in Berlin and Brussels. And, just last month, ISIS had also reportedly claimed responsibility for the London parliament attack that left four people dead, including the assailant and a police officer.
According to CNN, several of these incidents have occured in Russia. The most recent one were two attacks in the Dagestan region in March 2016: one that may have killed as many as 10 Russian soldiers, followed by a "suicide attack" at a police checkpoint the next day.
Still, public transportation in Russia has been targeted by other groups in the past, according to the Times. In March 2010, two subway stations in Moscow were attacked by suicide bombers, killing dozens. The incident was later linked to pro-Chechen separatists active with a pan-Caucasus insurgency. Back in February 2004, a bomb detonated inside a train car as it left the Avtozavodskaya station in southeast Moscow, killing at least 39 people. Then, in September that same year, a suicide bomber detonated explosives at a station north of Moscow, killing nine.
For now, it's far too early to make any conclusions about whether or not ISIS was involved, or even if the incident was definitively a terror attack, but stay tuned as details continue to emerge.