No, Mary Tyler Moore's Love Life Wasn't Like On TV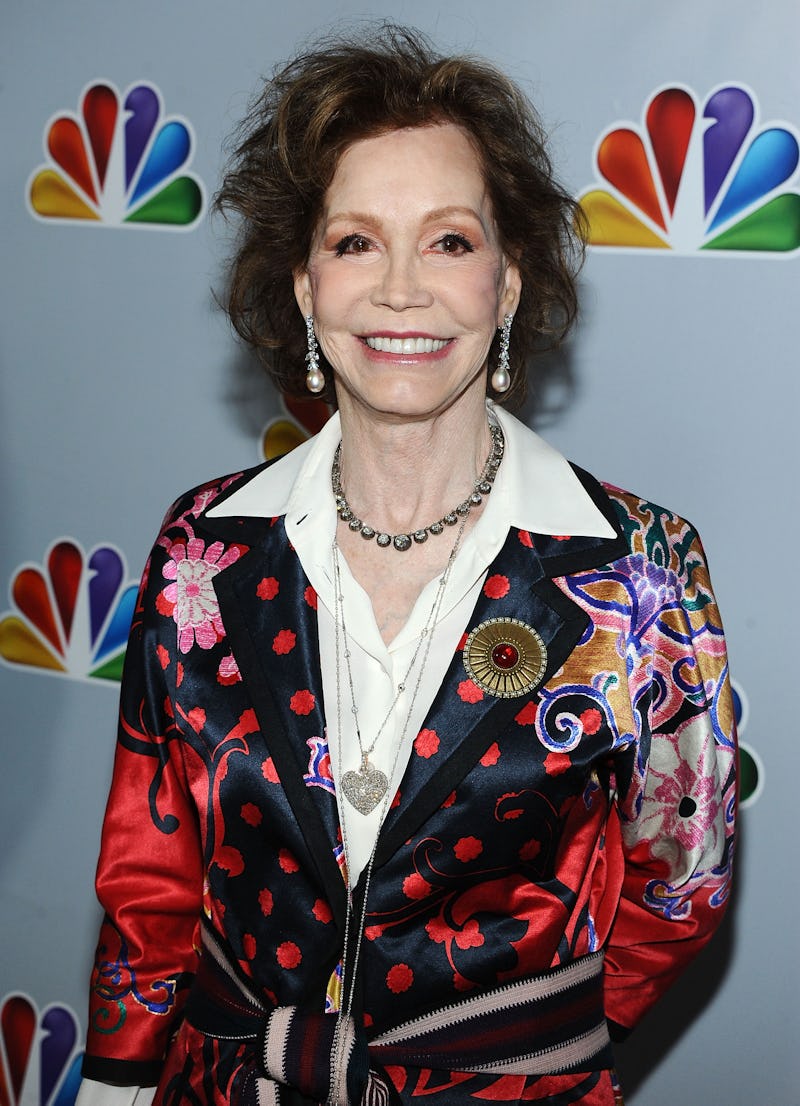 Angela Weiss/Getty Images Entertainment/Getty Images
The girl who could turn the world on with her smile is gone, and it's a sad day indeed. Mary Tyler Moore passed away at age 80, her rep confirmed to Bustle on Wednesday. A statement from her rep noted, "Today, beloved icon, Mary Tyler Moore, passed away at the age of 80 in the company of friends and her loving husband of over 33 years, Dr. S. Robert Levine." Wait, quick pause before we go on... Moore was married?
The actor has had a long career. But, without question, her most iconic role was as Mary Richards, the single 30something, hat-throwing career girl who brought real, modern women's issues into a '70s sitcom like it was a baby's challenge. Though boyfriends would come in and out of her life, that single status marked Moore's character throughout the series, which is why hearing about her real-life marital status may be a shock.
As it turns out, she was married — three times over. In fact, Moore was somewhat the antithesis of a single 30something. Her first marriage was reportedly at the tender age of 18 to Richard Carleton Meeker, and, merely months after their union, Moore was pregnant with their son, Richard Jr. The couple divorced in 1960, and, tragically, Richard Jr. died 20 years later due to an accidental shotgun incident at the age of 24.
Shortly after her divorce with Meeker, Moore married again, this time to then-CBS executive Grant Tinker. The couple would later be known for starting their own production company, the aptly named MTM Enterprises, in 1969. Together, they put out, you guessed it, The Mary Tyler Moore Show. Though the two would eventually split in 1981, and Tinker would leave MTM along with his marriage, MTM would go on to not only put out numerous spin-offs and Moore-fronted entities, but also other hit series like The Bob Newhart Show and St. Elsewhere.
That brings us back to her relationship with Levine. According to People, the couple was reportedly married on Thanksgiving Eve, 1983, at Manhattan's Pierre Hotel. At 30, Levine was 15 years Moore's junior, but he was already boasting a successful career as a cardiologist at Mt. Sinai Hospital. And, though skepticism surrounded their union, Moore's co-star (and the Rhoda to her Mary), Valerie Harper, endorsed the pair's relationship. "Mary's filled with joy because she and Robert are friends as well as loving each other," she said during an interview with People following the couple's nuptials.
Of course, Moore's legacy shouldn't be marked solely by whether she was single or not, curious as the public may be. The statement from her rep goes on to note,
A groundbreaking actress, producer, and passionate advocate for the Juvenile Diabetes Research Foundation, Mary will be remembered as a fearless visionary who turned the world on with her smile.
I extend my condolences to Levine and Moore's family, and hope that she's making it on her own up there.