Fans Have One Huge Question About Nicki Minaj's VMAs Performance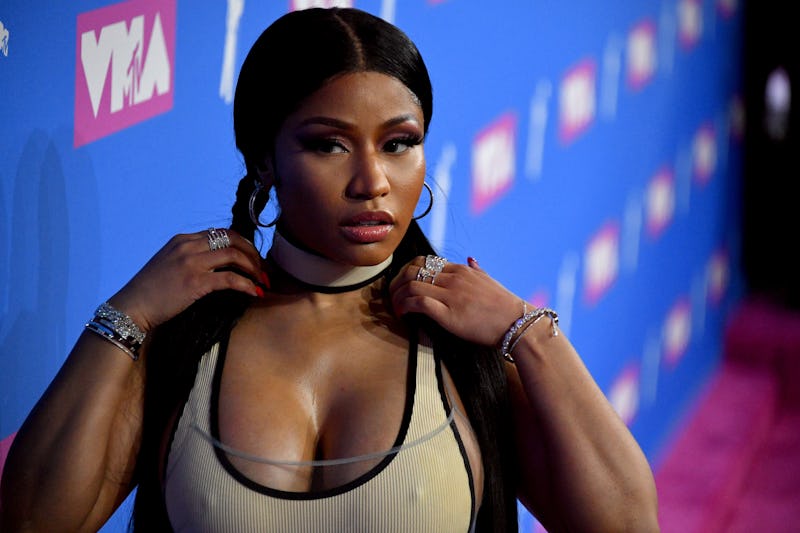 Dia Dipasupil/Getty Images Entertainment/Getty Images
Nicki Minaj's appearance at the 2018 MTV Video Music Awards was always going to be big. Though the rapper performed "Swish Swish" at the awards last year with Katy Perry, this time she's doing it on her own to promote the release of her smash album, Queen. Nicki Manj's performance at the 2018 VMAs was a real scene stealer, but it did raise a few eyebrows. The rapper performed a medley of "Majesty," "Barbie Dreams," "Fefe," and "Ganja Burns," and the medley had some fans wondering if she was lip syncing.
This was Minaj's seventh VMAs performance since she made her VMA debut performing during the pre-show in 2010, but it was her first not taking the stage at the actual venue. Unlike her previous performances, this time Minaj took fans outside the ceremony's Radio City Music Hall home and into New York City, performing at the Oculus near the new Wold Trade Center. Prior to the show, the performance was teased by MTV as taking place at "a secret, iconic location in New York," and the Queen sure delivered. However, the performance failed to deliver for some fans, who took to Twitter to question whether or not the rapper was lip syncing, like @itsgagavibes, who wrote simply, "NICKI THAT LIP SYNC #vmas."
Lip syncing, or performing to a track with the vocals, is very common among performers, but it is somewhat surprising to see coming from Minaj, an artist who takes pride in writing her own raps and performing live. That said, it's possible that some fans noticed a delay in the vocals and Minaj's performance it's because others on Twitter theorized that Minaj actually performed on Sunday, and it was pre-recorded. According to a report from Pitchfork, the segment was, in fact pre-recorded. So it could just be a case of technical glitches.
Minaj wasn't just performing at the 2018 VMAs. The rapper was also nominated for Best Hip-Hop Video for her single "Chun-Li." In fact, she took home the first award of the night, and made sure to thank her fans. "Shoutout to my fans all around the world for showing love to the Queen album," she said, holding her Moon Person proudly. This marks her eleventh nomination total and her fourth win. The rapper previously won three Moon Person trophies total, taking home one for Best Hip-Hop Video for "Super Bass," another for Best Female Video with "Starships," and a third for Best Hip-Hop Video thanks to her hit "Anaconda."
Minaj's performance comes after the rapper's newest release Queen debuted at number two on the Billboard 200 albums chart. Despite big sales, Minaj wasn't too thrilled at being denied the number one spot, which went to Travis Scott's Astroworld. "I put my blood sweat & tears in writing a dope album only for Travis Scott to have Kylie Jenner post a tour pass telling ppl to come see her & Stormi. lol," she wrote on Twitter on Sunday, Aug. 19. "Im actually laughing. #Queen broke the record of being number 1 in 86 countries. Thank Jesus & thank you to my fans." Before fans start worrying about a new feud brewing between Minaj and Scott, or Jenner, the rapper previously tweeted that she had spoken to Scott about their competing albums, writing, "I spoke to him. He knows he doesn't have the #1 album this week." Coincidentally, Scott also performed at the 2018 VMAs, and the two were seated right by one another. So, if there really is bad blood between them, they didn't bring attention to it.