Nicki Minaj Wore A Completely See-Through Skirt To The VMAs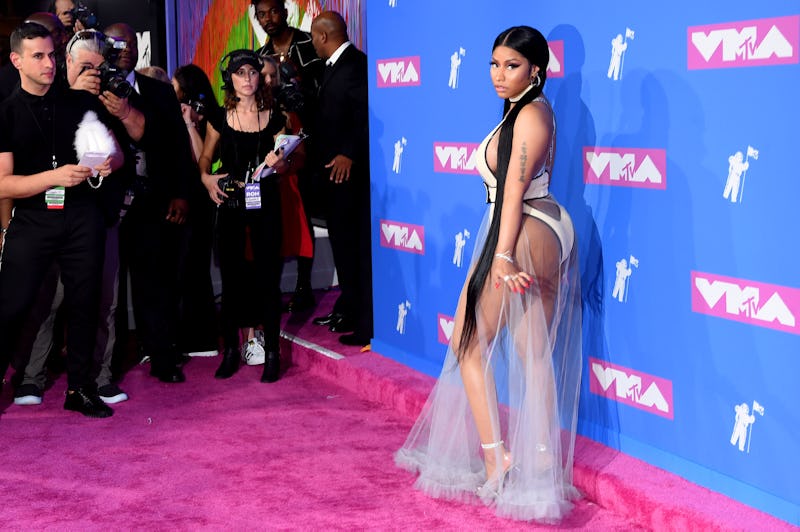 Jamie McCarthy/Getty Images Entertainment/Getty Images
If there is one woman that knows how to bring it to the VMAs, it's this singer. Nicki Minaj wore a see-through skirt to the MTV Video Music Awards, looking like the star that she is. Her red carpet look isn't the only outfit that she will be rocking during the event, but it's hard to imagine that it can get even better than this — especially with those ultra-long pigtails.
Every single year that Minaj hits the VMAs red carpet, she stick to a color and completely owns it. In 2017, it was bright bubblegum pink. In 2016, it was navy blue, and the year before that it was gold. This year, the singer stuck to, well, no color scheme at all. She rocked a gorgeous tulle skirt that was pure magic. It was reportedly made by Virgil Abloh.
The "Chun-Li" singer always knows how to work the cutouts on the VMAs red carpet, but this year she took it up a notch. She combine the tulle color with some off-white undergarments to make for a look that no one will be forgetting any time soon.
She paired the angelic look with simple diamond hoops and a bracelet accessories at all, which had all eyes on the see-through skirt and ultra-long pigtails. Leave it to Nicki to blow you away with the style, my friends. The singer opted for really, really long pigtails, seems to be theme among celebrities this season.
Compared to the past VMAs, this look is a whole lot different. While they're always the perfect balance of fun and formal, this one goes above and beyond on the sass factor. It's much more subtle when compared to the crystal-covered past look or the latex bubble-gum pink ensemble, but makes just as much of a statement.
It's also worth noting that she chose to switch up her hair for this year's event, too. Minaj has a knack for debuting an unconventional hair color on the red carpet, and she is back at it for this year's red carpet. She played it a bit more natural this year — beside, you know, the ultra-long hair.
Minaj is only nominated for one award at the night's event. The singer is up for Best Hip Hop Video for "Chun-Li," and is up against The Carters, Drake, Cardi B, Migos, and J.Cole. Minaj walked the red carpet looking like a winner, but there's no telling who will go home with the moon man.
No matter whether the singer wins the award or not, you will be seeing more of her on stage. Minaj is set to perform at the Radio City Music Hall in New York City for the event. Her on-stage outfits are always completely different than the ones that she walks the red carpet in, so there's no telling what she will wear.
Either way, it is sure to be a big night for Minaj fans. There will be plenty of outfits to go around, and this is just the start
Minaj does not disappoint when it comes to a red carpet look. This year was no different, and, of course, there was another on-stage moment to obsess over. Actually, there was two looks in one performance. As Nicki Minaj does.
The singer started out dancing next to two golden unicorns wearing a ginormous ball gown. She later pulled it off and rocked the stage in one, all-gold bodysuit for a multi-song performance. It was quite the fashion moment.
Go ahead and see the entire thing for yourself.