Otto Warmbier Wasn't North Korea's Only American Prisoner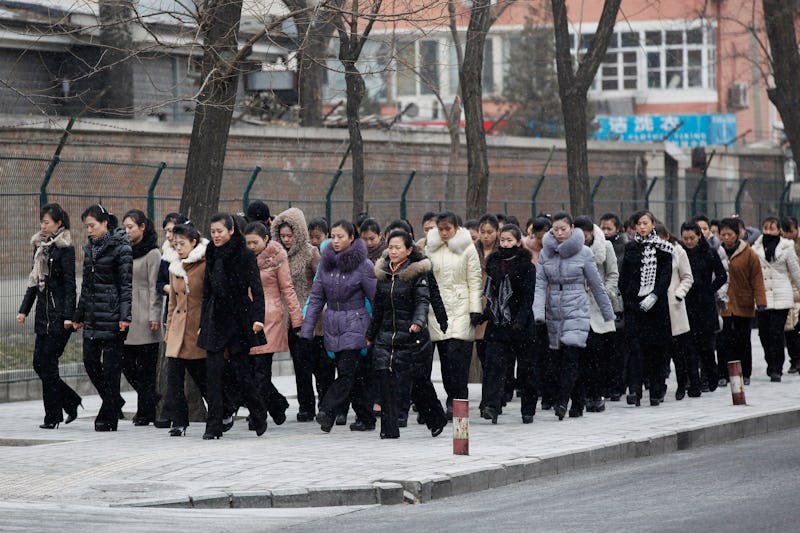 Lintao Zhang/Getty Images News/Getty Images
American university student Otto Warmbier was finally returned to his family after nearly a year and a half of detention in North Korea. His imprisonment and subsequent release received immense media attention, but believe it or not, Warmbier was not North Korea's only American prisoner.
Warmbier had gone to the country for a short tour, but was detained at the airport in 2016 as he was about to depart, allegedly for a "hostile act" directed at the government. He was convicted of stealing a propaganda poster and sentenced to 15 years of hard labor.
His case has probably drawn the most interest from news media, given his age, but there are currently three other Americans currently detained in North Korea. One even arrived before the University of Virginia honors student did in January of 2016. Warmbier's time in North Korea ended for good as he arrived at home in Cincinnati Tuesday night. But that is not the case for these other Americans.
Kim Dong Chul was detained back in October of 2015, but his status was not known until January 2016, when North Korean officials revealed that they had sentenced him to 10 years of hard labor for spying. He worked at a company in a special economic zone in the North along the border with South Korea. "I'm asking the U.S. or South Korean government to rescue me," he said in a North Korean hotel at the time. He was born in South Korea and has dual citizenship in the United States. He remains in detention.
The other two were arrested after Warmbier. The first, Kim Sang-Duk, who also goes by the name of Tony Kim, was arrested in April 2016 at the airport. He's a university professor and had been working at Pyongyang University of Science and Technology for about three weeks. His arrest was also for "acts of hostility" which aimed to "overturn" the state," North Korean officials said. More information regarding the charges have not been shared publicly.
The second American arrested after Warmbier is Kim Hak-Song. He was also employed at Pyongyang University of Science and Technology and was arrested in May of 2016, also for "hostile acts," although no explanation was given. The North, through its official news agency, said that "a relevant institution" is investigating. That was the last public acknowledgment of his detention.
As for Warmbier, the story is not over yet. He was taken off the plane by medical staff, having reportedly been in a coma for up to a year. His parents had him transferred to University of Cincinnati Medical Center in ambulance. He reportedly contracted a case of botulism about a year ago, was given a sleeping pill, and has not regained consciousness since.
For the three in North Korea, their fate largely relies on the work of the Swedish Embassy in Pyongyang, which serves as a sort of intermediary between the countries, given that the United States has no official diplomatic ties to the country. The State Department is working behind the scenes, but their return, as seen with Warmbier, could take some time.