Investigators Are Determining If ISIS Played Role In London Attack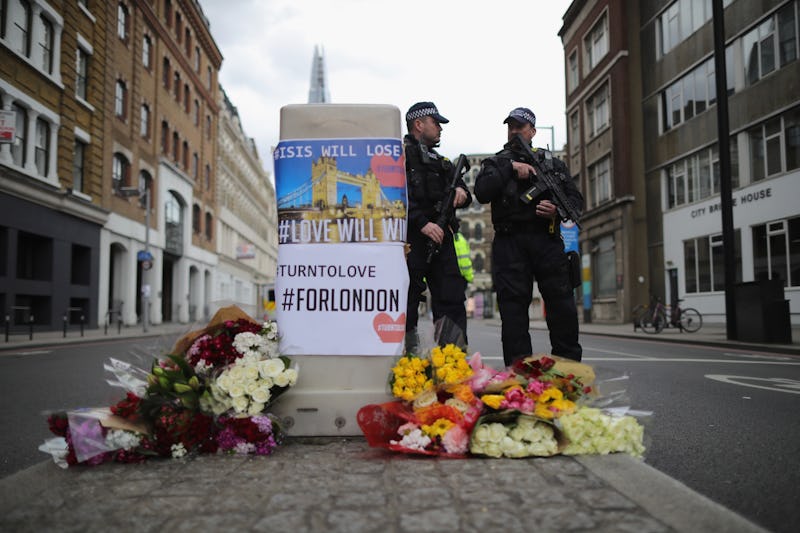 Christopher Furlong/Getty Images News/Getty Images
Terrorists in the city of London on Saturday killed at least seven people and wounded nearly 50 others when they reportedly drove a van into pedestrians and began stabbing others at an open-air market near London Bridge. Police reportedly shot and killed three men believed to be the attackers, but their identities were not immediately made public. Although ISIS had not claimed responsibility for the London attacks by Sunday, it seemed clear from official statements that radical, extremist beliefs may have played a role in the violence.
"We are treating this as a terrorist incident and a full investigation is already underway, led by the Met's Counter Terrorism Command," Metropolitan Police Assistant Commissioner Mark Rowley told the public on Sunday.
The same day, U.K. Prime Minister Theresa May addressed the attacks, calling them "brutal." Her statement updated the public on the latest available information, including that many of the injuries were life-threatening. She also assured the public that Saturday's attacks were not directly connected to the explosion two weeks ago at an Ariana Grande concert in Manchester. That incident, which killed more than 20 people, was also treated as a terrorist attack. May's statement outlined the U.K.'s response to the terrorist attacks and, particularly, the Kingdom's response to "the threat from Islamist-inspired terrorism."
Since the emergence of the threat from Islamist-inspired terrorism, our country has made significant progress in disrupting plots and protecting the public. But it is time to say, "Enough is enough."
The Islamic State did claim responsibility for last month's attack in Manchester. However, no such claim came for Saturday's attack in London — at least, not as of Sunday. According to The Daily Mail, though, ISIS members and supporters did seem to celebrate the London attack online. The online messages reportedly praised the violence and promised more attacks in the future.
Meanwhile, President Trump seemed to use Saturday's attacks to garner support for his proposed travel ban. The ban would block people from certain Muslim-majority nations, including Syria, from entering the United States. In a tweet on Saturday night, Trump proclaimed, "We need the travel ban as an extra level of safety."
The travel ban has been blocked for months after a federal judge issued an injunction. On Thursday, the Trump administration officially asked the Supreme Court to take up the case and to reinstate enforcement of the ban. In the meantime, Trump's response to the London attacks was also criticized for a statement he made via Twitter about London's mayor.
Ultimately, ISIS' involvement in Saturday's attack was not totally clear on Sunday. What was clear, though, was that concern for "Islamist-inspired terrorism" remained high in the U.K., even if the London attacks were unrelated to the recent explosion in Manchester.