Trump's Travel Ban Could Be Headed To The Supreme Court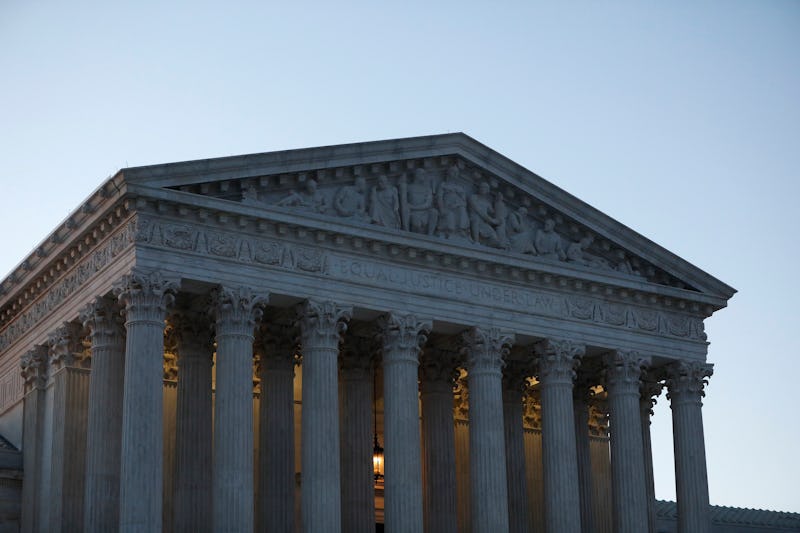 Aaron P. Bernstein/Getty Images News/Getty Images
Late on Thursday, the Trump administration reportedly appealed its long-stagnant travel ban case to the U.S. Supreme Court, according to CNN. The administration's appeal renews debate over the travel ban, which had been mostly quelled after the Fourth Circuit Court of Appeals upheld an injunction on the ban in May. At that time, the ban was barred from enforcement becuase of judges' concerns that it "drips with religious intolerance, animus, and discrimination."
In a statement on Thursday, Justice Department spokesperson Sarah Isgur Flores reportedly defended the ban, which began as one of the president's earliest executive actions.
We have asked the Supreme Court to hear this important case and are confident that President Trump's executive order is well within his lawful authority to keep the nation safe and protect our communities from terrorism. The president is not required to admit people from countries that sponsor or shelter terrorism, until he determines that they can be properly vetted and do not pose a security risk to the United States.
Trump's travel ban seeks to prohibit individuals from a handful of Muslim-majority countries from entering the United States. Trump amended the original executive order slightly after it was blocked by a federal judge. However, the second iteration — which removed Iraq from the list of prohibited countries of origin — was also blocked, when a federal judge in Hawaii ruled that the ban could discriminate against certain groups of people.
Because of the various injunctions, the travel ban hasn't significantly been enforced to this point. In Thursday's appeal, the Trump administration asked the Supreme Court not only to consider whether or not the ban is constitutional, but also to allow enforcement of the ban during the legal proceedings. If granted, the executive order could begin to take effect very soon.
Critics of the travel ban, however, took to social media on Thursday night to remind followers that the appeal does not necessarily mean a reversal. For instance, the American Civil Liberties Union tweeted on Thursday that SCOTUS "can still choose not to hear" Trump's case, which is true. According to FindLaw, the Supreme Court gets some 10,000 requests each year to hear certain cases, but it only actually hears about 80 of them. While there's no set formula for the court to decide which cases it hears, it's possible that an issue as controversial as the travel ban could pique the justices' interest.
If the Supreme Court does take the case, it can ultimately rule the ban constitutional or unconstitutional. Judging by the Justice Department's statement on Thursday, the Trump administration seems poised to argue constitutionality under the president's power to ensure national security. However, the lower courts have already set the precedent that the ban may be discriminatory, an argument that could prove difficult to overturn.