Watch The 'Creed 2' Cast Talk About The Film's Depiction Of "Black Love"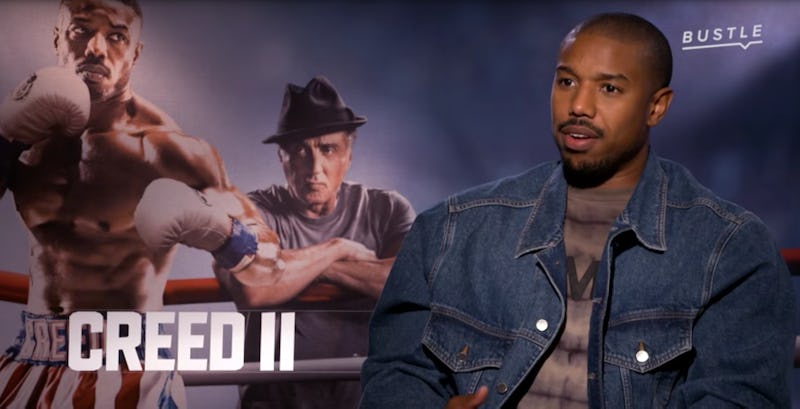 Creed II, just like its predecessor Creed, is much more than just your average sports movie. With a black protagonist, a black director, and a prominent black romance, Creed II takes measures to make sure it's representing that experience fully. This is perhaps most evident in the relationship between Adonis Creed (Michael B. Jordan) and Bianca Porter (Tessa Thompson); a relationship that Jordan referred to as "black love" in an interview with Bustle Associate Entertainment Editor Olivia Truffaut-Wong.
The first Creed saw Adonis Johnson, the illegitimate son of the late boxing champion Apollo Creed, embrace his father's legacy and forge his own path as a boxer. He moves from Los Angeles to Philadelphia to receive training from his father's friend and rival, Rocky Balboa (Sylvester Stallone), and it's there where he meets Bianca (Tessa Thompson). As a musician who is suffering from progressive hearing loss that will eventually cause her to go deaf, Bianca is dealing with her own personal struggles related to her identity and career aspirations, and she finds a kindred spirit in Adonis, who is going through similar issues. The pair briefly separate in the first film after Adonis loses his temper and punches a musician friend of Bianca's, but they reconcile before the end of the film.
Creed II picks up in a different place in their lives. Adonis and Bianca are still together, but they've matured. They've had some successes and aren't struggling to find themselves quite like they were in the first film. They're now engaged rather than just dating, and then there's the biggest change of all: they now have a baby. All of these changes show a black couple that is in a far different — and arguably better — place than when audiences first met them, and that's something Jordan is particularly proud of. "I think it was really important to show young black love, you know the relationship that [Adonis] has with his fiancée, Bianca," Jordan says with a smile. "Adonis and Bianca, they're becoming their own little power couple, which is kinda cool. I like that."
Another important aspect of portraying the relationship between Adonis and Bianca in Creed II was getting the details right. Thompson notes that the film took great care to make sure black fans would see their culture represented in the small moments between the couple on screen. "When Mike's character is taking out Bianca's hair, none of that stuff was on accident," Thompson she says of this iconic scene in the first movie. "To us, real representation has to do with specificity and those moments felt like an 'I love you' to black fans and black audiences."
Creed II doesn't have an easy task in following the critically-acclaimed Creed, but it seems the creative team is more than up to the challenge. By keeping the focus on realism and making culturally significant contributions to portrayals of race and relationships, the sequel is sure to leave just as big of an impression as its predecessor.
For more thoughts and insights on the film from Michael B. Jordan, Tessa Thompson, and director Steven Caple Jr., take a look at the video below:
Creed II hits theaters on Nov. 21.
Reporting by Olivia Truffaut-Wong.