We Asked An Expert If This Sex Toy Makes Sex Better & Here's What They Said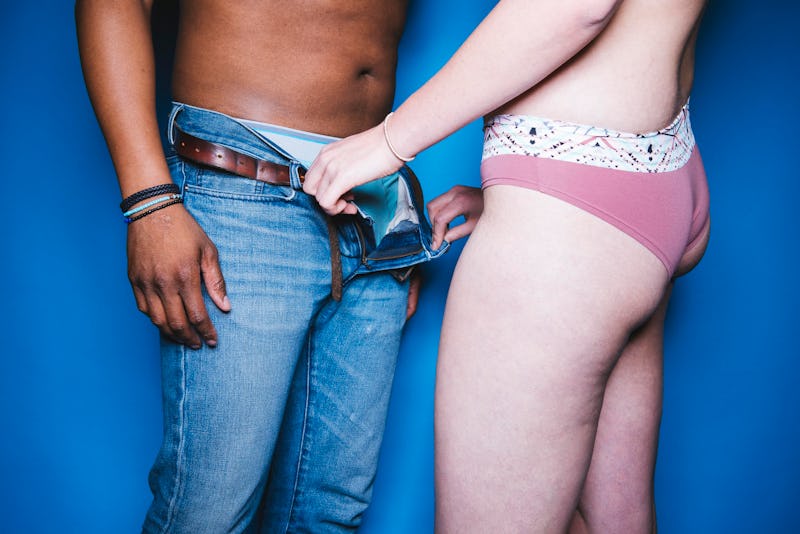 BDG Media, Inc.
Cock rings are a misunderstood sex toy. While people generally have a vague idea of what they look like and do — the name is pretty descriptive, after all — that's where many people's knowledge stops. And I'll admit that even I, a certified sex educator, didn't know much about cock rings. I decided to remedy that by asking Maqnus Sullivan — author of the book Better Than The Hand and founder of ManShop, an online store for sex toys for people with penises — if cock rings make sex better.
"I don't find that using a cock ring is an improvement," Sullivan tells Bustle. "It's more that it's something different."
Before we get into that difference, let's talk about what cock rings actually are. The most basic explanation is a ring that goes around the base of the penis or sometimes around the balls. Cock rings can be made of elastic materials like rubber, latex, or silicone or they can be made of rigid materials, like steel or wood.
Without a cock ring, blood flows into the penis to make it erect and flows out once the person orgasms or loses their erection for another reason. Cock rings restrict blood from flowing out of a penis once its achieved an erection. As a result, the number one reason people use cock rings, Sullivan says, is to maintain an erection. And while the first thought when you hear "maintain an erection" is often erectile dysfunction, the reasons someone might want to maintain an erection are more varied than you may have realized.
Role Playing Around Penis Size
Cock rings are often used with other toys — usually ones that make the penis look or feel bigger. One super popular toy on ManShop, Sullivan says, is the penis extender. It's like a sheath that goes on the end of the penis, giving the person with the penis more length to work with. But penis extenders do reduce sensation, so cock rings help people maintain an erection, even with a penis extender on.
"It's visually stunning," Sullivan says. "Some of these things, when you put them on, they're massive cocks. So there's an element of theater to it and an element of role play. For my wife, for example, it was completely bizarre to have me f*cking her and for her to have a completely different sensation than she usually does."
Another "toy" that makes penises bigger is a penis pump. "Used with a pump, it can be a really effective way to get hard and stay hard," Sullivan says. "And that's the most common use I've heard of, in talking with people. You pump your [penis] up — sometimes to an enormous size — and you slide a ring on."
Having Sex With Multiple Partners
Because a cock ring prevents a penis from deflating after sex, Sullivan says it's a great option for people who are having sex with multiple partners. Obviously losing your erection isn't ideal when someone is using their penis for sex with more than person, so putting a cock ring on can relieve that concern and help make sure everyone walks away satisfied.
Having Sex For A Long Time
The same goes for people who have partners who like to have penetrative sex for a long time. A person wearing a cock ring can have sex, orgasm, maintain their erection, and keep having penetrative sex.
"It's nice to know that you can maintain your erection," Sullivan says. "If your partner wants to have penetrative sex for a really long time, it's a good tool to have in your pocket."
But How Is It For A Partner Without A Penis?
So that's how it sex is changed from the perspective of a person with a penis. But what about someone who has sex with penis-havers — and who has a vagina herself? Crista Anne, sex educator and member of the Advisory Council of the Effing Foundation for Sex-Positivity, has used cock rings both with a partner who had trouble keeping an erection due to medication issues and with other partners just for fun.
"Cock ring use for fun gave a harder feel to their penis during PIV, which for me was fun — the sensation was just different enough to feel," Crista Anne tells Bustle. "Sometimes that led to more G-spot rubbing penetration."
In addition to digging the different sensation, Crista Anne also enjoyed her partner's enjoyment of a heightened, more intense response from their penis. And for her partner who had erection issues, the cock ring added a sense of levity to what could have been a tricky situation.
"We'd get things started so that they had the start of engorgement, then put the ring on," Crista Anne says." That was sometimes hot on its own, sometimes we were silly about it. Once it was on I'd usually preform oral, and with the ring they'd stay hard for some penetrative sex if that's what we wanted. Like with most things the stigma of erection issues — especially because we were both in our early twenties — was a hurdle. Until they were comfortable with the use, it didn't have the best effects."
So do cock rings make sex better? It sounds like they certainly make things different, in a generally positive way. If you're looking to change things up a bit, or you or your partner have erection issues, a cock ring is an inexpensive, easy way to do so, according to the experts.