R.I.P. To These Ridiculous Kylie Baby Theories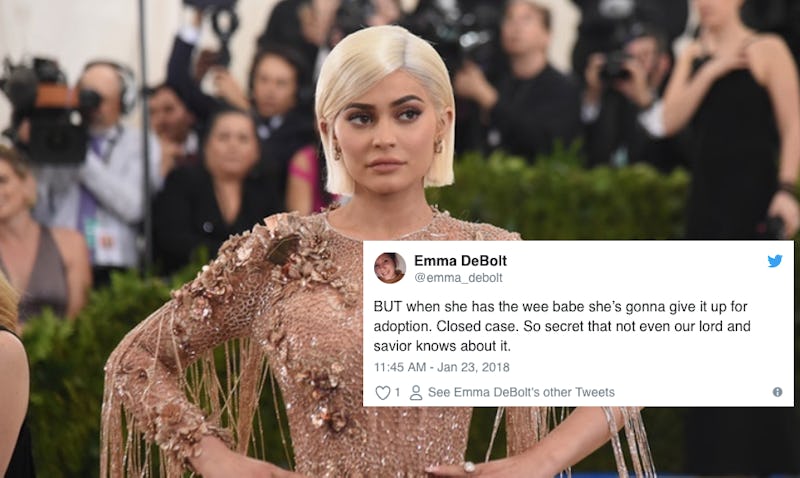 Nicholas Hunt/Getty Images Entertainment/Getty Images
Even though Kylie Jenner has now officially confirmed her pregnancy and the fact that she's welcomed a baby girl into the world, it's still kind of baffling how many ridiculous theories fans came up with as they tried to crack the mystery surrounding her life over the past few months. Now that we know the truth, it's easy to see how out of hand Kylie Jenner baby theories had gotten, especially toward the end of her pregnancy. It seemed like the longer she waited to fill everyone in, the crazier these theories started to become.
Of course, we now know that the reason Jenner wasn't talking about her pregnancy was because she wanted privacy and to keep her life as low stress as possible while she was pregnant and preparing to be a mom. But before she confirmed everything in her message on Instagram, fans worked hard to figure out what the reason for her silence was. Some thought that maybe she was just trying to make her announcement strategic for maximum publicity; others were correct in assuming that she just didn't want to share this part of her life with the world until she was ready. Obviously, Jenner was the only one who knew the answer to that question at the time, and meanwhile, the rest of us couldn't help but wonder what was really going on behind the scenes.
Although some of these theories were totally ridiculous and none of them were actually true, some of them are definitely entertaining. Now that we know Jenner just didn't feel like sharing her pregnancy with the world until the time was right, it's really a wild ride to look back at the weirdest theories that attempted to explain what Jenner wasn't telling us.
She Was Actually In Hiding Because Of Her Appearance
Would Jenner really go into hiding from the world because she wasn't a fan of the way she looked while pregnant — or because she was unable to get her trademark lip fillers until after the baby was born? Neither of those scenarios were correct, and Jenner obviously looked gorgeous in the video she shared along with her announcement.
She Was Playing The Long Con
If you have time to read this ridiculous yet fascinating thread, this theory is quite a ride. It says:
Kylie is pregnant currently but knows she's not ready for it to be in the limelight and so she has everyone she knows hides it from the world and we are all suspicious. BUT when she has the wee babe she's gonna give it up for adoption. Closed case. So secret that not even our lord and savior knows about it. BUT HERES WHERE IT TURNS CAUSE THIS GALS GOT SOME TRICKS UP HER GUCCI SLEEVE. Twenty years down the road the kardashians and Jenner's are wiped out. Kylie who?? There's no possible way for them to get back on top. This baby Kylie had decided to get a paternity test just cause they wanna know what went down twenty years before. THIS KID FINDS OUT THEY ARE THE OFFSPRING OF KYLIE AND TRAVIS SCOTT. This child then contacts his birth parents bc they want to be rich like they were back in the day and Kylie and Travis welcome them back with open arms. Kylie and Travis only did this because they knew that it would blow up in the future. THEY KNEW that we were gonna flip the table and rediscover the lost and uncertain child Kylie may or may not have had. Bottom line is: Kylie and Travis Scott are doing this as an investment in their financial and social future. Case closed. [sic]
That definitely wasn't what was going on behind the scenes, but this would make for a really interesting Lifetime movie.
She Just Needed A Break
It sounded like Jenner did just need a break, but she was actually pregnant at the same time. So, this one isn't as out there as the rest of them, but still wasn't true.
This Was All For Life Of Kylie
Although there would have never have been a better ratings grab than Jenner's pregnancy reveal taking place on Life of Kylie, Jenner specifically mentioned that her keeping that time in her life under wraps had nothing to do with publicity.
She Was Never Pregnant To Begin With
Since Jenner actually was pregnant, this one was't true, either. And even if this theory was legit, would Jenner really need to go through all of this just to keep people interested? She was already on top before all this pregnancy stuff came out — and even while she was MIA, everyone was still all about her Instagram posts and lip kits.
She Was Going To Give The Baby To Khloé
There's a major hole in this theory: We've all seen Kardashian and Jenner's unclothed bumps, and that's something that's difficult to fake. Oh, and Jenner has given birth and Kardashian is still pregnant, so consider this one officially squashed.
Her Family Was Playing A Giant Joke On Us All
It would have been hilarious if the Kardashian-Jenner family just decided to go along with the rumors and pull a fast one over on us. So hilarious, in fact, would anyone have actually been mad if it turned out this was what's had happened?
As wild as some of these theories would have been, the truth is so much better.