Khloé Just Shared A Pic Of Herself & Kylie Posing With Their Pregnant Bellies Together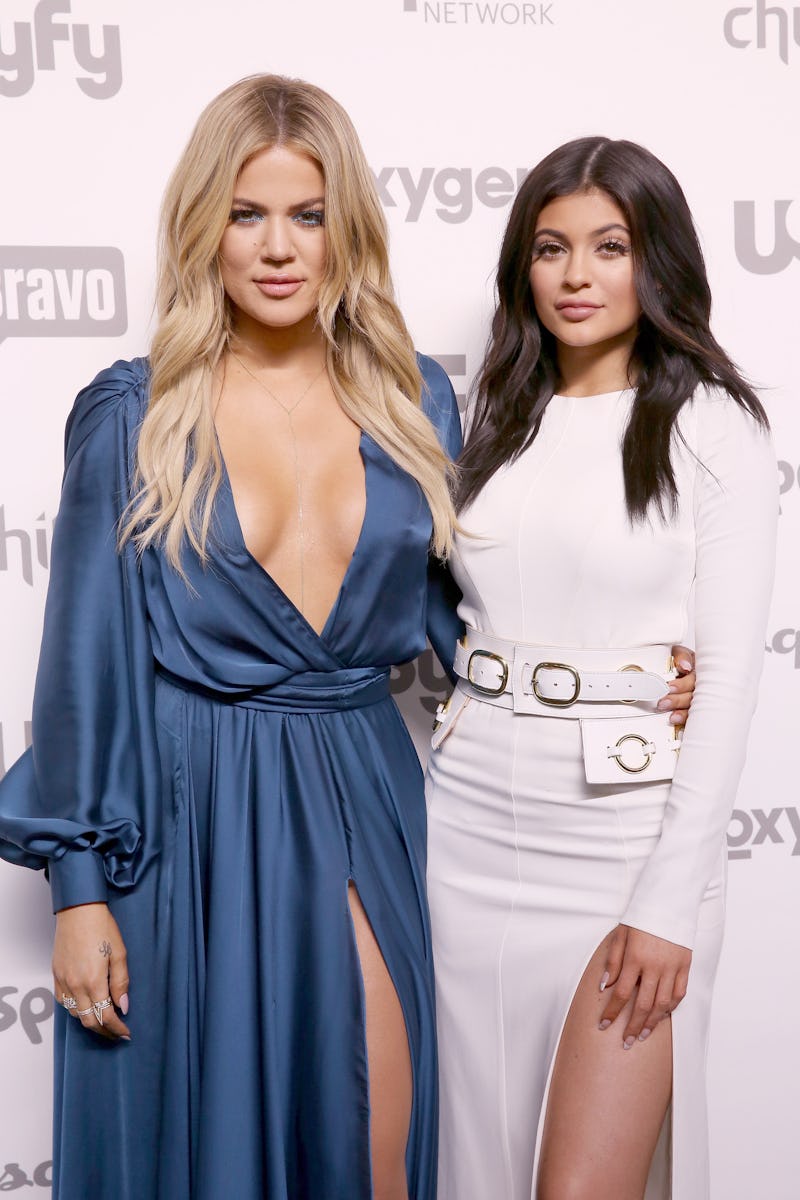 Robin Marchant/Getty Images Entertainment/Getty Images
It's hard to imagine people talking about anything other than football on Super Bowl Sunday, but when a member of the Kardashian-Jenner family has a baby, the whole world is on watch. Kylie Jenner confirmed her daughter's birth on Sunday afternoon, and people have been quick to react to the news. Most notably, Jenner's family has been sharing in her happiness, with Khloé Kardashian posting a sweet tribute to Jenner on Instagram. She shared a photo of the two of them showing off their baby bumps together — an image many fans thought they'd never get to see, given the secrecy and speculation that surrounded Jenner's entire pregnancy.
"Congratulations My Sweet Kylie! What a magical ride it's been! I'll miss you bumping along with me. Never in a million years did I think we would do this together but it's been that much more special because of it. God is so great!! He had His plan all along! I love you little mama 💕 love big mama," Kardashian captioned the image. The filter on the photo is dark, but the sisters' bumps are clearly visible. It sounds like they had a special bonding experience being pregnant at the same time, too.
Of course, the rest of the Kardashian-Jenner clan was quick to chime in with their own congratulatory words. Kris Jenner shared a sweet video montage, originally shared on Jenner's YouTube channel, that included footage from the day Jenner was born, as well as stories about when she learned that she was pregnant.
There's also footage from Jenner's baby shower, which looks like it was a lot of fun for guests. Think baby-bottle latte art, a gorgeous pink flower wall, and plenty of Kardashian-Jenner selfies. The video also shows that Kardashian isn't the only member of Jenner's inner circle who was pregnant at the same time as her — she and another friend sported matching bumps (and matching silk pajamas) at the baby shower.
"God is SO good!! I am so excited and thrilled to welcome another precious baby girl to our beautiful, ever growing family. We are blessed beyond belief!" Kris wrote in her tweet.
Kendall Jenner and Kim Kardashian also retweeted Jenner's news, adding heart and baby emoji. Kardashian also retweeted the news, writing "Cute mommy," in addition to her Instagram post.
And Travis Scott, Jenner's boyfriend and the father of her child, also shared a sweet message on Twitter. According to the rapper, the birth of his child means there's a "new rager in town."
Jenner first announced her daughter's birth in a statement posted to her Twitter and Instagram accounts on Sunday afternoon. In the statement, she explained that while she enjoys sharing her "journeys" with fans, her experience with pregnancy "was one I chose not to do in front of the world."
The 20-year-old also called pregnancy "the most beautiful, empowering, and life changing experience I've had in my entire life." She thanked her friends and family for supporting her — and her privacy — during this time in her life. Jenner also revealed in the announcement that the baby was born on February 1.
Given the lengths people will go to seek out information about the Kardashian-Jenner family — Kim couldn't even take new daughter Chicago West to the doctor without a paparazzi photo being snapped — it's understandable that Jenner wanted to keep this period of her life more private. It's impossible to know just how much of Jenner's new daughter we'll be seeing on Keeping Up With The Kardashians and on the sta's social media feeds, but whatever she decides, the decision is hers to make.