You Can Buy Pre-Sliced Frozen Avocados At The Grocery Now
by Callie Tansill-Suddath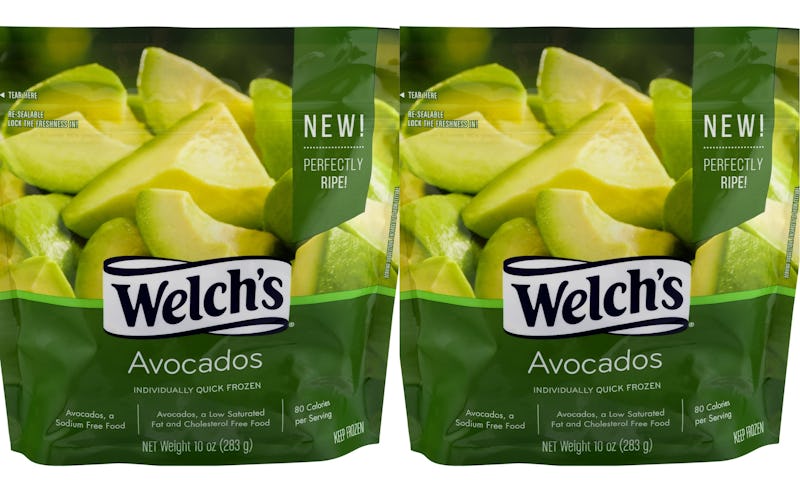 Avocados are a hot topic, both in and out of the kitchen. Last year, the fruit (yes, fruit) even became the center of a millennial finance controversy. After Australian businessman Tim Gurner told 60 Minutes avocado toast purchases were the reason millennials couldn't afford homes, the verdant fruit became a bonafide pop culture icon, meme'd across the known world. Though both millennials and avocados have gotten a bad rap, it turns out you can save money on the fruit. Thanks to Welch's bags of frozen avocado, topping that toast you love is about to get a whole lot easier.
Anyone who has a taste for avocados knows they are just about as irritating as they are delicious. Avocados have a uniquely short shelf life, and determining when they are ready to eat is a guessing game. Sometimes the firmest avocados turn out to be the most delicious, and the softest are moldy. Plus, avocados begin to brown almost as soon as you expose the inner flesh. If you're only hungry enough for half, your options until now have been limited to pushing yourself to finish the whole fruit, or sacrificing the second half to the garbage.
Speaking from experience, freezing avocados on your own doesn't work much better. But when someone else does it for you, apparently it is game-changing.
The description on the Welch's website describes these, explaining, "Welch's Frozen Avocados are ripe-frozen so that they are always ready right when you need them. So convenient — not sliced, not diced, just perfectly hand-chunks and so versatile, they can be used in a variety of recipes like Poke bowls, dressings, sandwiches even desserts!!" They're sure to appeal to football fans and wellness enthusiasts alike, as the avocados are perfect for all guacamole and protein shake needs.
Avocados have all but taken over the culinary world over the past five years. Once upon a time avocados were only found atop tortilla chips and in certain sandwiches. But, in the year 2018, you can pretty much find avocado everything.
For instance — ever had an avocado to satisfy a sweet tooth? You'll want to with an Avocado Toast Chocolate Bar from Compartés. The confectionary known for offbeat and unexpected creations released The Avocado Toast Bar earlier this year. The treat is reportedly made with a smooth white chocolate base, is blended with California avocados and is dotted with caramelized pieces of toast throughout for an extra crunch. That's right— toast IN a chocolate bar. On their website, Compartés described the bar as the "most trendy food of 2018," as well as a "unique chocolate sensation unlike anything you've ever tried before."
But if you tend to lean toward more traditional uses for the so-called alligator pear, frozen, sliced avocados will definitely make your prep easier. No more dirty knives, no more browned guac. Have you ever put avocado into a smoothie or make ice cream with frozen avocado and honey? They are delicious.
Plus, with avocado hand landing hundreds in the ER each year, perhaps Welch's new release is the secret to orthopedic health. You can find Welch's frozen sliced avocado at grocery chains nationwide (and check out their store locator here).