Wells' Video About Sarah Hyland & Toothbrushes Is More Sentimental Than You'd Expect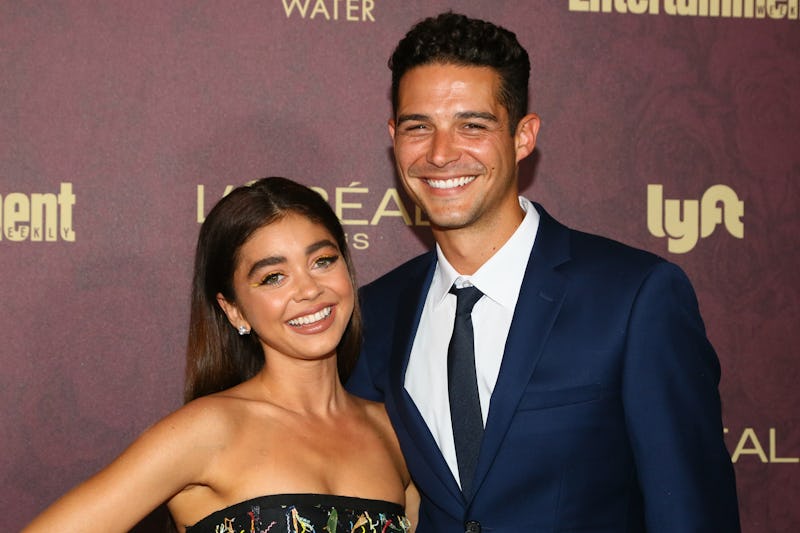 Gabriel Olsen/Getty Images Entertainment/Getty Images
In short, dating can be very confusing these days. One of the biggest challenges is knowing whether or not you're even actually in a relationship. If you're currently stuck figuring that out, Bachelor in Paradise bartender Wells Adams' video about Sarah Hyland and toothbrushes has a lot more insight than you may think.
On Tuesday, Oct. 2, Wells posted the Instagram video in conjunction with Match's campaign for Define the Relationship Day — or #DTRDay for short. In the brief clip, The Bachelorette alum discussed the first time he left a toothbrush at his girlfriend's house and why that was so significant to their relationship. According to the dating app's press release, two-thirds of single people view it as a sign of commitment to leave a toothbrush at someone else's house. Who knew?
Tying into that theme, Wells began the video, "I've been asked to share the story of the day that I hid a toothbrush in Sarah's bathroom for the first time. I remember it." Not only does he remember it, but it was actually a pretty pivotal point for the now-couple. He recalled,
"We were a couple dates in. I needed a toothbrush and she was like 'Just use mine.' I was like 'Ugh. There's nothing freaking grosser than using someone else's toothbrush.'"
There are plenty of grosser things in this world.
The podcast host took a step back and admitted, "That was not the right thing to say to her." Yeah, it really wasn't the best thing to say to a woman you have a romantic interest in. Wells then revealed,
"She was like, 'Dude you've been making out with me this whole time, my dog's been licking you in the mouth, and my toothbrush is grossing you out? And I was like 'Yes, it is. Sorry.'"
Yikes. Thankfully they were able to move past that teeny spat. So, how did Hyland and Wells resolve their disagreement? Apparently he had a toothbrush sent to her house via Amazon Prime. That was a great move, huh? At the end of the video, Wells encouraged his followers to share their own experiences: "Tell us your story of the day you hid a toothbrush in your boyfriend or girlfriend's bathroom."
Another couple who came through to discuss the link between toothbrushes and defining a relationship is Bachelor in Paradise Season 5 duo Kendall Long and Joe Amabile. Also on Tuesday, Joe posted a video of the two of them hanging out in the bathroom together.
In the Instagram ad, Kendall said, "The big thing about defining your relationship is the first sign of it, when you leave a toothbrush at a significant other's place." Then she asked Joe, "Am I the first person you've allowed to leave a toothbrush at your place?" He confirmed that she was actually the first person to do that.
Having that designated toothbrush in someone's bathroom really does say so much. It's essentially the non-reality TV version of handing out a rose, at least according to these Bachelor Nation couples.