Why Bruno Mars Is A Perfect Person To Honor Prince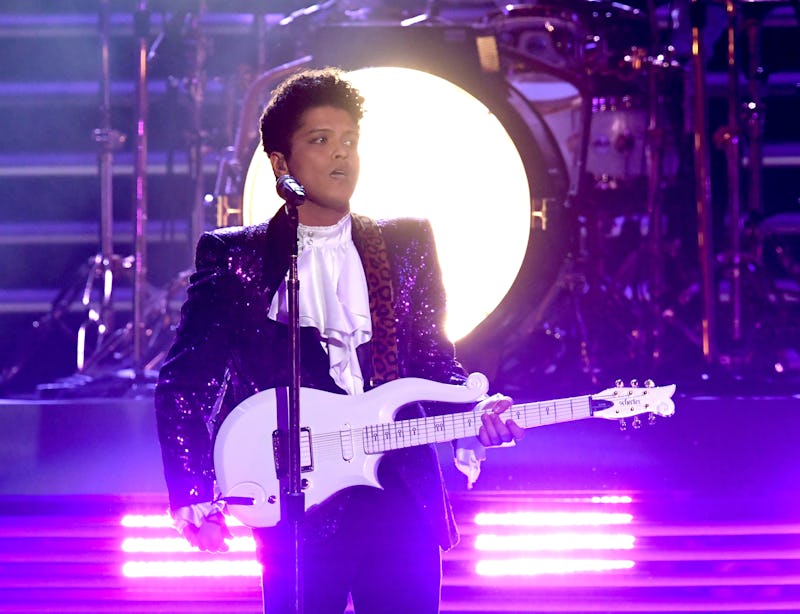 Kevin Winter/Getty Images Entertainment/Getty Images
Leading up to Grammys night, it was known that the awards show would pay tribute to legends lost in the past year — including George Michael and Prince. While Adele took the stage to sing for Michael, Bruno Mars is performing a tribute to the Purple One. So it's easy to wonder, were Prince and Bruno Mars friends? It's no secret that Mars truly admired the late legend, even considering him one of his heroes.
Following the "Purple Rain" singer's tragic death, Mars reflected on meeting Prince once in an interview with The Herald Sun. Apparently, Mars ran into Prince at an awards show, following his 2014 Super Bowl performance and even received a thumbs up. Here's the story in Mars' own words, per ABC News Radio:
"Prince comes walking through the crowd. It was like the Red Sea parting — all of these big celebrities tightening up because… it's him! Then he turns and looks at me and gives me the thumbs up, and I just started screaming like an idiot."
Based on Mars' moment of feeling so starstruck, I wouldn't say they were "friends," per say. I mean, at least not of the BFF variety. However, it's clear that Mars has a great deal of respect for Prince — regardless of the fact that they met once.
Mars considered Prince one of his heroes, as he wrote on Instagram last April. This is only a snippet of the heartfelt tribute he posted. Mars continued,
Prince you're one of my Heroes and no one can tell me otherwise, not even you. I'm so fortunate to have witnessed your greatness. Your music will live on forever and ever and will always have a special place in my heart. Thank You.
Because, yup, apparently Prince wrote him the beautiful note below.
As you can see in Mars' admiration, you don't have to be incredibly close with someone to be touched by their legacy. His Grammys performance was the perfect way to honor the legendary artist.