This Hotel Upcycles Its Unused Sheets Into Pajamas For Children In Need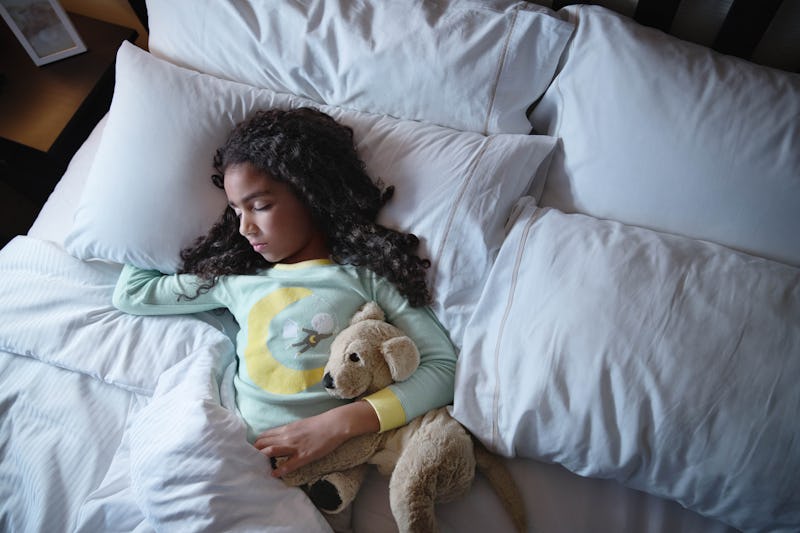 Courtesy Westin Hotels & Resorts
For many people, a nighttime routine is the best part of the day. It involves anything from winding down with a good book to putting on essential oils and some Netflix. There's one things that makes all nighttime routines the same — pajamas. No matter what you wear, the sleepy-time clothing is a major staple in a routine. But not every child has that constant in their lives. That's about to change for some children in need. Westin Hotels and Resorts teamed up with Clean The World — a non-profit known for recycling products that generate environmental waste — to make sure more children have pajamas in their lives. The hotel found a way to recycled unwanted bedding into sleepwear for children in need.
One fourth of the hotels in the chain were involved in submitting 30,000 pounds of bed linen and terry to be made into outfits. According to the press release, the pajamas will be distributed to children "whose circumstances can contribute to shortened and more fragmented sleep" in cities all around the world — including New York, Toronto, Mexico City, and Cape Town.
"Sleep continues to be the foundation of well-being," said Charles Morin, PhD, president of world sleep society in the press release. "But despite this, one third of all adults and a majority of children are not getting enough sleep. Research suggests that, particularly for children, creating and preserving bedtime routines lead to more restorative sleep, which in turn improves physical and emotional well-being."
Each set of pajamas will be in Westin's signature colors of zest, mint and flax. In other words, they will be light yellow and mint green on top and have a pair of gray bottoms. The press release says that the set will "feature a whimsical illustration of a child rising over a moon with a book – a nod to a better sleep empowering a better day." The pajamas come in sizes two through eight.
"Upcycling sheets into children's pajamas has never been done before," said Shawn Seipler, founder and CEO of Clean the World, in the press release. "As our partnership with Westin has grown over the past eight years through the bath & soap amenity program, we were excited when Westin came to us to help bring this vision to life."
Westin and Clean the World will donate 1,500 pairs of pajamas to children in need. But starting April 16, the pajamas will be available to purchase on the Westin website for $25 per set. A portion of proceeds will go back to Delivering Good and continuing to support the efforts to give every child the opportunity to Sleep Well.
On top of the charitable aspect, there's also the fact that Westin is saving these bedsheets from the landfill. According to The Balance, the average American throws away 80 pounds of clothing per year and only 15 percent of the clothing that people own are recycled.
With fast fashion companies popping up all the time, it's easy for people to take clothing for granted. If nothing else, this program shows that what people wear is about more than just Instagram likes. Something as simple as a pair of pajamas could change someone's life.