Most Americans Think Trump Encourages White Supremacy — Except For One Group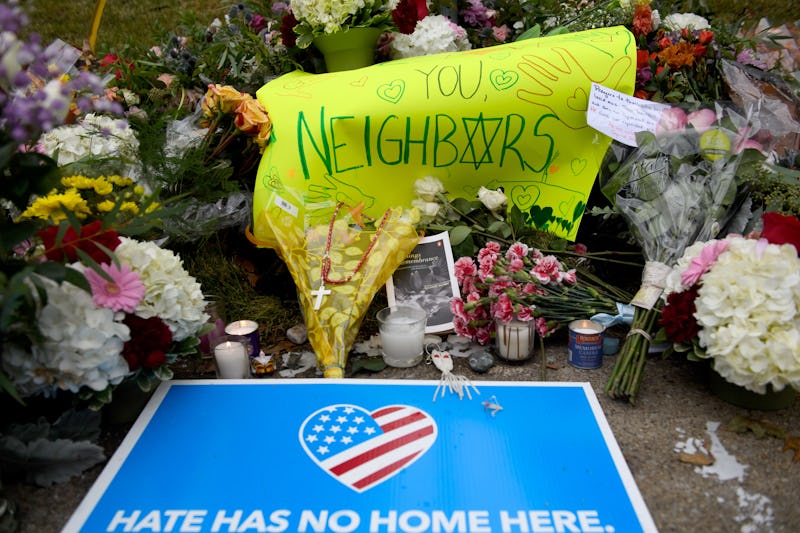 Jeff Swensen/Getty Images News/Getty Images
White supremacist groups have a long history in the U.S., but they don't always receive so much public attention for their activities, whether from a lack of media focus or a tendency to only gather in secret. Many people see a specific and concrete reason behind their public resurgence in the last couple of years, though. According to a new survey out from the Public Religion Research Institute (PRRI), most Americans believe President Donald Trump encourages white supremacy — but there's one group in particular that doesn't tend to hold the same opinion.
PRRI just released its annual American Values Survey for 2018, and it specifically asked respondents about whether "President Trump's decisions and behavior as president have encouraged white supremacist groups." According to the results, which they released on Monday, 54 percent of Americans agreed with that statement. Thirty-nine percent disagreed, saying that Trump's behavior as president had not affected white supremacist groups. Another 5 percent disagreed even more strongly, saying that Trump had discouraged white supremacist groups.
Looking more closely at the racial breakdown of those responses, however, reveals some telling insights. Seventy-two percent and 68 percent of black and Latinx respondents, respectively, believe that Trump encourages white supremacists — whereas only 45 percent of white respondents agree.
PRRI then went on to specify that even within that group of white respondents, there was a significant opinion divide that corresponded to education level. Fifty-eight percent of white Americans who have at least a bachelor's degree agree that Trump has encouraged white supremacist groups, whereas only 38 percent of white Americans without a four year college degree believe the same.
The partisan divide on the issue is as vast as you would expect, with far more Democrats than Republicans believing that Trump has encouraged white supremacist groups. Within the Republican respondents, though, non-white Republicans agreed with the statement at a much higher rate than white Republicans did (at 37 to 9 percent, respectively). And it's also noteworthy to point out there's a rare issue on which Democrats and Republicans largely agreed — only 5 percent of Democrats believed that Trump had discouraged white supremacist groups, as did only 8 percent of Republicans.
Beyond asking about people's thoughts on the issue, it's also been possible to track white supremacist activities in the Trump era — and that research shows that the people who believe Trump encourages them do have some empirical data to back that belief up. According to a report from the Southern Poverty Law Center, the number of white extremist groups has risen since Trump took office. The violent Unite the Right rally in Charlottesville, Virginia, also took place during Trump's first year in office — which Trump responded to by saying that there were "some very fine people" on both sides. From that event, former grand wizard of the KKK David Duke said that the rally was a call to "to fulfill the promises of Donald Trump. That's what we believed in," according to Vox. Trump is also very popular among white supremacists on Twitter, according to an analysis from The Washington Post.
Trump and his Republican allies have steadily maintained that Trump's rhetoric has nothing to do with white supremacist activities, according to The Post. Trump responded to the tragic massacre at a synagogue in Pittsburgh — the worst anti-Semitic attack ever to happen on American soil — by condemning anti-Semitism, but Jewish leaders in Pittsburgh wrote an open letter to the president, saying, "you are not welcome in Pittsburgh until you fully denounce white nationalism." Trump has not yet done so.
Increasingly emboldened white supremacist groups in the United States is a complex issue that American society will work through — and figuring out the myriad causes will be a necessary part of that. And for now, the PRRI survey has shown there is bound to be disagreement on where it comes from.