Disney Just Dropped A TON Of Millennial Pink Desserts & The Pics Will Make You Drool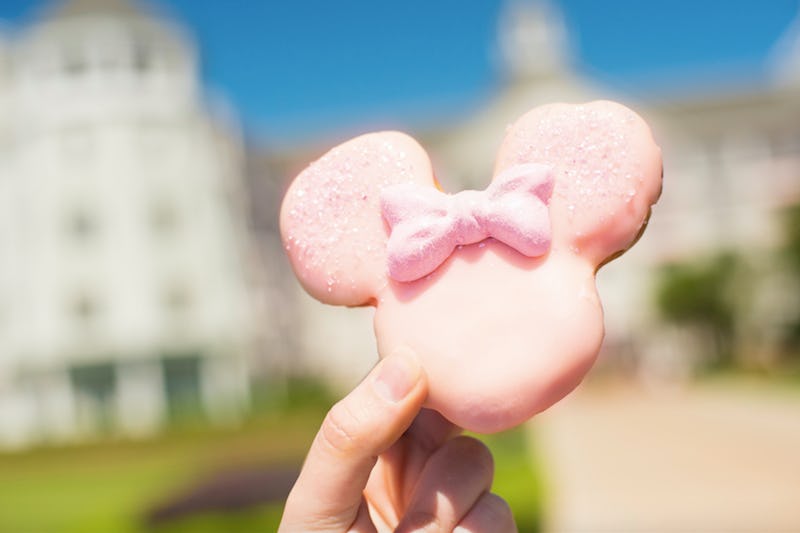 Disney
It's always a good day when I get to kick things off by thinking in great detail about dessert — and today? Today is a very good day, indeed: A ton of millennial pink desserts at Walt Disney World in Orlando, Fla. have just arrived, giving me license to spend an hour or two drooling over the most spectacular-looking milkshakes, cupcakes, and boozy beverages I've ever seen. How's your Tuesday going? Good? Fine? Not so great? Well, whatever state your morning is currently it, it will undoubtedly be made even better by joining me on this sweet journey. Come. Let us explore these wonders together.
Disney gave us the lowdown on all 10 of these magnificent treats in a post on the Disney Parks Blog last Friday — although as you may have noticed, these new bites to eat are far from the first time the theme park giant has dipped its proverbial toe in the millennial pink waters. Millennial pink Minnie ears? Been there. Millennial pink MagicBands? Done that. Millennial pink Disney spirit jerseys? Literally got the T-shirt. Much like they did with the rose gold trend before it, Disney is leaning hard into millennial pink — and their efforts seem to be paying off.
Here's the funny thing: I'm actually not that into pink just as, y'know, a color. I just don't really have a "pink" kind of personality. But you know what I do love? Pink food. This is primarily because pink foods come in all the best flavors, with berries — my personal favorite — being dominant. Even when the color of the food in question has very little to do with how it tastes, though, I still kind of adore pink treats; I might not feel like wearing pink most of the time, but eating it is something I associate with a sense of whimsy. I love all things whimsical, so pink food gets an A-plus in my book.
Here are 10 millennial pink sweets and treats you can get at Walt Disney World right now. What are you waiting for? Treat yourself!