Google's New Headphones Can Translate 40 Different Foreign Languages For You In Real Time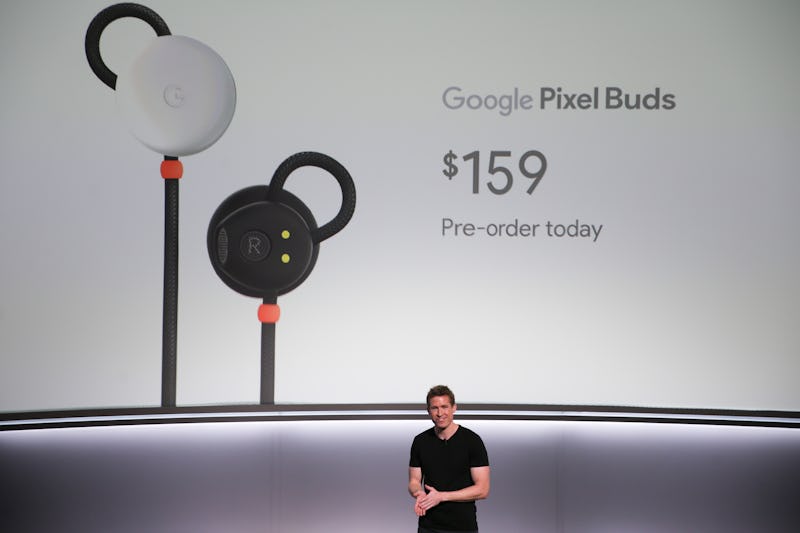 ELIJAH NOUVELAGE/AFP/Getty Images
On Wednesday, Oct. 4, Google's 2017 launch event introduced a whole slew of new products — but that one that's undoubtedly making the most waves are the Google Pixel Buds headphones, which are capable of translating 40 different languages directly into your earholes. Everyone is making the exact same joke about it, so you'll forgive me if I do as well… but you guys. This means that Douglas Adams' Babel fish is finally real. And you don't even have to jam an actual fish into your ear to use it!
Like the Apple AirPods, which were introduced in Septemberof 2016, Google Pixel Buds are wireless headphones — or, more accurately, they're neckbuds, as The Verge notes. They don't have a wire connecting them to the device you're using them with, but they do have a cord that connects the two buds together; you can therefore drape them around your neck when you're not wearing them. They use Bluetooth technology to pair with individual devices — but they're capable of much more than just listening to music. If your device meets the requirements, you can also use them to access both Google Assistant and Google Translate.
The controls are built into a touchpad on the right earbud. You can control the volume by swiping either forwards or backwards, and either play or pause your music by tapping; or, to use Google Assistant, just touch and hold and say what you want to do.
This, of course, includes using the translation function. Google product manager Juston Payne took the stage at the launch event both to introduce the Pixel Buds and demonstrate the translate function in action. Said Payne, "[Pixel Buds] even give you access to a new, real-time translation experience. It's an incredible application of Google Translate powered by machine learning that's like having a personal translator by your side." 40 languages are currently supported, including French, German, Spanish, Japanese Filipino, and even Esperanto. (More are available if you use Google Translate on the web, but, well... you can't stick a laptop in your ear.)
How does it work? Wrote Adam Champy, another Google product manager, on Google's blog, "Say you're in Little Italy, and you want to order your pasta like a pro. All you have to do is hold down on the right earbud and say, 'Help me speak Italian." This will activate the Pixel Buds' Google Translate function. When you speak English into your Pixel Buds, the Italian translation will come out of the speaker in your phone; then, when someone — a waiter, for example — speaks Italian to you, your phone will pick it up and the English translation will play to you through your Pixel Buds.
During the launch event, Juston Payne brought a native Swedish speaker, Google designer Isabelle Olsson, to the stage to show exactly what this whole process looks and sounds like — and luckily, there's video of the event available, so those of us who didn't catch the announcement live can still watch it for ourselves. In the video below, you'll see Isabelle speak Swedish into her Pixel Buds, while Payne hears the English translation out of the front speaker of the Pixel; then, Payne speaks English into the Pixel, while Isabelle hears the Swedish translation out of her Pixel Buds. The conversation starts at about the 1:30 mark:
The case, by the way, charges the Pixel Buds; you can get about five hours of listening out of each charge, with the case holding multiple charges. You've got a grand total of about 24 hours of listening time before you have to charge both the buds and the case itself up again.
Although Google Pixel Buds can be used with any Bluetooth-enabled companion device as long as it's running Android 5.0 or iOS 10.0 or higher, the Google Assistant function only works on Assistant-enabled Android devices running Android 6.0 or higher; additionally, you'll need a Google account and a data connection. To use the Pixel Buds' Google Translate function, the requirements are even more specific: You have to be using a Pixel or Pixel 2 phone that fits all of the specifications needed to use Google Assistant, on top of which you need to make sure you've got the Google Translate app installed.
For the curious, the Pixel and Pixel XL phones originally launched in the fall of 2016; the Pixel 2 and Pixel2 XL were announced yesterday and are available for purchase now. However, note that stock is going fast — some variants are already sold out, according to The Verge.
Not interested in trading in both your phone and your headphones in order to use this real-time translation function? No worries; you don't have to. As the Guardian notes, the Google Translate app, which is available for both Android and iOS, can do the same thing; it just won't pipe the translation directly into your ear. Instead, the app uses your phone's built-in mic and speakers to get the job done.
Pre-order for Google Pixel Buds began on Wednesday; they'll be shipped in November. They'll cost you about $159 a pop. Join the waitlist for them here.