What Are Instagram's New Face Filters?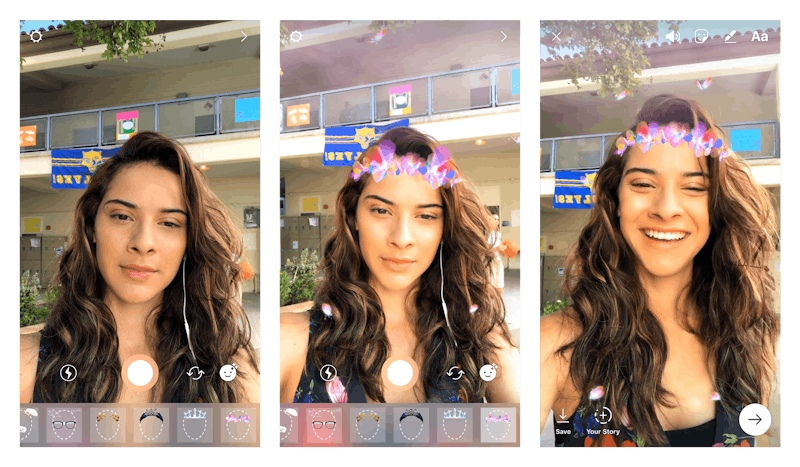 Courtesy Of Instagram
Have you heard the news? Instagram has just released a bunch of new features, including the new Instagram face filters! You can now add eight different face filters do your Instagram stories, with just a few taps on your camera app within Instagram. So what are Instagram's new face filters anyways? And what makes them so different from, say, other social media apps?
Although you may be an avid flower crown face filter user on Snapchat, there are features within Instagram that you can't get anywhere else — like Boomerang and their new Rewind feature. Rewind allows you to take a video, and have it play backwards within the app — which will basically take your mic drops to a whole new level. With these features, your creative ability with these new face features are pretty much endless. So start brainstorming now!
Once you have your creative idea set, and have tested out one of these eight new face filters — you can actually tag your Instagram stories with another new hashtag feature! Within your image or video, you can add a hashtag sticker to your story allowing more than just your Instagram following to see your clever face-filter ideas. You can also use the new eraser tool to edit any drawings that you add with your new face-filter stories.
To use these face filters, simply click the face icon on the bottom right-hand corner. Once you've selected a filter you like, place it by tapping your screen to test it out! Here are the eight different face filters you can now add to your Instagram stories.
Koala Ears & Nose
Turn into your favorite furry friend with the Koala ears - and a small black nose to match? Super cute.
Gold Leaf Crown
You can become the grecian goddess that you are with the crown you deserve with this filter!
Ice Queen
Or for those of you who would rather associate yourself as an ice princess, because #IHatePeople, this filter lets you do so! Or it's perfect for those of you who simply love the cold and miss the snow.
Nerdy Glasses With Equations
Get your nerd on with these glasses and floating math equations! Because you's smart and you's kind and you's pretty.
Bunny Ears
Associate Lifestyle Editor Tanya Ghahremani may look sad above, but there's nothing sad about these cute little bunny ears! They move around with your movements (and even your facial expressions).
Peacock Queen
Basically Instagram wants you to be any queen or princess of your dreams — and this peacock queen is perfect for the girls who love dark colors and shaded filters.
Flower Crown
Certainly different than Snapchat's flower crown, what with flying butterflies and all, but it's a flower crown none the less! Time to get your fairy-princess on.
Sparkly Sparkles
This simple yet elegant feature will have you shining bright like a diamond in your Instagram stories all day long!