You Can Turn Your Own Face Into An Animoji Soon Thanks To This Apple Update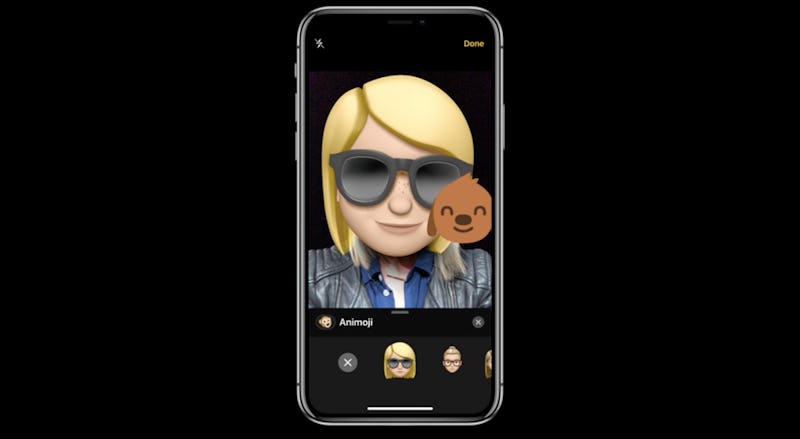 Apple
On Mon., Jun. 4, Apple held their World Wide Developers Conference (WWDC). The event is one that happens annually, and is when the company usually makes some big announcements on the changes they'll be making to software and devices in the upcoming year. This WWDC filled us in on some exciting news about the updates coming to the new iOS 12. Not only will the iOS 12 update focus on fixing the issues that came with iOS 11, but it will also include some very fun features. One that is worth mentioning is Apple iOS 12 Memojis, which will be available for iPhone X users once the update is installed. But, what are Memojis? For iPhone X users, the phone's facial recognition technology will actually let you make Animojis of your face.
An easy way to explain what an Apple Memoji is, is to say that it's basically Apple's version of a Bitmoji. The Memoji is a customizable mask that can look like you. It's a new feature coming to Animoji, which is Apple's Augmented Reality feature that lets you put a digital mask over your face in iMessage.
Before we talk about Memojis, we need to go over the feature it's based around: Apple's Animojis. Simply put, it's a face-tracking feature that follows your movements — for instance, when you smile, the Animoji smiles. It's only available on Apple's iPhone X, because that's the only phone so far with facial recognition capabilities — and when it was announced in 2017, there were only a few characters available as Animojis: A cat, a dog, a unicorn, an alien, etc.
At this year's WWDC, however, the company announced they will soon be expanding the characters to include Animojis like a dinosaur, a koala, and a ghost, and that Animojis will feature tongues as well.
The biggest update, though, was Memojis. Craig Federighi, Apple's senior vice president of Software Engineering, said, "You can now create your very own, personalized Animoji." That Memoji can look however you want it to look: you can pick the hair color, the skin tone, and accessories, like sunglasses or jewelry. The company stressed that they wanted to make the options as diverse as possible.
Additionally, while Animojis previously only lived in Messages, iOS 12 will extend it to Camera and FaceTime as well — and that includes Memojis.
Plus, a new FaceTime feature is going to make using Memojis even more fun. One of the most notable announcements from the WWDC is that Group FaceTime is coming to iOS 12, meaning you can share your Memoji live with not one, but many friends.
Actually, 32 friends: Group FaceTime will allow up to 32 participants. Even cooler is the seamless fact that you can go directly from a group chat to a group FaceTime in the Messages app. And if you're not into it, you're not stuck there. Participants can enter and exit Group FaceTime at any time. The interface also seems interesting, with a bottom roster that includes everyone in the chat. When people begin to talk, their window gets bigger, making it easy to tell who's speaking.
The Memoji and Group FaceTime updates might two of the biggest changes in the new software, but they certainly aren't the only ones. Apple introduced updates to the Photos app that will make search easier and more efficient. Stocks and Apple News are getting new designs and easier search capabilities. iBooks is now Apple Books, and allows you to pick up where you left off. Oh, and you can't forget about Grouped Notifications, which will make your home screen significantly less cluttered.
One thing is for sure: we can't wait to download this update.