9 Things People Do To Stop Their Migraines (That Other People Don't Understand)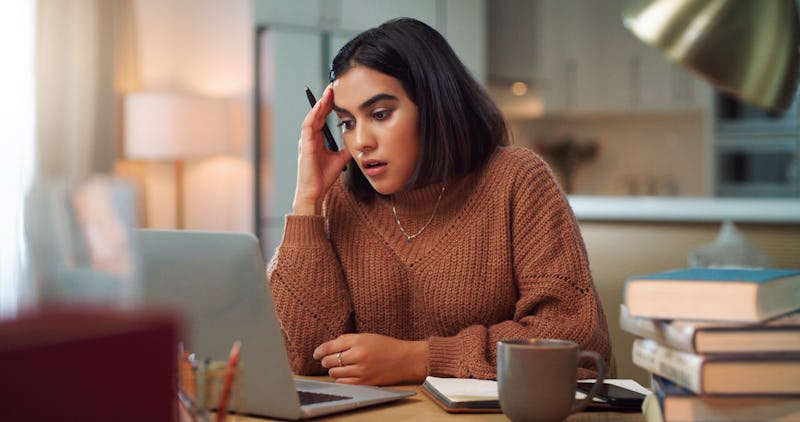 Sean Anthony Eddy/E+/Getty Images
When you get migraines with any kind of regularity, it can be super frustrating because otherwise, you look totally healthy. But, as anyone who battles migraines knows, navigating daily life requires stealth preparation to avoid migraine triggers — and sometimes, people who don't get migraines just won't understand. Things people don't realize you're doing because you're avoiding migraine triggers run the gamut from wearing sunglasses indoors to turning bright rooms into dark caves, and more. While new studies suggest that migraines might be a self-defense mechanism against stress, or migraines could be related to anxiety and depression, nothing is more stressful and anxiety inducing than trying to avoid triggers.
Managing the stress of both worrying that you're going to have a migraine coupled with managing the stress of actually having migraines can become a vicious cycle that can be difficult to break. In addition to the pain of an active migraine, many people experience symptoms before and after and attack, which can last from between four to 72 hours, according to the Migraine Research Foundation. And a migraine is not the same thing as a bad headache: A migraine is a neurological disorder that causes painful pulsations and can result in debilitating pain that affects your ability to live your life.
If you feel like doctors are mostly guessing when it comes to treating migraines, you're not wrong. While migraines are the third most prevalent illness in the world, the Migraine Research Foundation reported that it's an under diagnosed and misunderstood condition, and that in 2017 there were only 500,000 certified headache specialists in the U.S. for 38 million sufferers. Because of this, patients have to be their own first line of defense, often by doing some things that other people don't realize you're doing because you have migraines.