The Ta-Ta Towel Is Basically A Hammock For Your Boobs & People Have A Lot Of Feelings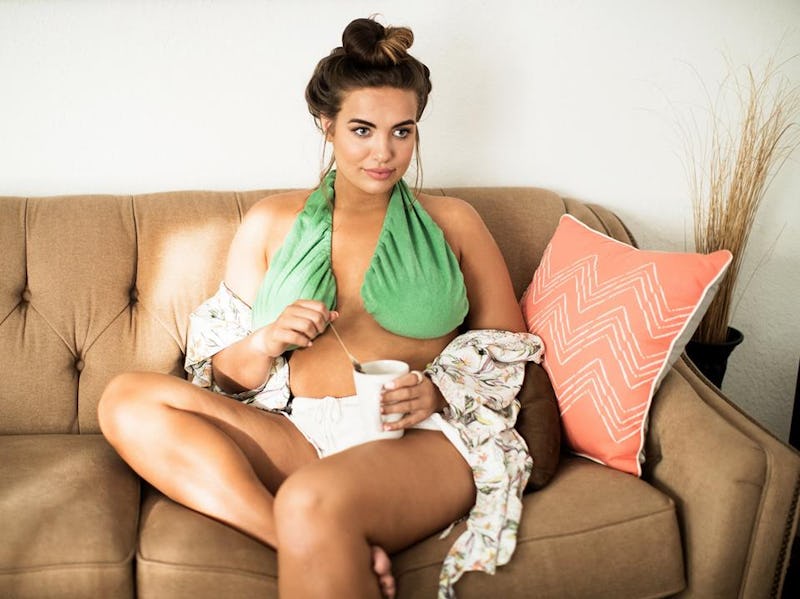 Ta Ta Towel
The dog days of summer are almost here, which means the dreaded boob sweat situation will be, too. Thankfully, there's a beauty product to help. The Ta Ta Towel holds your boobs up, so you can skip the sweat. Basically, it's a hammock for your boobs. People are losing their minds over this quirky product, and for a good reason. Let's just say that you've never seen anything like this before.
We've almost all been there before. You get out of the shower, throw on a shirt, and instantly your under-boob starts to stick to your skin. Well, not anymore! With the slogan "Keep 'em high. Keep 'em dry," the Ta Ta Towel holds your boobs up so they don't stick in the summer heat. The towel-like fabric slips over one boob, around your neck like a halter top, and over the other. It's genius, really.
Each Ta Ta Towel is double-sided and comes with an adjustable strap on the back of the neck, so you can personalize your boob holder. The invention is $45 and available for pre-order on the Ta Ta Towel website. The product is branded as lounge wear, and meant to be worn on its own, although, of course, you could also slip a shirt on over the Ta Ta Towel.
All jokes aside, this product is actually pretty genius. Whether you're just looking to escape the dreaded boob sweat or you're nursing, this is actually pretty practical, especially in the summer. The brand already sold out of a three different styles during their first-ever launch, and according to their Instagram, they are coming out with even more for the restock.
People are going crazy about the Ta Ta Towels on social media. Many have deemed it "genius," "legit," and even the ever-popular "lit." Don't just take my word for it, though. Here's what people are saying about the product, so you can decide once and for all if you'll be buying.
The hashtags say it all.
Simple and to the point.
So simple, but so genius.
Nothing low-key about it!
That was my first reaction, too.
It's not a want. It's a need.
It's legit.
Whether you'll be stocking up or passing on the product, you have to admit that it's genius.