These Women's Twitter Stories Prove How Birth Control Is An Essential Medicine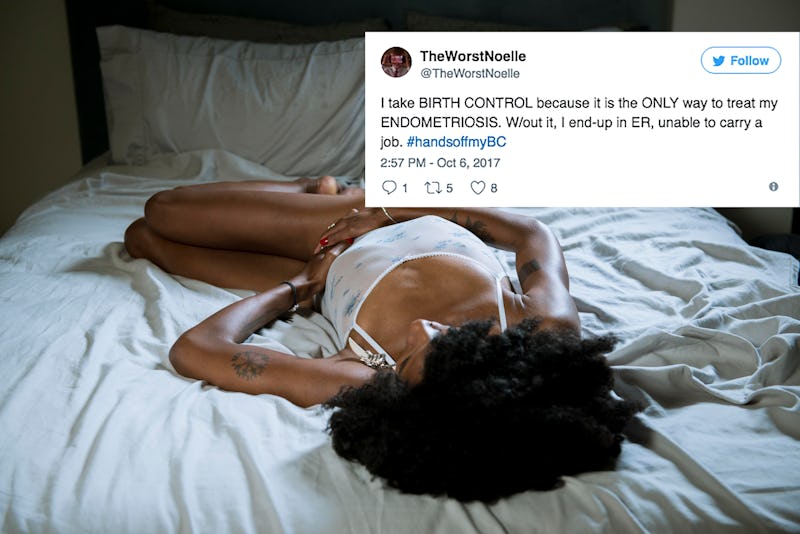 After three failed attempts, the Trump administration still hasn't been able to repeal and replace the Affordable Care Act — but that hasn't stopped them from overhauling a vital ACA mandate. On Friday, Trump rolled back the birth control coverage mandate, which required employers to include contraception coverage in their health insurance plans. The Obama-era policy, which was a huge win for women's health, gave over 55 million women access to everything from the Pill to the IUD without co-payments. Under Trump's new regulations, which go into effect immediately, employers can now deny birth control coverage for moral or religious reasons — meaning hundreds of thousands of women may have restricted access to the contraception they were receiving at no cost.
According to the CDC, four out five sexually active women have used the Pill in their lifetime, and the Obamacare mandate, which went into effect in 2013, made it accessible and affordable to millions of women around the country. Research from University of Pennsylvania found that spending on the Pill dropped by half in just the first six months of the mandate — and savings from the Pill alone were about $1.4 billion in 2013.
"Millions of women have gained access to birth control through the Affordable Care Act, and all of them have been put at risk of losing this vital piece of their health care," Anne Davis, consulting medical director for Physicians for Reproductive Health, says in a statement shared with Bustle. "Every day, I see the impact that birth control access has had on my patients' health and well-being. The contraceptive coverage benefit under the Affordable Care Act has done so much to reduce the barriers to birth control that my patients frequently faced. Let's not go back to the days when patients couldn't afford the birth control that helps them live healthier lives."
There are plenty of reasons women rely on birth control aside from preventing pregnancy — not that there even need to be medical benefits in order for women to have it covered in the first place. For some women, affordable birth control is life-saving.
"Contraception is an essential component of health care," Davis says. "It not only allows women to plan and space their pregnancies in a way that is best for their health and their families, but also helps manage a variety of health conditions. Insurance coverage must include birth control so that women can choose the method that meets their needs and have access to it consistently."
So what does Trump's new rule mean for women? Aside from increasing costs and unplanned pregnancies, it could mean some serious health issues for women who rely on birth control to treat chronic illnesses. Below, using the #handsoffmyBC hashtag, women shared how birth control has helped alleviate pain and even save their lives.
1. To Treat PCOS
2. To Regulate Acne & Period Symtoms
3. To Treat Endometriosis
4. To Treat Cysts
5. To Cure Migraines
As you can see, birth control can be an effective — and essential — medicine for so many women and restricting access could pose some serious risks. But whether women use birth control for contraception or to treat a chronic illness, it's something every woman deserves to have access to.
"This new rule also reflects a disturbing trend in both the Trump administration and the current Congress of efforts to dismantle women's access to health care, including administration appointees who oppose constitutionally protected rights, legislation allowing states to restrict family planning funds, and a health care repeal bill that would have left millions of Americans uninsured or without coverage for essential services," Davis says. "As a doctor, I am deeply concerned about the impact of these continued attacks on access to care for my patients and for the health of our nation. We have to do better."