'Shadowhunters' Season 2 Is Based On A Few Books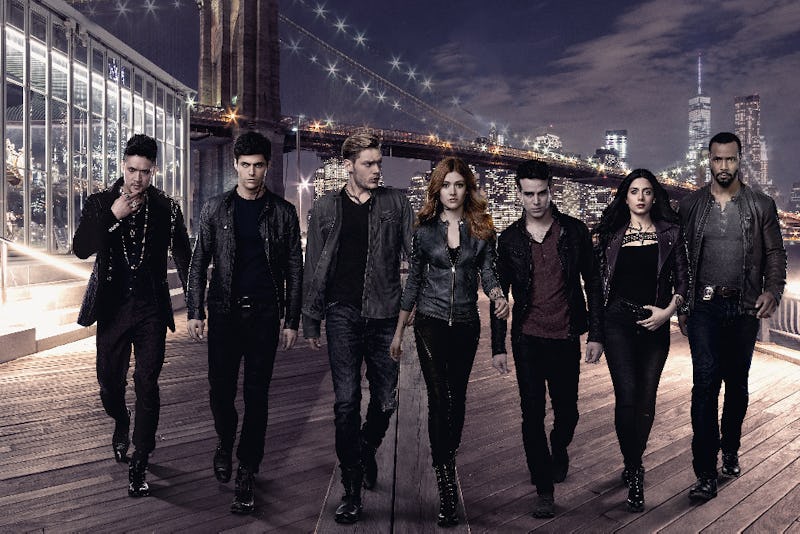 Justin Stephens/Freeform
Shadowhunters as an adaptation of the Mortal Instruments books has made a lot of changes from the source material, which isn't necessarily surprising or upsetting. Different mediums tell stories at different paces and with different emphases, and so characters and moments have been moved around in the Freeform adaptation. Which Mortal Instruments novel is Shadowhunters Season 2 based on? It's not exactly easy to pin down.
The first season started at the very beginning with the very first book City of Bones — a very good place to start. That means, however, that much of the season bore a resemblance to the Mortal Instruments movie. In a smart move by Freeform, the series quickly set itself apart by delving into other books from Cassandra Clare's fandom. The show also introduced characters like Camille, who was mentioned in City of Glass but first appeared in the ancillary novel Clockwork Angel. Clare has created an expansive mythology that the Freeform series is really taking advantage of in a smart way.
In only thirteen episodes, Season 1 also covered much of City of Ashes, the second book in the series. Plus, Season 1 ended with Jocelyn waking up, which happens in the third book, City of Glass, and that gives fans a good landmark as to the timeline, even with the changes that the Freeform series has made. Vampire Simon, anyone?
Season 2 will also mark the arrival of Sebastian Morganstern, who first appeared in City of Glass as well. So I think it's safe to say that Season 2 will be a bit of a City of Ashes and City of Glass mash-up.
In the first few seasons of Game of Thrones, the adaptation was fairly strict in that each season covered a single book in George R. R. Martin's saga. The upcoming A Series Of Unfortunate Events adaptation on Netflix devotes abut two episodes per book in the YA series. There's no formula for this, which is what makes television as an adaptive medium for book series so exciting. You can play around with the pace. Based on where Season 1 went with The Mortal Instruments in such a short amount of time, I think fans can look forward to a lot of their favorite events from the next two books in Shadowhunters Season 2 as well as a few surprises from the canon and beyond.