Sir John From 'American Beauty Star' Knows Beyoncé & We Can All Learn From Him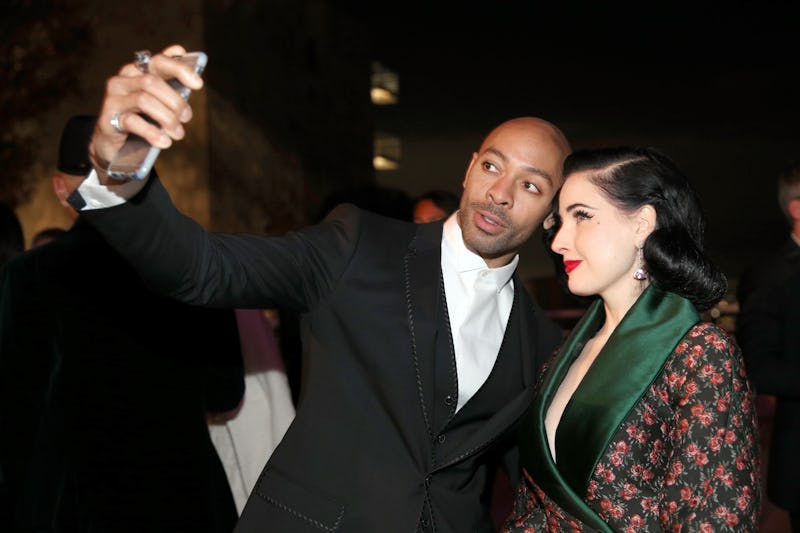 Jonathan Leibson/Getty Images Entertainment/Getty Images
If you're a celebrity, one of the most intimate relationships you have is with your makeup artist, the person who gets you camera or red carpet ready, can make you an instant icon with a swipe of eyeliner or create a lasting embarrassment with a poorly applied fake eyelash. And the group of aspiring makeup artists on American Beauty Star need an experienced MUA to mentor them on the ins and outs of great makeup and cultivating great relationships with clients, and there's no one better than Sir John for the Lifetime original series to choose. What celebrities does Sir John work with? His client list is incredibly long — and it involves quite a few celebs who you'll most certainly recognize for their flawless faces of makeup.
In a profile for InStyle, Sir John described his relationship with Beyoncé. "Bey's like my sister. I'm the last person she sees before performing in a stadium filled with 80,000 people, and she feels comfortable knowing I'm obsessing over every little detail." And while Queen Bey isn't known for her makeup, but she has made flawlessness — and an ability to perform through any and all conditions a mainstay in her career, so her makeup has to be perfect and able to hold up through anything. So, Sir John clearly knows his stuff. And if you check out his Instagram, you'll see that not only does he work with these celebrities, but he also spends time with them behind the scenes, hanging out and having a good time even when they aren't shooting.
Kelly Rowland
Beyoncé is not the only former Destiny's Child member to be featured on Sir John's client list — Kelly Rowland has worn one of his signature looks as well.
Kim Kardashian West
Sir John posted this photo with the selfie trailblazer with the caption "Radiant skin is always in," and it's true — even with her love of contouring and highlighting, Kim K.'s skin does have a more natural glow in this photo.
Priyanka Chopra
Another celebrity that certainly doesn't need makeup to look absolutely stunning, Priyanka Chopra is rocking what seems to be the signature Sir John look: a smoky eye, neutral lip, and perfect highlighter.
Gabrielle Union
With a slightly more adventurous metallic, irredescint blue, this look from Gabrielle Union is a perfect addition to his portfolio.
Chrissy Tiegen
Twitter star, cookbook author, and model — Chrissy Tiegen needs to balance being both put together enough for the red carpet and staying relatable. It looks like he perfectly met those qualifications, and, in one post, Sir John designated Chrissy as his Woman Crush Wednesday.
Joan Smalls
While Beyoncé might be his most famous client, it's Joan Smalls that Sir John once called his "muse" in an IG post and who he shouts out at every opportunity. According to InStyle, that's because Smalls and other models of color were some of Sir John's first clients. "They knew I understood their skin tones, and they trusted me," he said.
Lots Of Supermodels
In addition to Smalls, there are plenty of other models that Sir John has made look their best (and sometimes, their creepiest), including the above and gorgeous Ashely Graham. There's also Karlie Kloss, Taylor Swift's BFF and another one of Sir John's clients.
But All That Matters Is Beyoncé
According to InStyle, since 2010, Sir John "has been by Beyoncé's side ever since for nearly every album, tour, and major red-carpet event." She may have even named one of her babies after him. Nothing sums up Sir John's achievements in the makeup world like his relationship with Beyoncé.
Seriously, so many gorgeous celebs have taken a turn in Sir John's chair and had him totally transform their face. That's what makes Sir John the perfect person to mentor the aspriring makeup artists on American Beauty Star.