Urban Decay Is Going The Kylie Cosmetics Route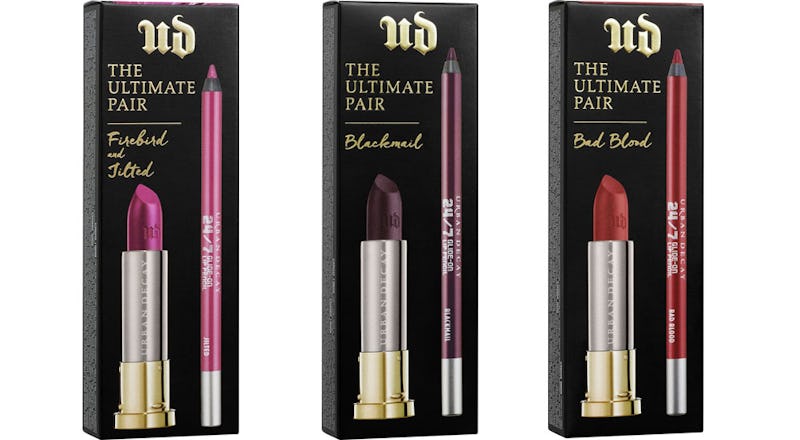 Peanut butter and jelly. Kylie and Kendall. Cory and Topanga. Justin and Kelly. Mary-Kate and Ashley. All things I associate with the meme "Name a more iconic duo... I'll wait." But there's a new contender on the block, and it's about to give Kylie's Lip Kits a run for their money. That's right — Jenner hit on a million dollar idea with her famous duos, but the Urban Decay Ultimate Pair lip kits are are all-out irresistible.
The concept is genius. Lip liner can easily feel like a dying breed from another era, but selling liner and lipstick in pre-matched packs takes out all the guesswork (as does clear lipliner, but each to their own). Layering the colors also cranks up the intensity, and with Urban Decay's "The Ultimate Pair" duos, that impact comes at a steal level price. We're talking no joke, head-scratching suspicion levels: each of Urban Decay's sets retails at Ulta for $22. That's $2 more than the price of the 24/7 Glide-On Lip Pencil alone, while the full-size Vice Lipstick usually goes for $17.
I know!! Collect yourselves, though. Available in four colorways, Urban Decay's "The Ultimate Pair" doesn't offer the most options, but the ones they do are fan favorites that won't disappoint.
The Ultimate Pair in Firebird & Jilted, $22, Ulta.com
According to the brand's description, "The Ultimate Pair by Urban Decay contains a full-size Vice Lipstick in one of UD's bestselling shades," with a matching lip liner for a lasting look. In some cases they're named identically, and in others not, like blue-pink Firebird and Jilted. But what's in a name, when the match is this good?
The Ultimate Pair in Bad Blood, $22, Ulta.com
A matching set in creamy, true red Bad Blood.
The Ultimate Pair in Ex-Girlfriend & Naked2, $22, Ulta.com
While rosy neutral Ex-Girlfriend and peachy Naked2 make for a MLBB that stays on with the longevity and fortitude of your real lips, the goal.
The Ultimate Pair in Blackmail, $22, Ulta.com
Blackened eggplant Blackmail, meanwhile, isn't messing around. If you've always been mildly afraid of lip liners, the time to act is now — we're used to the rush to claim Kylie Lip Kits, but this is the deal to snag while you can. "The Ultimate Pair" obviously refers to the Vice and 24/7 Glide-On formula, and I hate to come between love — but you and this little box might just usurp the title.
Images: Courtesy of Brand