What Cory Booker Has Said About 2020 Reveals So Much About His Future Plans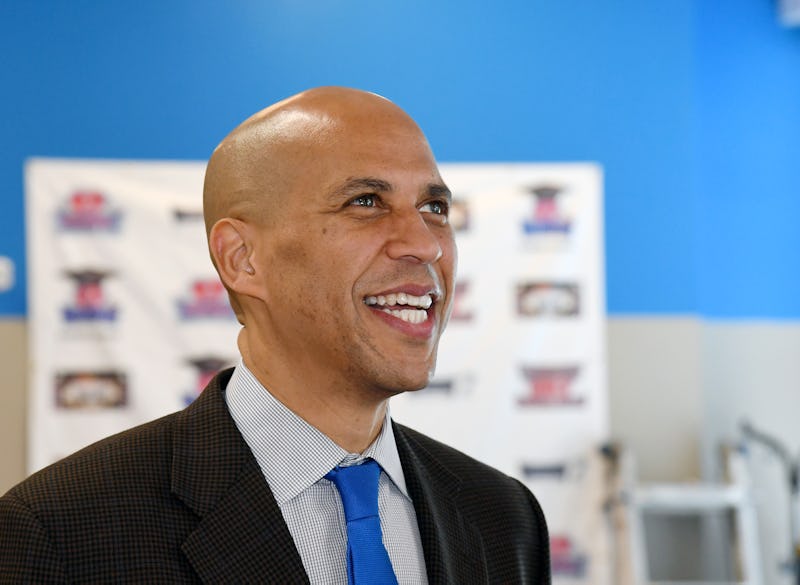 Ethan Miller/Getty Images News/Getty Images
Now that the midterms have concluded, speculation about 2020 presidential candidates can begin in earnest. While there's still more than a year until the first caucus, the Democratic field promises to be crowded. And the junior senator from New Jersey is among one of the rumored presidential candidates. What Cory Booker has said about 2020 may signal that he's looking at a higher office.
On Nov. 13, Booker was frank, if short, with his answer regarding a potential 2020 run. When Yahoo Finance Editor in Chief Andy Serwer asked if Booker was thinking about running, Booker said, "Yes." However, Booker knows he's running for reelection to the Senate in 2020. "I'm focused right now on my re-election, but is it something I'll consider? Absolutely. Now is not the time to do that, we've got elections in the field, I've got a lot of work to do. I've just come off an election. I will do my best over the coming months," Booker said.
Booker's name has been floated as a potential presidential candidate for a while. In a Politico/Morning Consult poll conducted immediately after November's midterms, Booker was one of seven politicians to register more than 1 percent of support as a 2020 Democratic nominee. However, he was on the low end of the poll with 3 percent. For perspective, former Vice President Joe Biden and Vermont Sen. Bernie Sanders led the poll with 26 percent and 19 percent, respectively.
Consideration of a presidential run seems to be the most Booker is willing to commit to at the moment. In an interview with NJ Advance Media on Nov. 25, Booker said his constituents are talking to him about it.
"I will consider running for president," Booker told the newspaper. "That's something that I will do. There's people in New Jersey who are talking to me about it, across the country that are talking to me about it, so I will consider that."
Despite his vague answers, Politico reported on Nov. 12 that Booker is "personally calling" staffers in the early states of Iowa, South Carolina, and New Hampshire for a 2020 campaign. A source told Politico that Booker isn't making firm employment offers at this time, but rather "he's building a bridge" to those who know the state's political terrain.
Furthermore, CNBC reported on Nov. 21 that Booker has talked to top presidential campaign strategists in Iowa who worked for both Hillary Clinton and Barack Obama. According to the report, Booker has spoken with Matt Paul — he led Clinton to victory in the 2016 Iowa caucus — at the Iowa Democratic Party's annual fall party back in October in Des Moines. Paul introduced Booker to "dozens of political operatives and party activists," according to CNBC's Brian Schwartz.
Even if Booker decided not to enter what could be a crowded Democratic primary, he had some opinions on what Democratic voters should be looking for. "I will say this to you, though, whoever is the future leader of this country — and I'm including talking about the guy that's in that office right now — we need a revival of civic grace in this country. There is … too much hatred and vilification and demonization of people," Booker told Yahoo after the midterms.