What Depression Really Feels Like, According To Twitter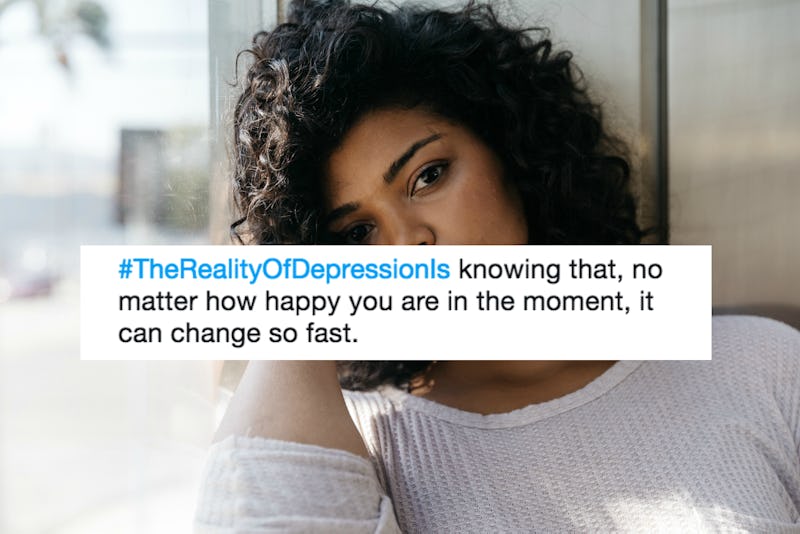 Ashley Batz for Bustle
Depression is a disease that truly does not discriminate, and it's time we start an open and honest dialogue about the realities of living in it's shadow. In fact, it's so incredibly common that according to a report by the National Institute of Mental Health, 350 million people worldwide suffer from it annually — that is approximately five percent of the world's population.
Despite depression's prevalence, there is still a large amount of stigma surrounding the discussion of mental illness. Many people, families, and communities lack the vocabulary to even begin a healthy and productive conversation, and there is so much misinformation out there that lends itself to bias, judgement, and discrimination. Depression is a disease, and should be treated as such. It's physicality may not be tangible, and it's validity is unquestionable. Those suffering through it should not have to do so in silence. They are not alone.
If you or a loved one are struggling with depression or any other type of mental illness, please do not be afraid to reach out for help by calling the US Suicide Hotline (1-800-784-2433), or the NDMDA Depression Hotline Support Group (1-800-826-3632). And if you notice someone displaying signs of mental health issues, don't wait — reach out yourself. Remember that depression can be crippling, to the point that it can mute your impulse to ask for help.
Recently, people on twitter got real about what it's like to live with depression. Here's what they had to say.