Nick & Kristina Have A Lot To Talk About On 'Bach'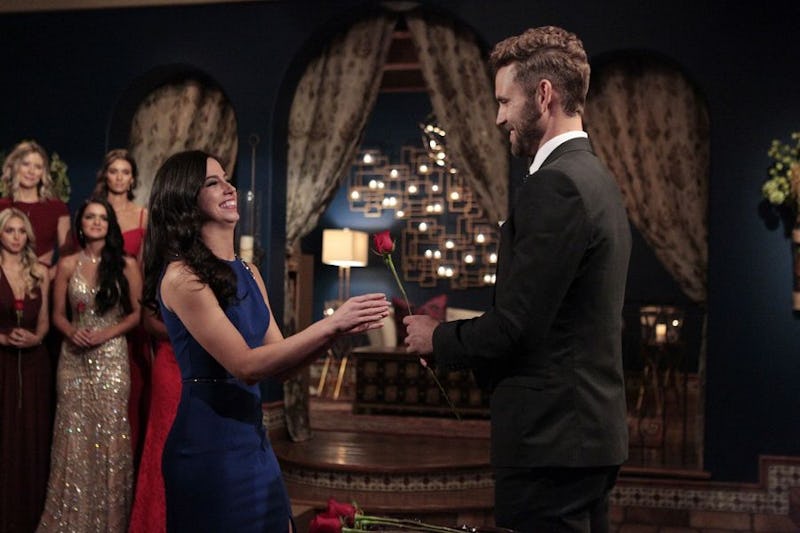 Rick Rowell/ABC
It seems like there's a trend on Nick Viall's season of The Bachelor that all of the ladies keep interrupting each other's time with Nick. It always happens, but this season, the women (especially Corinne) are in full-force, and Kristina, who has run under the radar for a lot of the season so far, came to Nick and said that she wanted the time to be able to talk to — which she really wasn't going to get on a group date. Kristina deserves to tell Nick her story on The Bachelor in her own time, and without any interruptions.
Kristina has an interesting past — she was adopted from Russia at a young age, and her ABC.com profile shares bits and pieces of her storied past. When asked who she admires most in the world, Kristina said, "My parents. It takes courage to open your heart and home to four orphans and give them a life otherwise unobtainable." When asked who she would be for a day, Kristina's answers got heavy. She said, "My biological mother. I'd like to know what she was going through when I was young and if choosing alcohol over kids was worth it."
I mean, that's not easy. Kristina has suffered real trauma in the past — not Corinne's nanny messing up her cheese pasta kind of trauma. I bet that Kristina wanted to tell Nick all about her past, but she hasn't gotten the chance yet.
I hope, for Kristina's sake, that Nick can shoo away the rest of the vultures and give her a chance to speak with him uninterrupted. (Like on a one-on-one perhaps?) Corinne is monopolizing Nick's time for the most part, and it's not fair. Let some of the other women get to know Nick, and let them share what makes them tick and all of the things they've gone through. Kristina's past is a huge part of her, and she deserves to be able to tell it her way should she choose to.