The New Trump Russia Email Alluded To A Meeting With Putin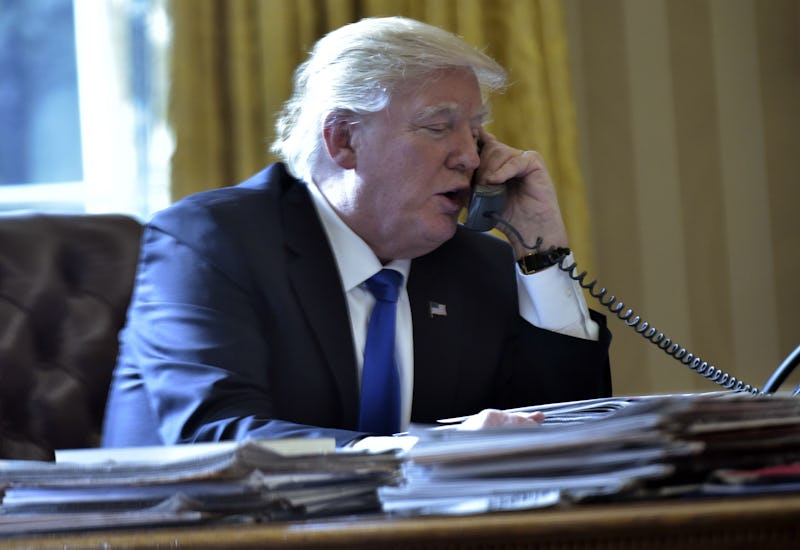 MANDEL NGAN/AFP/Getty Images
According to a report by CNN published Wednesday, a newly unearthed email connecting the Trump campaign and Russian government from last summer has put a fresh wrinkle in the Congressional probe into Russian interference with the 2016 presidential election. The full contents of the email from Rick Dearborn, the current White House deputy chief of staff, have not yet been made publicly available, but it seems that the email further confirms attempts by the Russian government to influence the results of the election.
In the email, Dearborn, then a policy advisor for the campaign, informed other campaign officials of an individual who was offering to set up a meeting between the campaign and Russian president Vladimir Putin. The person was identified only as being from "WV" — sources told CNN that meant the individual had political connections in West Virginia. It's unclear at this time who within the campaign received the email, but CNN reported that Dearborn seemed skeptical of the offer at the time. Dearborn could not be reached for comment on the story, and White House Press Secretary Sarah Huckabee Sanders declined to comment, according to the CNN report.
This is not the first time that Dearborn has been indicated as a go-between for campaign officials and Russian contacts. Dearborn was formerly the chief of staff for Jeff Sessions before he joined the Trump administration as attorney general, and in April 2016, he reportedly arranged for Kislyak to attend a Trump speech at the Mayflower Hotel in D.C. while Sessions was also there. Sessions denied that he spoke with Kislyak at the event when he gave testimony before the Senate.
The email was sent right around the same time that Donald Trump Jr. met with a high-profile Russian lawyer at Trump Tower, an event that only came to light last month after reporting from The New York Times. Both events contribute to a pattern of behavior by the Trump campaign and its affiliates of obfuscating meetings with individuals connected to the Russian government.
It's too soon to tell if anything will come of this new evidence at all — it doesn't prove any direct collusion between the Trump campaign and the Russian government because it doesn't confirm whether the meeting actually occurred. The email does prove, as the emails about the infamous Trump Tower meeting did before it, that the campaign had information that indicated attempts by the Russian government and failed to notify the proper authorities.