Here's What John Meehan's Daughters Have Said About 'Dirty John' & Meeting Terra Newell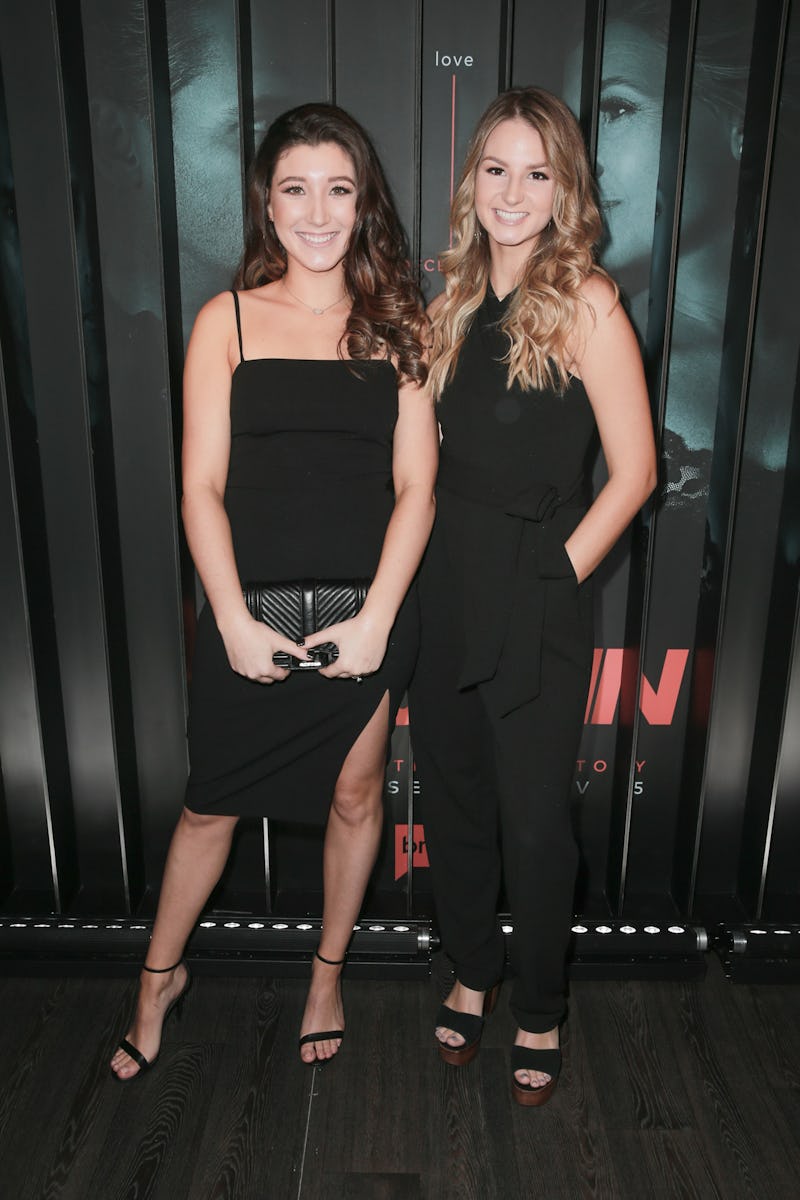 Rich Fury/Getty Images Entertainment/Getty Images
Spoilers for Dirty John follow. Just like the podcast and articles it's based on, Dirty John on Bravo has been focusing on Debra Newell's experiences with John Meehan. But, as the episode "Remember It Was Me" will show, Meehan had a wife before Newell, which resulted in two daughters. Meehan's children's opinion of Dirty John is surprisingly positive considering the show depicts the many manipulations done by their father. Abigail (who goes by Abby) and Emily Meehan aren't major characters in Dirty John, but they have still had to live with their father's actions. Yet, these young women are remarkably open and insightful about what their family has been through.
As the Los Angeles Times reported in its Dirty John podcast, Meehan married Tonia Sells in 1990 and they had two daughters, Emily and Abby. On the Murderish podcast, Emily explained she was only 5 years old and Abby was a baby when her parents divorced. Emily does have memories of visitations with him, but at the time of his death, she said she hadn't seen her father for 10 to 12 years.
Both Emily and Abby have spoken about the Dirty John podcast publicly, but as displayed by their social media presences, Emily seems more inclined to talk about the show than Abby is. Abby did retweet the trailer for Dirty John on her personal Twitter account in October, but Emily recently shared a Dec. 5 Cosmo article about her family that ties into the Dec. 9 Dirty John episode with an amusing caption.
Nowadays, Emily is 23 years old and recently graduated with her RN and BSN degrees from the Medical College of Georgia, while Abby just began her freshman year at Georgia College & State University. And even though neither of them has been talking specifically about the Bravo series that much in public, they have been very candid when it comes to discussing their father.
Emily told Murderish how she had been so desensitized that she initially wasn't emotionally impacted when she heard about her father's death. (Newell's daughter Terra stabbed Meehan to death after he attacked her.) "If I am telling someone about my dad or the story, it's almost like I'm telling someone else's story," Emily said. "So I wasn't upset at first. I was like, 'Well, what a way to go.' ... but it definitely hit me a week later."
Abby processed her father's death a bit differently than her older sister. At a "Dirty John Live" event in December 2017, the writer of the Dirty John podcast — LA Times staff writer Christopher Goffard — featured interviews with Abby and Emily. Abby told him, "I still think about him every single day and I hate that my life is centered around it. But I would just want him to know all of my accomplishments and I would want him to feel bad for missing out on my whole life, you know?"
However, both of his daughters have worried about what it means to have Dirty John Meehan as a father. "Like I said, I've become desensitized to it now, again. And I don't know if embarrassed is the right word, but I went through almost a self-examination of, is there any trace of him in me?" Emily said on Murderish. "I'm like, 'I'm his daughter, I'm his blood. Like, I'm half of him.' And it hurts my self-esteem when I talk about it and when I think about it. But then again, I'm like, well, if anything I have a golden mom, who I would want to be— I want to be just like her. But that was a self-conflict I did have and my sister did take it a lot harder than I did, but I cope with things differently."
Abby discussed those similar feelings on the Dateline episode focusing on Meehan's story that aired in January 2018. "Sometimes I kind of think, 'What if I'm like him?' But then I just know who I am and I'm more like my mom. And I'm a good person and I'm just not like him at all and I just tell myself that," Abby said. She had shared a similar sentiment at "Dirty John Live" with Goffard reporting that Abby had told him, "I look like my mom and I have her brain and her hearts and he just helped create me and I don't have any of his traits."
Along with their mom, Newell, and Terra, Emily and Abby attended the Dirty John premiere where they got to meet Eric Bana, who is portraying Meehan on the miniseries. Emily clearly has a sense of humor about the whole situation since shared the photo of her and Abby with Bana with the caption, "Hey dad, long time no see" alongside the eyes emoji. She also explained on Murderish how the sisters have been able to joke about their surreal situation with Terra.
"While we were in New York for the Today show, we just joked around that we're stepsisters," Emily said. "And when someone would come up and be like, 'How do you all know each other?' [Terra would] be like, 'I killed her dad.' It's something we can only laugh about now and we do have a bond, a very strong bond."
Even though she did kill their dad, neither Abby nor Emily harbors any resentment toward Terra. "She told me she felt guilty for doing what she did and I told her it was OK and that we're kind of happy that he's gone and a weight has been lifted off our shoulders," Abby said on Dateline.
Emily echoed this sentiment on Murderish. "None of us were upset," she said. "If it were up to me, I was never going to have a relationship with my father. He died in a horrific way and the circumstances are even more horrific, so I have no negative or harsh feelings towards Terra." Instead, Emily called it "the best karma" that Meehan's first family has bonded with the Newell women. And you can see Emily, Abby, and Terra spending time together (with Terra's dog Cash) during their trip to Los Angeles for the Dirty John premiere on Emily's YouTube channel.
Emily documents parts of her life on her YouTube vlog, Em&Dex, which she shares with her fiancé, Dexter. In the above video, she notes how seeing the events play out on TV has been weird for her. "I'm not going to lie, when I saw the episode, it kind of hit me and I've been nonchalant about everything. And seeing my family being portrayed and me and my sister, it's just—it's weird. But it was still super cool, we met so many people and I'm thankful," Emily said of the premiere.
In her vlog from Dec. 5, Emily said how she watched the second episode of Dirty John with Dexter. While she didn't give her opinion on it, she asked her viewers to share their thoughts in the comments. She also said how she and Abby will be portrayed in the flashbacks of "Remember It Was Me" and previews from the episode show that their parents' wedding day will also be featured.
Before much was known about the TV show, Emily did state on Murderish that she wanted her family's part of the story to be featured more on the series. (Both the podcast and Dateline mostly focused on the events with the Newells that led to Meehan's death.) "I think that's a very important part of the story, maybe to highlight him leaving his own daughters," Emily said. "Because that just sets the tone and how his brain is. He has no remorse if he has the inability to love his own daughters, so I'm excited to see how it's portrayed and how in-depth they'll go into it."
She also said how she wanted the series to explore the stories she had heard about her father's family being involved in the mafia and his time as an anesthetist since he would steal drugs from patients instead of administering them. And the Bravo adaptation has done both those things just in the first two episodes.
Oxygen will also be releasing a documentary on the Meehan saga, Dirty John, The Dirty Truth, in January. (Bravo and Oxygen are both owned by NBCUniversal.) Emily and Abby gave interviews for the documentary, so you'll get to see them talk about their experiences with their father when The Dirty Truth premieres in 2019. But take comfort knowing that for the many people hurt by "Dirty John" Meehan, his daughters have turned out to be strong, intelligent women, whose lives won't be defined by their father's sins.