The Real Terra Newell From 'Dirty John' Is Still A Huge 'Walking Dead' Fan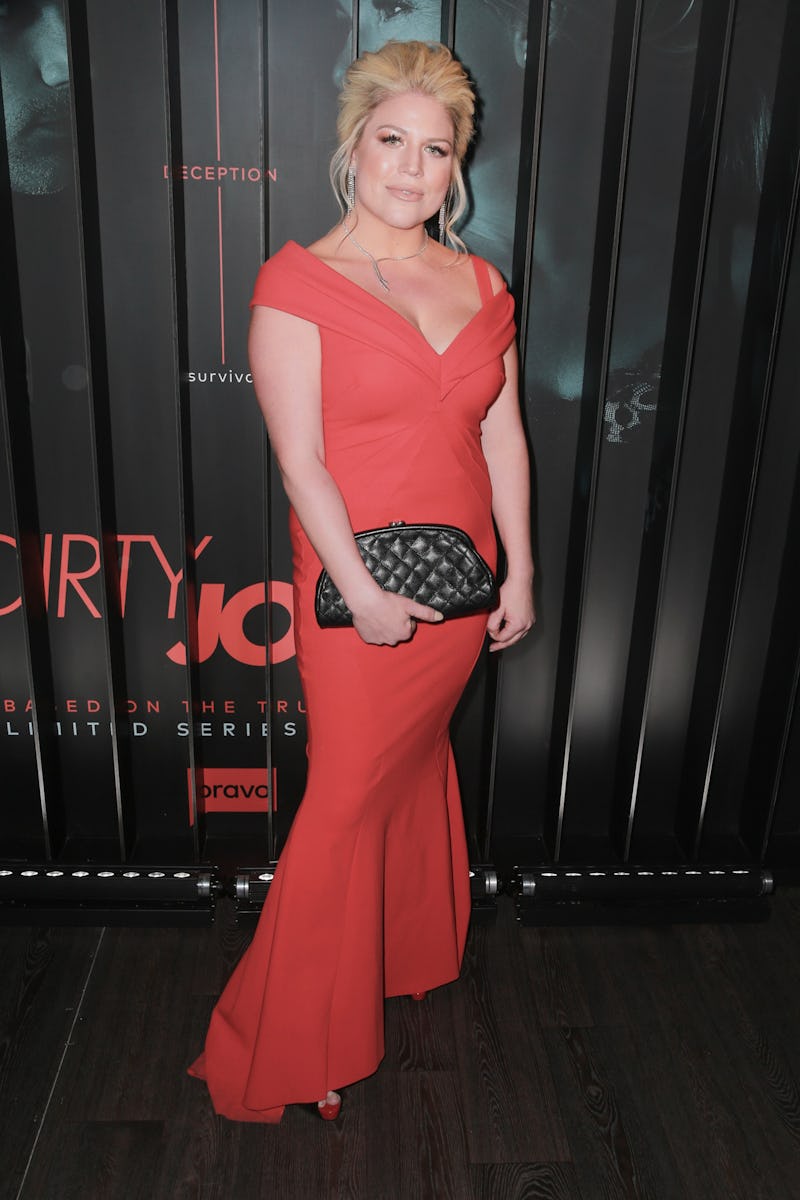 Rich Fury/Getty Images Entertainment/Getty Images
Spoilers for Dirty John ahead. Bravo's Dirty John tells the real-life story of Debra Newell being conned by John Meehan. But Debra was far from the only one impacted by his deceptions. Meehan also put Debra's daughter in terrible danger, but luckily Terra Newell is doing just fine in 2018. Julia Garner of The Americans, Ozark, and Maniac plays Terra in Dirty John. Even if you begin watching the eight-part miniseries on Nov. 25 without knowing the whole story Christopher Goffard outlined through a series of Los Angeles Times articles and a podcast in 2017, you'll be relieved to know that Terra, and her mother, make it out of this relationship alive.
The final installment of the Dirty John podcast is called "Terra" — and for very good reason. As will inevitably be shown in the Bravo scripted series, Meehan attacked Newell in the parking lot of her apartment building on Aug. 20, 2016. He stabbed her with a knife repeatedly as he tried to force her into the trunk of his car. Along with her miniature Australian shepherd Cash, the then 25-year-old Newell fought back.
As she has discussed in multiple interviews, including with Goffard, Keith Morrison of Dateline, and Megyn Kelly (before Kelly's TODAY show was canceled), Newell successfully kicked the knife out of her stepfather's hand. She had never taken a self-defense class, but as a fan of The Walking Dead, Newell said that she channeled how you kill zombies. "When I got the knife from him, I just stabbed him. I didn't give it a second thought. I just thought it's him or me," Newell told Kelly. "And then also, the last one was to the head, and I think that's like, oh, the zombie kill."
This altercation left Meehan dead and put an end to the nearly two-year saga of the Newell chapter of "Dirty John." Meehan and Debra had married in December 2014 after only two months of dating. Newell and her sister Jacquelyn had been suspicious of Meehan from the very beginning and later hired a private investigator to look into their mother's husband. It turned out he was a drug-addicted con artist who had arrest records and a history of disturbing and threatening behavior toward women. The family finally convinced Debra to leave her husband and it was during their separation that he attacked Newell, as laid out in the podcast and the Bravo series.
While Meehan is not alive to explain why he targeted Debra's soft-spoken daughter, Goffard reported that police said he had a "kidnap kit" in his car that fateful day. That included his passport, cable ties, duct tape, and more knives. Newell was not charged for killing Meehan since it was an obvious case of self-defense. And due to her heroic actions, she not only saved future victims of Meehan's, but she and Cash are alive and well.
Unlike her sister Jacquelyn — who spoke to Goffard for the podcast, but did not allow the LA Times to publish any photos of her — Newell has been public about her harrowing experience. She has appeared alongside Debra in interviews, apparently harboring no resentment toward her mother for the danger she was put in. Newell has also been involved in the Dirty John TV show with her mom.
She told Variety that she wanted the TV series to show how she and Jacquelyn had often disapproved of their mother's boyfriends to help explain why Debra didn't listen to their concerns about Meehan. Newell also gave input into her fight for survival for the show. "That happened so fast," Newell said. "I wanted to make sure it was accurately portrayed, but there [are] a few things that were embellished because it's TV. ... You'll really get to see it from a good perspective of how to survive if you were in that position."
For the TV show, Jacquelyn has become Juno Temple's "Veronica," but Newell's part of the story is played out by Garner. Newell also attended the premiere of Dirty John with her mom and grandmother and posed on the red carpet with some of the cast, including Eric Bana, Connie Britton, and Temple. Newell has been working up her public social media presence recently with her creating a Twitter account in February and posting her first Instagram photo in August. You can also follow her heroic — and absurdly adorable — guard dog Cash on Instagram in an account run by her.
Newell went to school for cosmetology, but she was a dog groomer at the Rebel Run dog kennel in Newport Beach, California, when Meehan attacked her. As the podcast noted, she ended up quitting her work at the dog kennel since the barking dogs triggered memories of the attack. Dateline reported that Newell was diagnosed with PTSD, but she still returned to the parking lot where Meehan attacked her for the special. Morrison told her at the site, "I think you're a tough cookie." And Newell replied with a laugh, "Yeah, that's what a lot of people say. I guess so."
Despite all she has been through, Newell has been remarkably candid about the experience. When Kelly asked her how she can talk about it so casually, Newell said, "Lots of therapy." For the Dirty John podcast, she told Goffard that she had found a therapist who was helping her. She had suffered from anxiety even before the attack and the therapist taught her to imagine a safe place in her mind. Newell said that her safe place is a lake in Montana where she had gone fishing with her dad as a child and she's inserted her beloved Cash into the picture.
Besides some scars from the Meehan stabbing her, Newell doesn't have any physical damage. And it seems she is determined to not let this act of violence define her. She has continued going to country music concerts with her friends (she was supposed to go to a Jason Aldean concert the day Meehan attacked her) and still posts about her love of The Walking Dead. She also had befriended Meehan's biological daughters and has plans to travel to Thailand in a couple weeks, which should be an ideal break from all the media attention of the Dirty John premiere. So while Newell has survived many women's worst nightmare, she is still living life to the fullest. And that certainly helps to give this sordid story a happy ending.