Here's What The Starbucks Spring Cups Look Like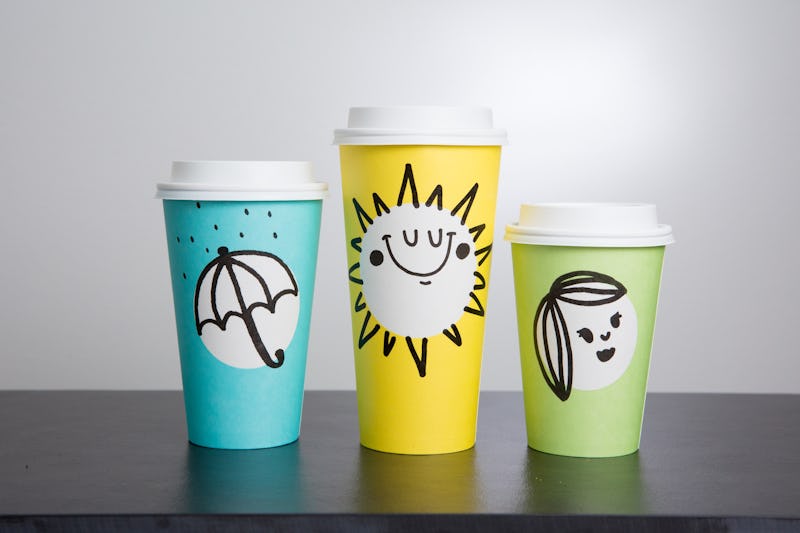 Holy Instagram opp, Batman — Starbucks just released its first ever line of spring cups, a lineup of pastel options for their hot beverage cups. The cups won't be available until March 16, but in the meantime, if you're wondering what the Starbucks Spring Cups look like (listen, coordinating a homemade manicure for your ~easy breezy city street~ pic with your cup is NO JOKE), then fear not — Starbucks released images of the three anticipated cups so we can all wig out over how beautiful they are in advance. Similar to their launch of holiday cups with 13 options in 2016, the spring cups will come in multiple options, with three varieties in total. Unlike the holiday cups, though, the color of it will be dependent on the size of the drink that you get, with the Tall coming in pastel green, the Grande in pastel blue, and the Venti in pastel yellow.
There's another twist, though: while the colors will remain consistent with the size, some of them will have a minimalist design to them, and others will have cheerful, spring-themed hand-drawn art on them. Here's what the minimalist version of the cup looks like, so you can get a sense for the vibe.
According to Starbucks, the colors of the cups were inspired by Pantone's spring color trend report. Everything seems to be coming up pastel this spring, including Primrose Yellow, Island Paradise, and Greenery, the three colors upon which the Starbucks cups seem to be based.
Here is a glimpse of what some of the designs on the cups will look like.
Although Starbucks has traditionally made autumn and holiday-themed cups int he past, this marks the first time Starbucks has offered a spring-themed cup. Thankfully, customers can enjoy these creations a few days early; although March 20 is the first day of spring, the cups will be available in stores March 16. Take note, though, that the cups are in limited supply and will only last for just a few days, so you'll want to get there ASAP!
If you really want to jazz up your order to celebrate the season, remember that Starbucks recently declared spring the season of macchiatos, tied to the launch of the Coconutmilk Mocha Macchiato and Cinnamon Almondmilk Macchiato. Now you can have your adorable spring-themed cup and drink spring, too.
Welp, that is officially the most precious bunny I have ever beheld. Check out your local Starbucks starting March 16 — and if you get one of the minimalist cups, feel free to try out your artistic chops with a drawing of your own! Who knows? Maybe it'll make the Spring 2018 line!