Bear With Me Here, But I Think Ben Higgins Seriously Wants Chris Harrison's Job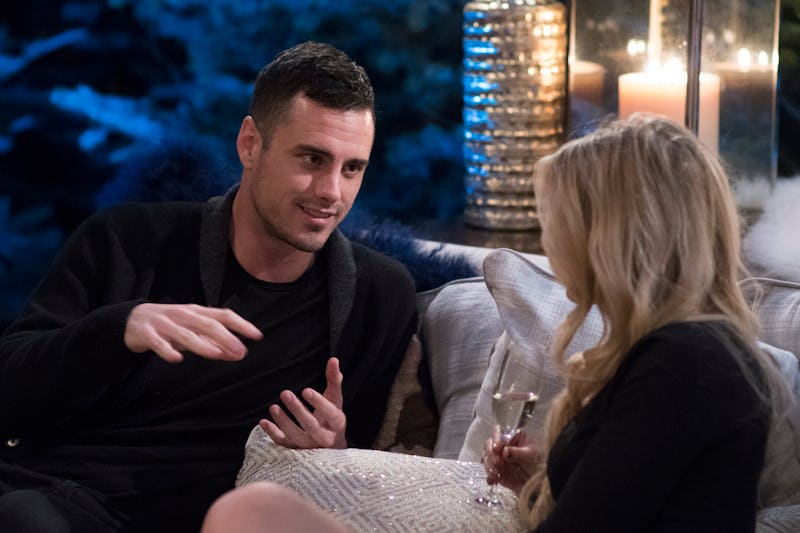 Lorenzo Bevilaqua/ABC
If The Bachelor franchise is succeeding at its mission, no one should be on the show for more than two seasons. First, someone comes on as a contestant and if they lose, they may get their own season of The Bachelor or The Bachelorette or they go to Paradise to find love. However, Ben Higgins appearance on Bachelor In Paradise Season 5 shows that the former Bachelor isn't interested in leaving the franchise behind, which begs viewers to ask what Ben Higgins even does now that he's no longer a Bachelor success story.
Higgins first appeared on Kristin's season of The Bachelorette, before being given his own season of The Bachelor where he ended up getting engaged to Lauren Bushnell. However, Bushnell and Higgins announced their split a year after their season of The Bachelor, effectively answering the question raised by the title of their Freeform spin-off series Ben & Lauren: Happily Ever After? This split led Ben Higgins to stop by The Bachelor Winter Games to continue his search for love and now, like a high school graduate still who still shows up at prom, Higgins is stopping by Bachelor In Paradise.
While Higgins has been spending a fair deal of time stopping by various Bachelor properties and hosting the Bachelor-themed Almost Famous podcast with fellow Bachelor alum Ashley Iaconetti, it appears that the franchise isn't the only thing going on in his life. When he's not on network television, Higgins is running a coffee startup. Because of course he is.
Higgins is the founder of Generous Coffee Co. which promises to "invest 100% of profits into life-changing work done by non-profits". Higgins told Forbes that "Instead of [people] buying products, taking it home to consume, the goal is that people will choose Generous, because they know when they buy a bag of coffee all profits will be going into making the world a better place." Higgins told Milk & Honey magazine, "I also believe it's our directive [as a company] and a command by God to love others and serve others; to put them above yourself."
When he's not selling coffee, Higgins is apparently working on honing his hosting ability with NBC's late-night travel show 1st Look. The show, which you've likely seen if you have ever left your television on after watching Saturday Night Live, shows its hosts trying out new experience in various locations — and caused Higgins to have his stand-up comedy debut according to The Know. Higgins' jokes involved him "making fun of the decisions I make and how, viewed from a public's perspective, maybe they're not as good as I thought they were."
With his rising profile as a host an entertainer and his seemingly undying love for The Bachelor universe, Higgins may be gunning to replace long-time Bachelor host Chris Harrison should he ever step down from his position as overseer of all things Bachelor. It seems that no matter what Ben Higgins has going on in his life, things will always come back to The Bachelor.