Kimye's New Daughter's Name Honors Her Father In A Super Strong Way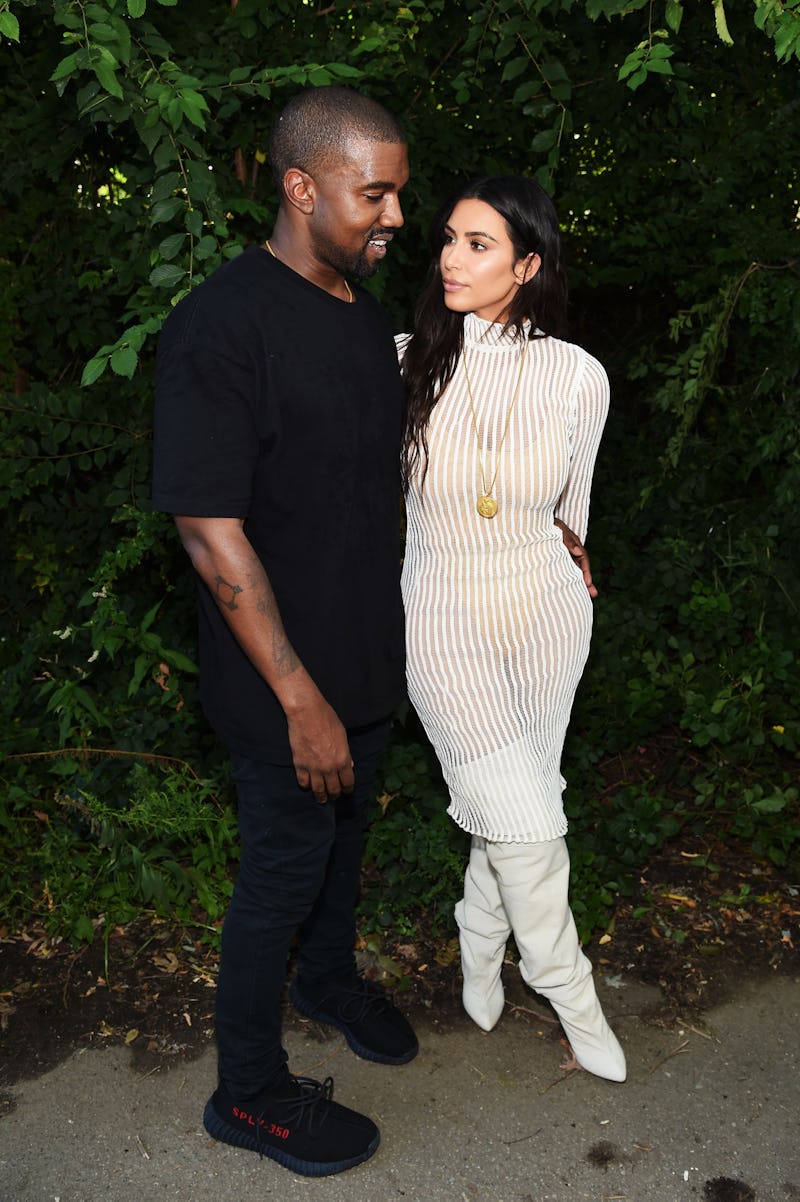 Jamie McCarthy/Getty Images Entertainment/Getty Images
TGIF! On Friday, Kim Kardashian announced the name of her and Kanye West's third child on her website. The newest member of the family is named Chicago West, born on January 15, 2018. "Chicago West" is already trending on Twitter, and of course, the name is polarizing, to say the least. But public opinion aside, what's the significance of Kimye's newest baby's name? Chicago means everything to Kanye — it's where he grew up and started out as a rapper.
If you're a Kanye fan, you know that Yeezy grew up in Chicago and lived there until his twenties and that the city lives in his heart. His 2007 track "Homecoming" from his (amazing) album Graduation is a love letter to his hometown. It starts with that now iconic lyric, "And you say Chi city!" Of course, baby Chicago's nickname is Chi (pronounced "shy," obviously), as Kardashian pointed out. Chicago is the city that made Kanye, Kanye.
Born in Atlanta, Georgia, Yeezy moved to Chicago, Illinois with his mother after his parents divorced when he was three years old. He lived in the South Shore neighborhood of the city with his mom, Donda West, who was the most important person in his life (and later, his manager), and was an English professor at Chicago University. As Rolling Stone notes in their biography of him, Yeezy went to China for a year with his mother when he was ten while she was teaching on an exchange program, and and it was a few years after they returned to Chicago that he got into the hip-hop scene.
So, it makes sense that Kanye would want to name his baby girl after the city that made him! Seems like the name was a stroke of inspiration, since People reported that Kimye still hadn't settled on one as of Wednesday. According to the Daily Mail, when photographers caught him on Wednesday (with a huge smile on his face and a laptop very precariously hanging from his fingertips), Yeezy said they were still stumped. "Can't think of a name!," he said when asked by a paparazzi. One them suggested Donda. "Oh, that's fire," he responded.
But instead of naming baby number three for his late mom, West named her after the city where his mother raised him, instead. You know this was a Kanye name. (Saint seems like it was, too, while North seems like more of a Kim pick.) Chi-town has always been a woman for West; "Homecoming" is his direct address to the city, which he imagines as the girl he met when he was three. "And what I loved most, she had so much soul," he raps. The track is about how the city raised him and how much he loves her. He raps on the first verse, "I told her in my heart is where she'll always be." In 2010, Complex named "Homecoming" one of the 50 Greatest Chicago Rap Songs. So, now Kimye will have Chicago with them wherever they go.
Yeezy hasn't lived in Chicago for years, but he's still beloved there whenever he goes back. He made a surprise appearance on-stage during fellow Chicago rapper Kid Cudi's show in November, sending the crowd into a downright frenzy. And no wonder, since it was West's first stage appearance in a year. He and Cudi performed "Father Stretch My Hands Pt. 1," and videos from the concert capture the absolute madness that erupted when Yeezy took the stage. A hometown welcome like that has got to feel real good!
So, while fans are definitely having extreme reactions to baby Chicago West's name (which is no surprise), it's a name full of love for Kanye's Chi-town. And hey, at least they didn't name the baby Calabasas.