Danny Dyer Just Dropped A HUGE Bombshell About Jack & Dani's Split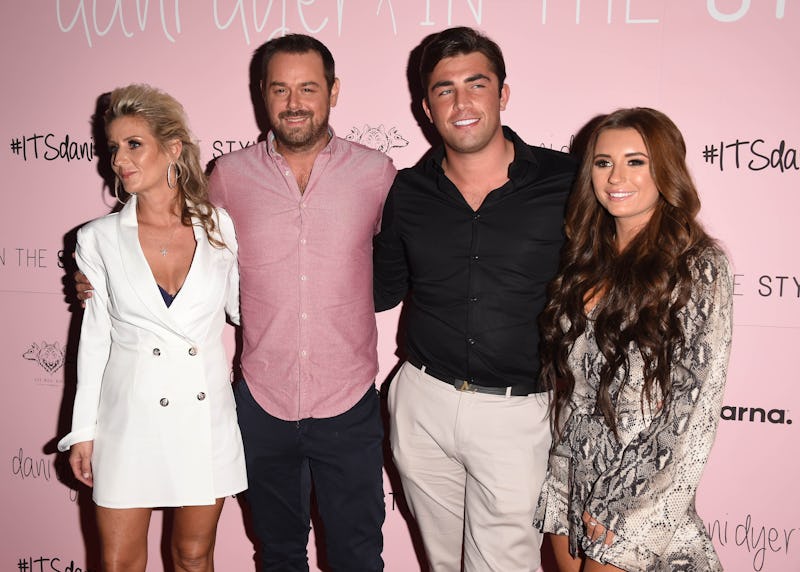 Stuart C. Wilson/Getty Images Entertainment/Getty Images
The news that Love Island power couple Jack Fincham and Dani Dyer are splitting up has rocked fans of the ITV2 dating show. Dyer announced her separation from Fincham, with whom she won the show, on her Instagram account on Thursday. The reaction online has been one of shock and disappointment, but what does Danny Dyer think of Jack and Dani's split?
Well, the Eastenders star has actually said that the pair haven't split. In an interview appearance on Jonathan Ross, which was filmed on Sunday 9 December, The Sun reports that Dyer said:
"I just want to put something to bed. Dani hasn't split up with Jack, that's all b******s, that is. Jon, they've had a row. They've had a row, she's got a bit emotional and I think she has whacked that [message] up and immediately regretted it ... I'm just saying she got a little bit irate, screaming and shouting, the ultimate way to punish him maybe. I don't know what was going on but I can tell you now, they're sweet."
When Ross pushed him further to confirm that they're back on, Dyer replied: "They're sweet as. They've had a little argument as we all do, we all have tear ups. Don't declare nothing to the world, I've told her this. That was my bit of fatherly advice. It is okay, it is all sweet." Bustle have reached out to representatives of Dyer and Fincham for comment.
The report comes on the back of previous claims by The Sun that the patriarch of the Dyer family was "secretly pleased" with the couple's breakup. One insider told the paper "Dani and Jack were a lovely couple on the show but when they came out, obviously the pressure was on and it was a lot harder. Dani is a hard worker and wanted to make sure she was professional and was giving every opportunity everything she had," and continued "Jack found it harder. Her dad Danny and her family warned her early on that they didn't think sticking by Jack was the best idea. They thought she'd be stronger alone. Her dad tried to advise her as much as he could." The source then added: "Of course Jack is a lovely lad and they got on, but Dani's family live in the public eye and they know how important it is to work hard and stay out of trouble."
However, Dyer rubbished these reports in his interview with Ross. "He's a good kid. Apparently I've been begging her to leave him, all these stories coming out. It's crackers," he added. "I don't understand where it comes from. He's good as gold, everyone is sweet. Merry Christmas everyone!" Bustle reached out to Danny Dyer's representative for comment but did not receive a response.
The Dyer family reportedly attempted to steer Dani away from her now ex-boyfriend, but to no avail. The source went on to reveal to The Sun "They had a few words with Dani but ultimately it was her choice and they'd never stand in the way. She genuinely loved him and hoped it was forever. But it got to a point where it was clearly over and there was no turning back. Dani's family are overjoyed. Of course they like Jack but this is Dani's time to shine."
In recent weeks, speculation that the couple might be in trouble intensified after it was noted that the Love Island winners hadn't been seen together in public for quite some time. In fact, the last time Jack and the Dyer family were spotted together was at the In The Style launch party back in October, reports The Sun. Since posting her heartfelt statement on Instagram, which confirmed her split from Fincham — something that was also confirmed in writing to Bustle by Dyer's representative — Dyer went on to delete the post. According to the Daily Mail, this move prompted some fans to speculate that there could be a reconciliation between the two.
Fincham recently commented on the former couple's brand new reality series, which follows life after Love Island alongside his ex-girlfriend. Before the announcement of the split, Jack previously explained what viewers can expect from the upcoming reality show. He said: "You can expect some laughs as it's really funny and it's light-hearted. I'm not 100 percent sure if Danny (Dyer) will appear as we haven't shot any scenes together, but he might have shot some scenes with Dani and her mum," and continued "We go to a couple of different countries and just experience life together. I really enjoyed filming it, it was so much fun."
So, it sounds as if this situation could be more complicated than fans of the couple are aware.
The Jonathan Ross show airs on ITV on Saturday 15 December at 10.05 p.m.