Joanna Coles Is Using Her Experiences For 'The Bold Type'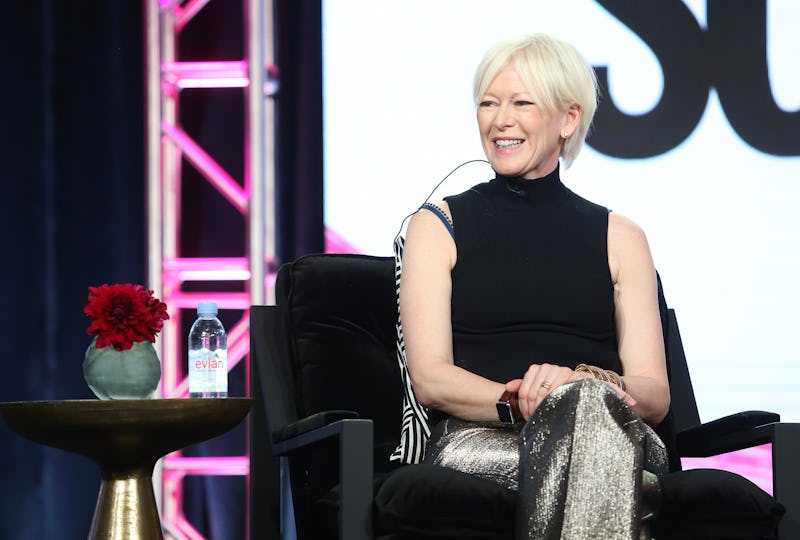 Frederick M. Brown/Getty Images Entertainment/Getty Images
Since Freeform rebranded itself, it's been one of my go-to channels to flip to when I'm looking to spend an afternoon or evening in front of the boob tube. One of the shows I'm most excited about is The Bold Type, Freeform's newest workplace-based drama, which takes place in New York City at a magazine and follows three friends as they chase career dreams and fight the patriarchy (see why I like it?). Because the magazine where the women work seems a lot like Cosmopolitan, it's worth asking — what does former Cosmopolitan editor Joanna Coles think about The Bold Type?
Well, it turns out that Coles is a fan of the show… mostly because she came up with the idea herself, and Coles has given the writer's room of the show some good stories to work with (she's an executive producer, too). According to the New York Times, Coles supplied the writers with plenty of stories. "I have hundreds of anecdotes that I've kept in a journal throughout my time at Hearst and Cosmo. Many of the incidents — including the incident in the second episode when someone gets a vaginal yoni egg, uh, stuck — are based on true incidents at the magazine."
Coles is even used as fodder in the fiction, as editor-in-chief character of Scarlet on The Bold Type, Jacqueline Carlyle, is based on her. She's not a mean boss, though, and that's by design. Sarah Watson, the creator and show runner of The Bold Type, said in the same New York Times article that she wanted to show the other side of having a female boss:
"We always see on TV the women who are tough and not rooting for other women to succeed, and that's not the kind of mentors I've had in my life. I've had incredible female bosses, and I wanted to show someone one wants to bring up the next generation of strong women writers."
Coles echoed those statements in Women's Wear Daily:
"What I wanted to do is show that women bosses can be supportive… this idea that in fashion, the woman boss is somehow mean-spirited felt inaccurate. That's not who I am, that's not who the women I work with are. It's a little sad to me that the fashion industry has always been represented through the lens of being this mean, bitchy world because that has not been my experience of it. My experience of it has actually been that the women in it are very funny and smart and creative and commercial, and that's been hijacked by the idea that the fashion world should be nasty."
I agree with Watson and Coles — the idea that women are just around to cut each other down is tired and misogynist. It's important to show strong, supportive women in high-powered roles mentoring young people in their careers — and that's just what The Bold Type aims to do.