Kourtney Kardashian May Have Flipped Her Hair At Sofia Richie & Scott Disick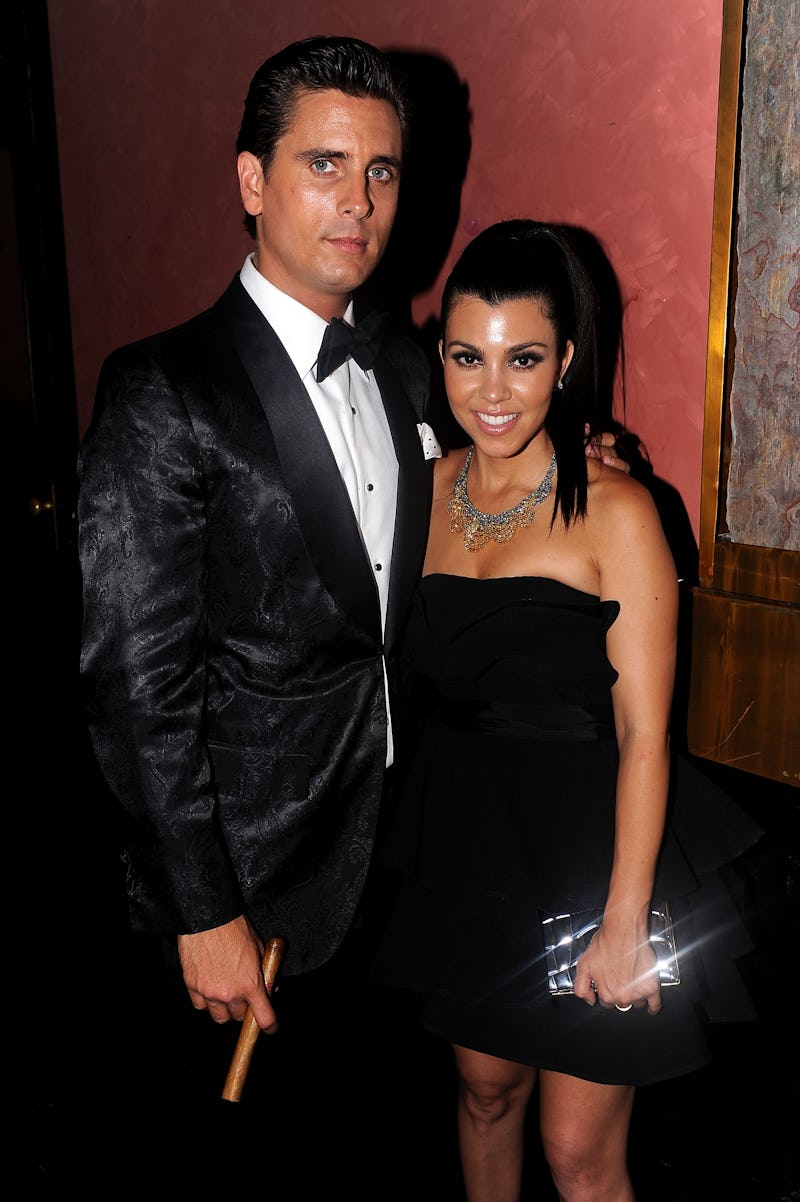 Dimitrios Kambouris/Getty Images Entertainment/Getty Images
Some of us are still hoping against all hope that Scott Disick finds his way back to the mother of his children, but now, it seems like it's time to throw in the towel. He's with someone else now, but the big question is this: What does Kourtney Kardashian think of Disick and Sofia Richie dating? She hasn't responded directly to the news, but according to what she's posted on social media and a few reports that are circulating, her reaction might be exactly what fans would expect.
It wasn't that long ago that it seemed like Disick and Kardashian could maybe get back together, but those dreams are dashed now that he and Richie became Instagram official over the weekend. Rumors have been swirling around them for weeks, but while the pair was in Miami for a Travis Scott concert on Saturday, things got a little steamy. Not only did paparazzi catch them exchanging a little PDA at the beach, but Richie and Disick both shared very cozy photos on their Instagram stories during their trip.
Disick's contribution to the cause was limited to a photo of them nuzzling their faces together, and Richie posted a similarly cozy picture, as well as a photo of a dessert at a restaurant that had "Congratulations Scott and Sophia! [sic]" written in chocolate on the plate. There were also photos and a video circulating of the two kissing while at the restaurant with friends.
Now that we know that Richie and Disick's relationship is more than tabloid fodder, it's impossible not to wonder what Kardashian thinks about all of this. After all, she and Disick share three children together and were romantically involved for almost a decade; all those feelings and that history don't typically just disappear after a breakup.
And yes, she might be dating someone herself — Younes Bendjima, in case you're a bit behind on her relationship status — but anyone who's ever dated someone, had a crush, or experienced human emotion understands that curiosity about an ex almost never dies. So what does she think?
According to what a source close to the Keeping Up With The Kardashians star tells Us Weekly, she's actually not that worried about it. The insider told the magazine:
"Kourtney thinks this fling with Sofia is a little weird, but nothing shocks her anymore. Kourtney just wants Scott to be his old self. She shares three kids with him, so she'll always want the best for him and will always make sure he's happy."
A second source also told Us Weekly that Kardashian "doesn't care" about Disick's dating life, which is definitely a positive thing, especially since their co-parenting relationship is so important. But even so, there's chance she's feeling a bit sassy about it all, because earlier this month, when rumors about Disick and Richie were at an all-time high, Kardashian posted the following pic on Instagram, and some fans have flocked to the comments to say it could be her way of showing Scott what he's missing:
Should we consider this photo, with its attitude-filled "flips hair" caption, her official statement on the matter? Probably not, but it wouldn't be that shocking to find out it at least has something to do with what she was feeling immediately after seeing Disick and Richie canoodling. Or maybe she was just flipping her hair, because she's that fabulous. Who could blame her?
Since Kardashian doesn't usually speak out on Disick's life now that they're no longer together, chances are good she'll never share her actual opinion on his new relationship. Then again, another season of KUWTK is coming up, so there's bound to be drama in fans' future. And if you've been paying attention to this family, you already know that anything can happen with these people.