Aziz Ansari Wants To Teach You Some Italian In 'Master Of None'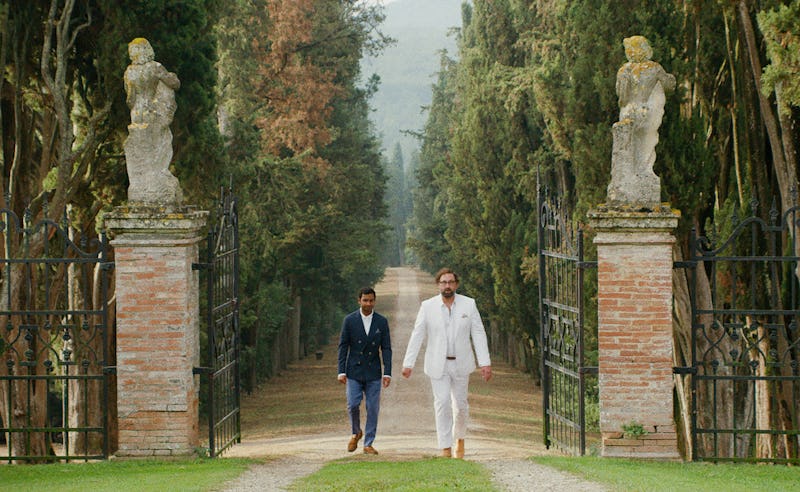 Netflix
With Master of None Season 2 kicking off in Italy, knowing a few key Italian words might come in handy. Beyond Italian-speaking characters, Aziz Ansari is making fans of his Netflix show get a little bilingual by using Italian in some of his episode titles. The second episode of Master of None Season 2 is "Le Nozze" and if your Italian is limited to Italian cuisine, you may be wondering what "le nozze" means. Thankfully, you don't need to get lessons from Rosetta Stone since the internet is here for you and all your translation needs. MINOR SPOILERS AHEAD.
"Le Nozze" should not be confused with La Notte — the 1961 Italian classic movie that Dev has a DVD of next to his bed in his Italian home in the first episode of Season 2. While "notte" means "night," "nozze" means "wedding" or "marriage." If you were scanning the episode titles on Netflix and were concerned that Dev was rushing into a marriage after his breakup from Rachel, don't be. Because this "nozze" is actually the wedding of Arnold's ex-girlfriend.
At the end of Season 1, Dev decided to move to Italy to follow his foodie dream of studying how to make pasta. And his buddy Arnold (portrayed by Eric Wareheim of the comedy team Tim & Eric) comes to Italy in the second episode of Season 2 not only to ride mopeds with Dev along the Italian countryside, but also to attend his ex-girlfriend's wedding as she gets married to a man who looks like a shorter version of him.
If you don't know much about the Italian language, you may still be familiar with the word "nozze" because of the famous opera The Marriage of Figaro, which in Italian is called Le nozze di Figaro. The four-act comedic opera was composed by Wolfgang Amadeus Mozart in 1786 and since Mozart was not Italian — but Austrian — the opera was first performed in Vienna, Austria, instead of Italy. (It was also based on the French play by Pierre Beaumarchais.) But the words were written by the Italian librettist Lorenzo Da Ponte and so the opera is in Italian and follows Figaro's pursuits to marry his love Susanna. And even if you aren't familiar with the story, you more than likely have heard some of Mozart's music from the opera about a wedding.
While Le nozze di Figaro doesn't have anything to do with Master of None, it's a nozze that brings Arnold to Italy and allows him to reunite with his little buddy Dev. Because where's a more romantic place to get married than Italia? Even if it is the marriage of your lost love to a man who resembles you.