Why MannyMUA's New Brand May Not Be What You Expected From The Guru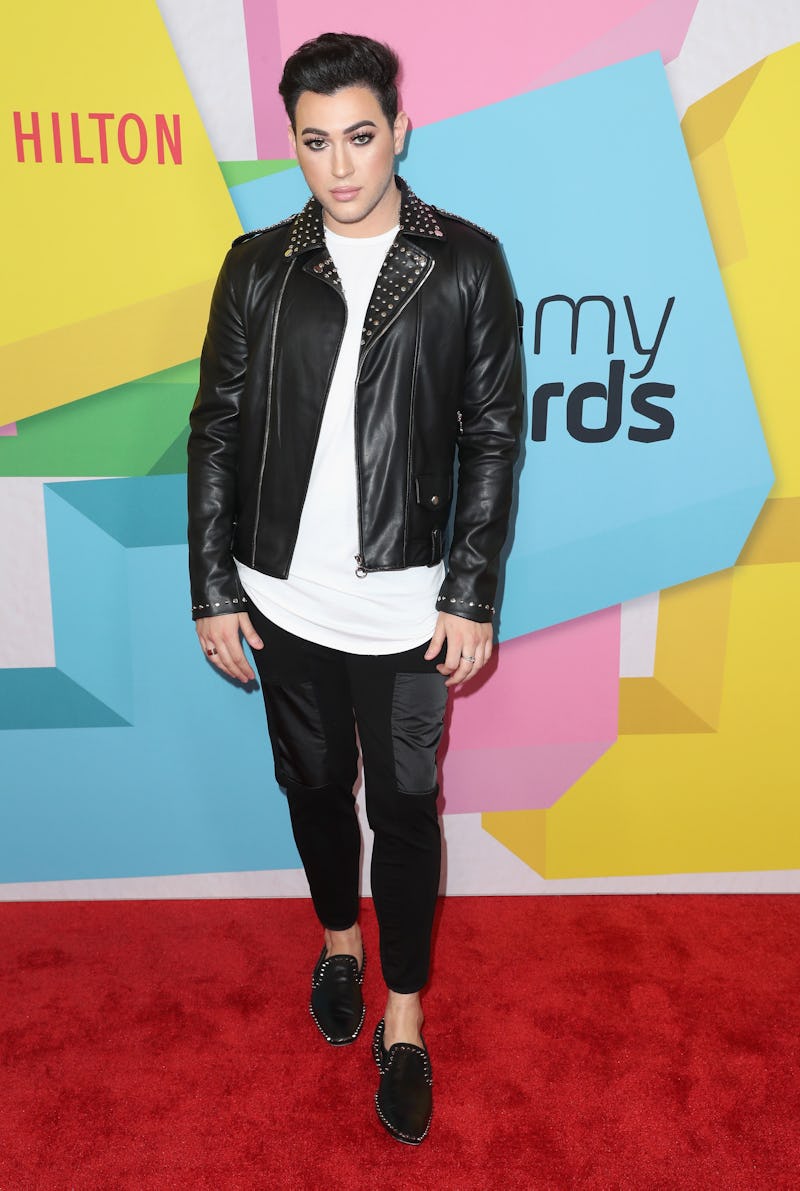 Joe Scarnici/Getty Images Entertainment/Getty Images
When you think of beauty brands crafted by YouTube beauty gurus, you may automatically associate them with their names. After all, names like Laura Lee and Jaclyn Hill are some of the most well-known to beauty junkies. However, MannyMUA's new brand took a different approach, and the brand name and meaning behind it may not be what you'd expect from the ultra-popular guru and Maybelline spokesperson.
On Christmas Day, MannyMUA (who's real name is Manny Gutierrez) took to his social media accounts to give fans the greatest holiday present ever: his brand. While subscribers and fans knew that something was coming from the guru thanks to his mention of starting a brand in the past, no one knew the name or idea behind his upcoming company. Now, however, they do.
In a Snapchat video, Gutierrez announced Lunar Beauty as the name of his cosmetics brand, and for his fans, the name makes total sense given that the moon symbol has become synonymous with his channel, but he went much further in depth as to why he chose not to name his brand after himself. Gutierrez explained that naming the brand MannyMUA Cosmetics didn't feel as authentically him, but Lunar Beauty is much more a part of who he is.
That authenticity also runs through each part of his upcoming company — including its emblem and logo. Gutierrez explains that he views his brand as ethereal and magical and much less about slaying the makeup game — thought it will surely do that as well. In the Snap, he explained, "I know some people were commenting about the logo and asking me why I chose the logo and why I chose the name, how I wanted it to be, and for me, this was just how I wanted my brand to be. I didn't want it to be something where I thought it was hot and sickening and cool as fuck in that moment. I wanted it to be something that would last and something I would see in stores that would just be classic, and I feel like that's what we accomplished with my logo."
While Gutierrez is known for killing cut creases and looking flawless with glitter pigments, his brand appears to be a balance between both drama and classic beauty. It's honestly the perfect approach. Gutierrez has been outspoken about giving his fans the best possible products, and by combining both classic beauty and stunning slayage, it's going to be a match made in heaven.
As for his fans' reactions, they are already stoked for the brand no matter what comes first from Gutierrez.
Fellow beauty influencers like Tati Westbrook and Nikita Dragun are already congratulating Gutierrez on the announcement of his brand.
His fans are not only happy for him, but to be honest, they're happy for themselves. They've got MannyMUA created makeup headed their way.
It's enough to make even the most casual of Gutierrez fan shook.
Now, it's just a matter of waiting for the launch and getting ready to snatch it up before it's gone.
As for when you can expect MannyMUA's Lunar Beauty to come your way, according to both the Snapchat video and the original Instagram post announcing the brand, it'll be available in 2018. While the specific date isn't known, at least you know that it's coming soon.
If you love MannyMUA and can't get enough of the influencer, he's crafted a brand that is oh so him and perfect for his fans. Keep your eyes peeled to his channel and social media because Lunar Beauty is coming your way, and it's sure to be a hit with fans.