Mille Bobbie Brown's Blue Ribbon & Pin Are Super Important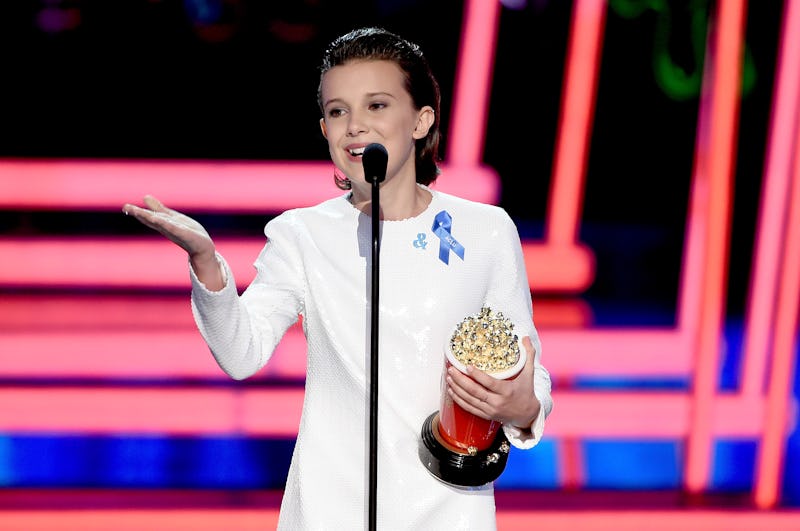 Kevin Winter/Getty Images Entertainment/Getty Images
At the MTV Movie & TV Awards, Millie Bobbie Brown's blue ribbon and ampersand pin stood out on her solid white frock. The symbols are in support of the American Civil Liberties Union and show Brown's support for the organization. The ribbons may look familiar to fans of award shows and red carpets. They were seen on multiple celebrities during the 2017 Oscars red carpet, and tonight, on Millie Bobby Brown, the blue ribbon may just be the best accessory at the entire award show.
If you're wondering what exactly the ACLU blue ribbon represents, it's part of the "Stand with ACLU" campaign. The organization encourages musicians, actors, and Hollywood stars to wear the ribbon in order to show their support of the ACLU who, "work[ed] to defend and preserve the individual rights and liberties guaranteed by the Constitution and laws of the United States." Millie Bobby Brown took up the ribbon and ampersand symbol tonight to show her support for the organization.
While she may be the only celebrity to be seen wearing the ribbon tonight at the MTV Movie & TV Awards — so far —, she's still not alone. She's in excellent company with celebrities like Ruth Negga and Karlie Kloss wearing the ribbon on a few months earlier at the Academy Awards.
The symbols definitely stand out beautifully against her white dress.
The ribbon and ampersand are an inspiring display of political involvement from someone so young.
Millie Bobby Brown was already a rising style star, but with the addition of her blue ribbon, she perfectly combines fashion with activism, and that's always stylish.