Taylor Swift Just Posted A Snake Video On Social Media, Which... What?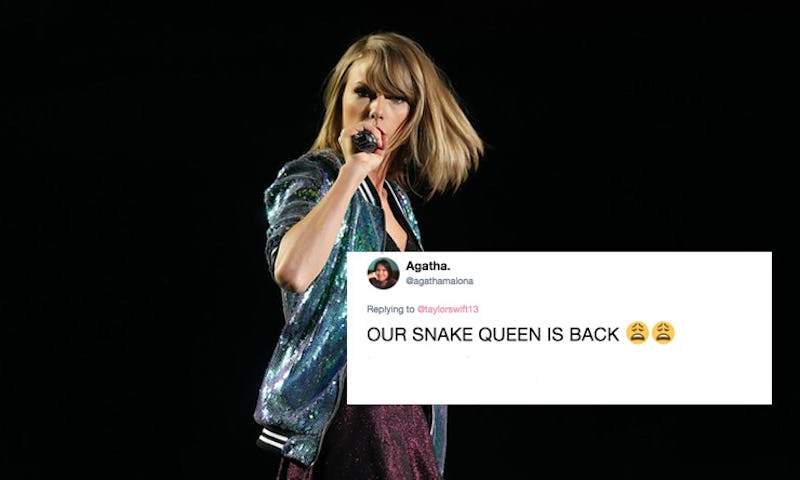 Graham Denholm/Getty Images Entertainment/Getty Images/Bustle
On Monday morning, after leaving fans with questions all weekend, Taylor Swift posted a snake video to her Twitter and Instagram — leading to even more questions. Is it a video? Is it a single? Is it a sign? What's happening? (Bustle has reached out to Swift for comment, but did not receive an immediate response.)
This isn't the only mysterious act that the 1989 singer has been pulling lately, however. On Friday, Swift wiped all of her social media accounts clean, leading many to believe that something big was about to go down. All of the theories — from upcoming performance to new album — don't seem to have been in vain with this new snake video making its rounds. Now, all that's left to do is to solve the cryptic message T. Swift is trying to get everyone to understand.
With Swift's social media cleanse taking place on the three year anniversary of her 1989 release announcement and just a week shy of the MTV Video Music Awards, the viral #TS6IsComing hashtag on Twitter seems more than. The muted video could be an ode to every hater who's ever called her a "snake" in the past or a nod to a larger than life musical phenom on the horizon. Either way, Swift's secretive behavior is giving off some major "Beyoncé surprise album" vibes, and the anticipation surrounding a possible announcement, or lack thereof, is proving to be too much for a lot of fans to handle.
Check out some of the best reactions below.
1. This Perfect Gif
I mean, it explains itself.
2. This Honest Reaction
Trying to piece together all of the clues that Taylor Swift is dropping is leading fans in so many directions.
3. Is The Snake Teaser The Actual Theme For An Album?
Because from the days of 1989 up until now, she could have a lot to get off of her chest.
4. Does The Snake Teaser Have An Even Deeper Meaning?
This is totally a theory worth looking into.
5. Is She Gearing Up For What Could Possibly Be The Most Important Television Cameo Of Her Life?
Because dreams do come true sometimes.
6. Is Taylor Swift Trading In Her Country Roots And Pop Sounds For Hip-Hop?
This could be... interesting.
7. At The End Of The Day
And isn't that really what matters?
You may want to keep an eye on all of her social media accounts, because this is one announcement that you shouldn't miss.