How The Solar Eclipse Could Affect Your Sign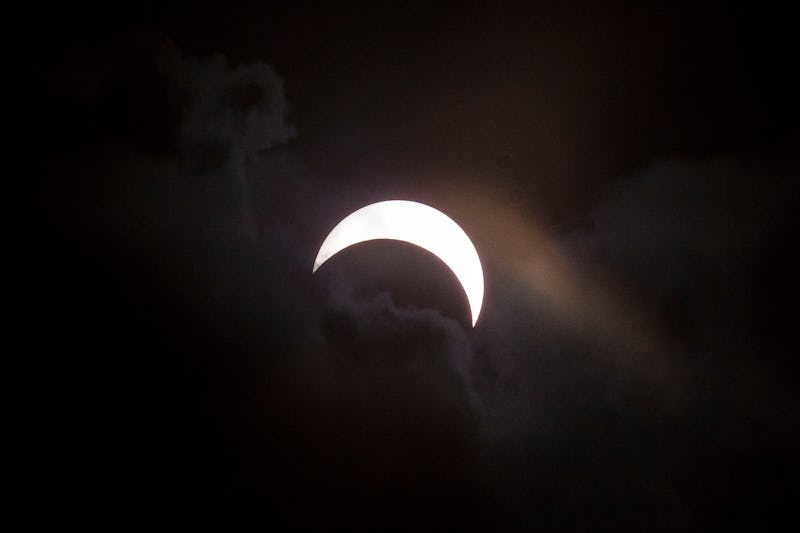 Ulet Ifansasti/Getty Images News/Getty Images
The biggest cosmic event in North America is fast approaching. The Aug. 21 solar eclipse is happening during Mercury Retrograde, and it's likely to have a pretty big effect on your life — even after it's over. So, just what does the 2017 solar eclipse mean for your sign? While the actual solar eclipse will only last two minutes, according to Astrologist Lynn Koiner it can affect you for three-to-six months before it happens, and for up to one year afterward.
This solar eclipse is the first one visible in North America since 1979; however, that one was only visible in a few states in New England, making this solar event the first one visible to most of North America in almost 100 years. The eclipse, which takes place Aug. 21, 2017 at 28 degrees and 53 minutes of Leo, will affect people born with personal planets and points at approximately 24 to 30 degrees of the fixed signs (Taurus, Leo, Scorpio, and Aquarius), and approximately 0 to 4 degrees of the mutable signs (Gemini, Virgo, Sagittarius, and Pisces) most significantly, Cafe Astrology noted. If you're not sure what your personal planets are, you can do a free astrological birth chart to find out.
Solar eclipses signify new beginnings, and the Astro Twins noted that eclipses can usher in the unexpected, which can force you into action whether you'e ready or not. It's not a bad idea to consider a new moon/solar eclipse ritual to set your intentions. If you want to know how the solar eclipse will affect your sign so you can be prepared to wade through the cosmic kerfuffle, here's the quick and dirty on what to expect.