Here's What The Money Experts Think The 2018 Budget *Really* Means For Young Women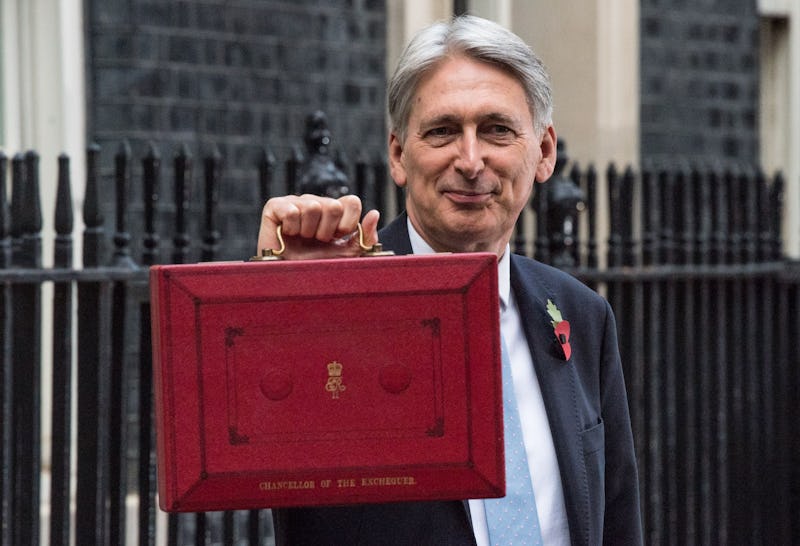 James Gourley/Shutterstock
The Budget is the time of year that causes a lot of controversy in the UK. It marks the government's official announcement of their spending and tax plans for the forthcoming financial year and forces people to think deeply about their finances and way of life. So how will the 2018 Budget affect young women living in the UK?
Despite unemployment rates being at their lowest in more than 40 years, and low paid jobs being at the lowest rate since 1997, young people are still struggling with unemployment, low (or non-existent) wages, and exploitation. We are finding it difficult to secure affordable housing and effective healthcare with many of us believing it's impossible to save money. As for a pension? Forget it.
According to Shadow Minister for Women and Equalities, Dawn Butler, 86 percent of the cuts previously implemented by the Conservatives have directly affected women, Huffington Post reports. So it was with a heavy heart that I asked several financial experts how the new Budget will impact millennial women across the UK.
Chancellor Philip Hammond announced the Budget on Monday afternoon in parliament, beginning his speech by saying that the 2019 plans are for hardworking people, "for the strivers, the grafters, and the carers who are the backbone of our communities and our economy." He said his Budget aimed to protect jobs, deliver efficient public services, and minimise tax.
Income & Pensions
"The Autumn Budget just went down a treat, with Hammond concentrating on handing out money, rather than placing the burden on citizens, and taxing Amazon and Facebook instead," says surveyor Natasha Collins. "The most exciting thing was that there will be more money in our pockets with tax free income being upped to £12,500 and the higher rate threshold increasing to £50,000 from April 2019, giving us scope to earn more."
According to professional debt advice service Scottish Trust Deed, this personal allowance rise and increase in national living wage will "set the wheels in motion for millennials to experience a part of their working life that is not all grave" and is "a step towards millennials accomplishing financial stability and moving forward to tackle getting on the housing ladder." And it hopefully means no more unpaid internships and zero hour contracts.
Women's financial coach Catherine Morgan believes that the budget stuck to the "excellent benefits" that pensions currently give. "For those entering into their careers, you'll be automatically enrolled into your first pension with your employer and get free money for every pound that is saved," she explains. "Whilst you may not be thinking about what you're going to be doing when you've stopped building your empires or working, believe me you'll be grateful for it. Why not save the extra £650 that you'll be getting from April into a pension? You only need to pay £520 and the government will give you the difference of £130."
Mental Health
Hammond pledged to give an extra £2 billion for mental health services. (This is separate to the extra £20.5 billion spent on the NHS over the next five years.) According to the Guardian, this should lead to mental health services being available in every A&E department, more community-based services, and more crisis teams helping with the mental health of students. A 24-hour mental health crisis hotline is also being implemented.
This is highly necessary for young women, and minority groups in particular. According to Mental Health Foundation, women are more likely to have a common mental health problem and are almost twice as likely to be diagnosed with anxiety disorders than men. Black, Asian and minority ethnic (BAME) communities are more likely to be diagnosed with mental health issues and often fail to engage with current services. A 2017 survey by the Office for National Statistics also found that one in four young women in the UK have reported mental health problems.
"Mental health problems are often at the root of many family issues, especially those involving social services," says Thomas Brownrigg from family law firm Goodman Ray. "The extra funding for social care programmes for children and to set up crisis centres is hopefully extremely positive news for a cross-section of society who have been hit very hard by austerity. It hopefully will begin an era of greater recognition of just how much extra support is needed for vulnerable children and young adults, and how severe the impact of mental health problems can be on their lives and those of their children."
"I know first-hand the fallout from anxiety and depression and having that additional support will create the much needed cushions for when the going gets tough. Strong women create a strong economy," adds Collins.
Housing & Lifestyle
Housing is also a huge issue for any young person. In the past two decades, the chances of a young adult on a middle income owning a house in the UK have more than halved, the Guardian reports. Hammond first got rid of stamp duty for first time buyers of properties up to £300,000 last year and declared that 121,000 young buyers had already benefitted from this axing. In the 2018 Budget, he said that stamp duty would also be abolished for all first time shared ownership houses up to the value of £500,000. This also applies to anyone who's made such a purchase since the last Budget was announced.
"This could well make the difference for young people and families being able to get on the housing ladder or not," continues Brownrigg. "It will appeal especially to those young individuals in London and other more expensive areas of the country where the prospect of ever getting on the housing ladder has seemed fairly bleak."
On a smaller note, the business rates relief for public toilets will be welcomed by any woman who has struggled to find somewhere to change her tampon. A lot of women will however not be pleased to hear that duty on wine continues to rise while duty for beer, cider, and spirits has been frozen for another year.
What Was Ignored?
As the Women's Budget Group pointed out on Twitter, many of the changes announced by Hammond will benefit men. Many women rely on public transport, making a cap on fuel duty irrelevant to them. Although money is being spent on new on-demand services such as buses, it's unclear if this will be utilised well and in the areas that need them most.
Hammond did also not address a major criticism of the Conservatives' Universal Credit scheme. Payments are currently made into one bank account, putting women of all ages at risk of financial abuse and diminishing their chance of an equal relationship.
Labour leader Jeremy Corbyn noted that no extra funding had been given to women's refuges, Manchester Evening News reports (almost a fifth have had to shut down since 2010 due to funding cuts, according to the Huffington Post). Collins adds that she doesn't think the budget went far enough to "tackle the disparity in wages versus house prices" and also criticised the invisibility of the gender pay gap. "More emphasis needs to be put on a single woman being able to own her own home and help available for her to do that. Financial education coupled with first time buyer schemes targeted at women would help that," she added.
At this rate, the gender pay gap will not be a thing of the past until 2073, said Corbyn, citing statistics created by the TUC. I don't know about you but I'm definitely not willing to wait that long.